There are many benefits to laser projectors, such as outstanding picture quality and color. Of course, this only applies to the best laser projectors. Otherwise, you'll end up with a very pricey below-average product that is similar to a lamp model. Our media techs have reviewed some of the best choices on the market to make sure you get a good price and excellent features.
Reviews of the Best Laser Projectors
The Optoma GT1090HDR is a favorite of our team. This projector comes at a reasonable price for all its features. The laser light source is low cost and dependable compared to other projectors, and the short-throw lens allows for a 150-inch screen at 4 feet.
The HDR10 and HLG technologies allow for brighter picture quality, therefore expanding your placement and usage options. The incredible brightness even allows for lights-on viewing and an excellent display in outdoor venues.
The high-quality projector offers full HD 1080p resolution with 4K input that accommodates gaming, movies, and Fire TV compatibility to name a few.
The most expensive model on our list with premium features is the Optoma CinemaX P2. It's a true 4K Ultra HD model that is HDR compatible. It will be like bringing home effects you can only enjoy in movie theaters. The advanced laser light source will produce vivid colors with 3000 lumens of brightness.
The Optoma CinemaX P2 has a 1,500,000:1 contrast ratio. The HDR 10 technology brings color accuracy that can put most projectors to shame. Since it's an ultra-short-throw model, the Optoma CinemaX P2 projector needs only to be a few inches away from the screen.
(Want a wide-viewing experience with your projector? Why not consider using the top-tier 150-inch projector screen listed here)
Epson EpiqVision Ultra LS300
The next Epson product from their EpiqVision line that delivers impressive color accuracy and excellent picture quality is the Epson EpiqVision Ultra LS300. The laser projector comes in two colors and supports full HD HDR. The small profile hides an excellent 2.1 sound system under the surface, adding to the 4K resolution with exceptional sound.
You can even use the small projector as a standalone speaker with wireless Bluetooth. Plus, it has built-in TV for Android and Google Assistant, making this home theater projector incredibly efficient and convenient.
The ultra-short-throw laser projector also has Chromecast built-in for all your home entertainment needs.
Epson EpiqVision Mini EF12
Our media team understands that the price tag for these exceptional laser home projector models can be staggering, which is why there is always a budget choice!
The Epson EpiqVision Mini EF12 is a small and compact model that offers better picture quality than regular lamp models. You can get full HD HDR pictures on a 150-inch screen size.
The small projector has wireless connectivity via Bluetooth, and the sound is by Yamaha. There is also built-in Android TV and other smart features such as Google Assistant. Overall, the Mini EF12 was designed to bring convenience and quality to your dedicated home theater system.
The Dual Laser Cinebeam projector from LG is a force to be reckoned with. It can produce a screen size of 300 inches, which is much larger than many projectors. The massive picture size will not hurt the resolution. The contrast ratio is the highest by far, at 2,000,000:1 and a 2700 ANSI lumens rating.
The LG HU810PW features both HLG and HDR10 technology that not many home theater projectors can boast. The Iris Mode adapts the laser projector for any environment regardless of the lighting. Finally, it also has dynamic tone mapping along with HGiG for gaming.
(For the best viewing experience, we also recommend our list of excellent projector stands here)
Laser Projectors Buyer's Guide
There are so many features a laser projector can provide. How do you differentiate between a passable model and the best laser projector? Our expert projection team assessed characteristics such as sound quality, native resolution, and more. Follow our guide below to find the best one for you.
The brightness of a laser projector is measured by lumens or ANSI lumens. What's the difference? Our professional team says ANSI is a rating standard that will offer more accurate results. A laser projector with ANSI lumens means it has undergone more stringent testing.
Why is brightness important? It dictates in what environment your laser projector will thrive and produce the best images and videos. However, our team says it's necessary to note that brighter isn't always better. For example, if you only use your laser projector in a dark room devoid of any lighting, it's not necessary to go for the highest lumens rating you can find.
In fact, having an ultra-bright screen in a very dark room will be very uncomfortable and result in viewing fatigue. Our media team's suggestion is to consider the placement of your laser projector to decide how bright you want it to be. For standard rooms that may be susceptible to some ambient lighting, 3000 lumens will be enough.
If you are someone with a dedicated home theater room with blackout curtains or a lack of windows, then even 1000 lumens can be enough. You should only strive for a very high lumens rating if you need accurate colors in bright conditions or outdoor viewing.

(Finding ways to maximize your use of a projects? Then, try watching TV using a projector with this guide)
The resolution of a laser projector refers to the same quality as it would for video and picture content. The question is simple – is the laser projector capable of HD content? HD content is split into different categories. Just because your first projector is listed as HD doesn't mean you will get the stunning picture another model could produce.
720p is the lowest requirement to be considered HD. However, our team members say that there have been huge strides made in content resolution, and 720p is no longer impressive. Full HD or 1080p is the lowest standard our team of experts would suggest.
If it has a native 4K resolution, it means the laser projector can accommodate extra high-quality content. 4K resolution is what our team aims for, but there are plenty of models that support full HD and are 4K UHD compatible.
Aside from a 4K projector, our experts also suggest looking for additional features to add to your viewing experience. These capabilities will enhance the detail of your content and even adjust the projector automatically to suit your needs.
For example, HDR, HLG, and HGiG technologies are excellent for color accuracy and image quality. There is also Dynamic Tone Mapping, which is essential for a gaming projector. It will reduce motion blurring and give you a smooth frame-by-frame transition.
Other features a full HD or 4K resolution laser projector should have include horizontal and vertical keystone correction, vertical and horizontal lens shift, and zoom.
Our media team has grouped both contrast and color into one category. Vivid colors with the ability to portray more colors on the color wheel will make for more realistic images.
But how do you ensure superior color accuracy?

Laser technology is a significant factor for color portrayal. The chip design will also add to brighter and more vibrant colors. The Epson EpiqVision line is a good example of a few projectors that can display 100% of the RGB color wheel. 3LCD technology displays will help minimize rainbowing and washing out the colors with higher lumens.
We then have the contrast ratio. The contrast ratio is the variance between the black and white colors on the screen. With a very low contrast ratio, your content will display a lot of shadows and unlit pictures. The contrast ratio rating will give you a clear idea of what to expect. Our media experts say you definitely want an amazing projector with a very high contrast ratio.
Our suggestion is to look for a dynamic contrast ratio of around 500,000 at the very least for a laser projector. We feature projectors with a dynamic contrast ratio of 1 million and over on our list for your reference.

(For projectors that can add color to your room, here are some of the most vibrant star projectors you can consider)

Laser projectors generally offer a shorter throw than regular lamp projectors. This distance pertains to the space between the laser projectors and the projector screen.
There are various throw distances for home theater projectors. To be more specific, they are long-throw, short throw, and ultra-short throw, or UST.
Long-throw projectors require 8 feet or more to project a sharp picture, while short-throw projectors need under 8 to around 4-5 feet. The ultra-short throw projectors are where technology really impresses. These projectors can be pricier, but it's worth it since they are excellent space savers for small rooms. Some of them only need a few inches from the screen to deliver a large picture.
The models on our list include UST and short-throw projectors that are great for space-saving and placement flexibility.
Basic projectors may not have in-built speakers. Movie theater projectors that are more advanced can have built-in Dolby speakers, dual woofers, 2.1 systems, or a dynamic built-in soundbar. Laser projectors tend to include speakers that bring sound to your entertainment space.
While you may not find the best projector model that also has impactful surround sound, you can find ones that can connect to an external sound system. The sound quality on laser projectors is quite impressive for the big sound they produce from such a small profile.
To ensure top-of-the-line sound quality, our media experts suggest looking at the audio formats they support and the type of speaker embedded. For example, a system with two woofers will bring more bass.
To get true 4K resolution on your best projector, you need to look for HDMI. HDMI is always our team's recommendation for easy setup and high-quality content.
It's a plug-and-play design that can support the highest video and audio signals. If you're gaming, it also reduces input lag. Aside from HDMI [1], there may also be USB and VGA connections on your laser projector.
The more connection options your projector has, the higher its compatibility rate to devices such as Apple TV. The USB connection will allow you to connect to your streaming stick. Wireless connection is also essential for streaming platforms such as Prime Video.
Higher-end laser projectors may also include wireless connectivity such as Bluetooth. Bluetooth is convenient as it eliminates the need for messy wires. Our experts suggest going for HDMI to reduce input lag for content that has a higher frame rate.
The input lag should be around 4ms at best. If you don't need fast frame refreshes such as what's needed for gaming, then the input lag is less of a concern for you.
The connectivity also impacts your placement options. If you plan on using a ceiling mount, then the best projector for your needs will support a wireless connection. You won't want wires running from your ceiling down to the ground. If you intend to have a home theater setup that centers around your projector, our team recommends HDMI.
Some laser models boast a very small profile, while other projectors are on the larger side. Why does the size matter? If your purpose is to use the projector to host movie nights in your home, then a larger projector may not be a problem.
However, if you plan to take your projector with you to different gatherings, a smaller one will be more portable. Try to find one with a carrying case included so you won't damage the projector during transit.
Of course, the size will also impact the placement, so look at your space and assess where you plan to set it up to decide how much room you have to work with. The compact Epson Epiq Vision model we included is much smaller than other projectors and doesn't exceed 10 inches. It's a great choice for people looking for a small projector that has flexible placement options.
(For affordable options, we also listed top-performing budget projectors here)
Are laser projectors better?
Yes, laser projectors are better. The best laser projector won't be too susceptible to ambient light, can deliver very high quality and bright images and has an audio system built in. Not to mention, they are more long-lasting and don't require as much maintenance.
Which is better LED or laser projector?
A laser projector is better than an LED projector. Laser projectors are more efficient and last much longer. The longevity is due to laser tech arrays rather than lamps. The best laser projector can produce vivid pictures with exceptional contrast and brightness along with great sound systems.
Are laser projectors worth the money?
Yes, laser projectors are worth the money. In fact, laser projectors are the best option if you value high-quality images and videos. They are low maintenance, which means no expensive lamp replacement, and have improved color, contrast, and brightness.
Our Top Pick For a Laser Projector:
Optoma GT1090HDR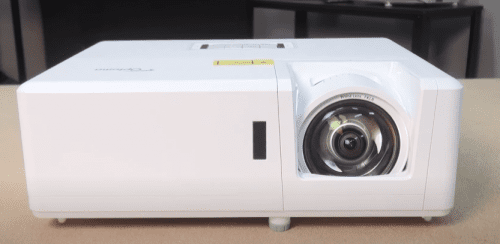 The Optoma GT1090HDR is our team's top pick for the best laser projector on the market. It's a short-throw model which not only saves space but can still give viewers a realistic viewing experience with high-quality images. It supports 4K HDR, has a dependable light source, and even allows for lights-on viewing.
For related products, you can check our list below: