Laser projectors are great for picture quality, but will a budget option be enough for your needs, or will you be left with a mini projector that only produces blurry pictures? Even the cheap projectors can be an excellent find if you know what to look for. Our media team has tested some of the best projectors under $100 to help you out.
Reviews of the Best Projectors Under $100
Even projectors that cost less than $100 can have some of the bells and whistles of the more high-end models. The AuKing Mini Projector won't require external speakers because it has ones built-in. The low fan noise due to a superior cooling system won't drown out the audio from the speaker.
You can reach a large screen size of 170 inches with a 5-meter throw distance at most, large enough to accommodate outdoor events. The long lamp life of this mini projector can last for 55,000 hours, or the equivalent of more than 15 years. A long lamp life means no expensive bulb replacement.
This ELEPHAS Mini Projector model gives users convenience like no other mini projectors because it's compatible with your smartphone. You can go from turning on the device to watching movies in a matter of minutes, thanks to the Wi-Fi connection. Even if you are not in an environment with Wi-Fi, the projector can still connect to your phone with a cable.
The visual effects and parameters of this specific projector are amazing. It has a native resolution of Full HD 1080p and vivid color due to the true 24-bit color support.
The screen size can reach 200 inches, and the in-built speaker will accompany the incredible images with sound.
The PVO Mini Projector is the smallest of the compact projectors and is sometimes referred to as a pocket projector. It's small enough for even your kids to handle! You can still get a 150-inch screen from the projector's compact size with a decent throw distance. The supported resolution is 1080p full HD, and there's an upgrade on brightness, contrast ratio, and saturation.
The mini projector is compatible with an assortment of multimedia devices and can be charged easily with a mobile phone charger if needed. It's easy to set up this small projector and enjoy high-quality image and video content anywhere.
The Q K K Mini Projector also has a supported resolution of 1080p. For a cheap projector under 100, the Q K K model gives users many premium features. For example, it has a 16:9 aspect ratio and a screen size that can reach 176 inches. It also has two USB ports to accommodate user needs.
The small projector has an improved contrast ratio as well, which will further emphasize the difference between light and dark onscreen. The projected image will be crisp and clear, and the 5W built-in speaker will not fail to bring hi-def audio with your content.
(Looking for the best compatible tool for your screens? Well, you can check out the top-tier projector stands listed here)
Looking for an LED video projector? This mini projector from CiBest is 80% brighter than some of its competition. Brighter image quality means the mini projector works well in dim lighting. Don't worry about viewing fatigue because the CiBest Mini Projector has diffuse reflection technology that can make even the brightest projector easy on the eyes.
LED projectors usually have a long lamp life, and that is true for the CiBest projector. You can play your favorite content for hours without having to worry about overheating and the lamp noise because the CiBest miniature projector has the latest cooling system.
If you value brightness for your needs, then the T M Y unit is one of the best cheap projector options for lumens. It has a 6500 lumens LED light source that combats ambient light. The small projector also supports full HD resolution with a native resolution of HD 720p.
The color portrayal from cheaper projectors may not compare to regular projectors, but the T M Y Projector has the latest 3LCD color calibration for more vivid images.
The aspect ratio is 4:3/16:9, the contrast ratio reads 4000:1, and the lamp life is an impressive 60,000 hours!
Vamvo L4200 Portable Video Projector
The L4200 from Vamvo is a multimedia projector for movies. However, it can also be used with a game console. It can reach a 200-inch screen size at a decent projection distance. The maximum resolution the L4200 projector can support is full HD, which is impressive for affordable projectors.
There are dual built-in speakers with an SRS sound system, which places the Vamvo projector above some other projectors within the same price range. To guarantee picture brightness and clarity, the L4200 has upgraded LED display technology.
As for longevity, this mini home projector has HDMI ports and has a long lamp life of 50,000 hours.
MegaWise 1080P Video Projector
The MegaWise Video Projector features an ANSI lumens rating, which is a more accurate standard than the regular lumens. The small projector also has Lux Imaging Technology that increases the brightness by 40%. Another very enticing benefit of the MegaWise projector is the 24/7 live technical support. If you aren't happy with your purchase, you can get a refund with no questions asked.
For the video projector to reach a 200-inch screen size, it only needs to be around 5 to 6 feet away from the screen, which beats out other models that require up to 15 feet.
The video quality is exceptional at the throw distance range.
The core technology in the MVV Wi-Fi projector is the Lux projector technology, and this cheap projector under $100 has an upgraded version. You can synchronize your phone screen with the projector via Wi-Fi or USD cable; there is no need for an additional HDMI adapter.
The small projector comes with all the compatibility options you need with a 3-year after-sales service guarantee. Every purchase comes with a free projector screen to help you get set up in no time at all. The projector also has an ANSI lumens rating, which provides much more brightness.
The GROVIEW Mini Projector supports iPhone and Android compatibility without an HDMI adapter. It features Wi-Fi and a wired connection. Plus, the LED lighting helps your content reach higher brightness levels of up to 85%. Aside from the large screen size, the GROVIEW mini projector also has a zoom function, which is adjustable via the remote control.
To meet your projector needs consistently, this is one of the best cheap projector models for its cooling design. You can turn up the Hi-Fi stereo speakers and run the projector for long hours without worrying about noise and overheating.
Projectors Under $100 Buyer's Guide
Our media team advises users to be careful when looking for an affordable projector that costs less than $100. You can easily end up with a product that brings subpar sound and picture quality. Luckily, there is a way around this by assessing a few of the qualities on your projector. Our experts have compiled an important checklist to help you find the best projectors under 100.
The brightness of projectors is measured in lumens. The higher the rating, the brighter the content. Most people may think that the brighter the device is, the better, but this isn't always the case. To determine how bright you need the best projectors under 100 to be, our experts say to consider the application and the location.
For example, if your purpose for a budget projector is to host movies in the early evening when there is still light out, our team recommends a higher lumens rating. You will need brighter LCD projectors to handle the ambient lighting.
On the other hand, if you have a dedicated home theater room complete with blackout curtains, you won't need a very high lumens rating. In fact, projectors that are too bright in a very dark environment can make viewing painful.
Our technicians recommend looking for a projector capable of 1000 to 3000 lumens in indoor environments, depending on lighting variations. You definitely need a higher lumens rating of around 5000 for outdoors.
You should also check the display technology. LED and liquid crystal display or LCD technology are more common, but laser tech is the most high-end you can get. It produces brighter, clearer, and crisper images, but it also commands a higher price tag. You then have the choice of DLP or digital light processing, but you won't be able to get this type for under 100.
When purchasing anything visual, the resolution is what people gravitate towards, and our tech team understands why. The resolution is what dictates the picture quality, and of course, your viewing enjoyment. No want wants 320p resolution that looks even worse on a large screen.
Most projectors under the 100 mark will have a native resolution of HD, which is 720p. However, they will often support full HD content at 1080p. Of course, if you manage to find a projector within your budget that can get up to 2K or 4K, then our experts advise you to take that deal, but you won't find that under 100.
The higher the resolution, the clearer the picture, but you also want to ensure that the image quality stays the same no matter how large or small the screen is.
(Want a bigger screen size? Then, start watching television on a projector by following this guide)
The contrast ratio is the projector's ability to display dark and light and black and white on the screen. The higher the contrast ratio, the more clearly you will see shadows and bright lighting in your content.
The contrast ratio will look something like this — 3000:1. The first figure refers to the brightness and the second figure pertains to the black. So if you have a projector with a contrast of 3000:1, the lightest part on the screen is 3000x brighter than the blackest.
You want to have higher contrast in your content to have more vivid colors in between the white and black.
Throw size, throw ratio, or throw distance is the space between the projector and the screen. Projectors are divided into three categories for throw size – ultra-short throw (UST), short throw, and long throw projectors.
UST projectors may only require a few inches of throw distance, which makes them excellent choices for smaller spaces. Even though it is so close to the screen, a UST projector will still be able to give you large screen sizes. A short-throw projector will need a bit more distance in between, but it is still advisable for small to medium rooms.
Long-throw projectors will need much more distance to project a larger screen. As you can imagine, it's better for larger venues. UST projectors usually command a higher price tag than long throw options, with short throws somewhere in between.
Our media experts remind you that just because UST projectors are more expensive and have seemingly better display technology, it doesn't mean they are always the best choice. You have to consider the purpose of the projector to determine which type of throw you want.
For example, hosting presentations in a large auditorium will require long throw projectors. A UST or even short-throw model may obstruct some of the audience members' line of vision.
(If you want to have a broader understanding of throw distance, you can also check how we differentiate long-throw vs short-throw projectors here)
The bulb life is essential to consider. The lamp is the most expensive part of a projector, so it's in your best interest to find one that lasts a long time. Don't worry, this specification isn't difficult to find because manufacturers will often boast about how long their lamps can last.
Our experts recommend looking for models that offer 50,000 hours, or the equivalent of 15 years. A long-lasting lamp also means lower maintenance on your part.
The setup and connection for the projector need to be as straightforward as possible. After all, no one wants to spend more than a few minutes connecting these devices. Our expert technicians always recommend HDMI cable connections [1] for media devices. This is because an HDMI input is easy to set up as it's a plug-and-play design, and it can handle the highest signal loads.
You can look into a wireless HDMI adapter if you want a cable-less setup. Of course, if your projector has Bluetooth or Wi-Fi, the connection and setup are even easier.
Does your projector come with a remote control? If it does, the remote should be capable of setting most functions. That way, you won't ever have to get up and use the control panel on the projector.
The next consideration is the placement, and this part ties into the throw and how close it needs to be to your TV box or other media device. Long-throw projectors can be mounted on the ceiling, which is another reason why they are the preferred type for some people.
The portability is in direct correlation with the size of your projector. If you plan on mounting it permanently to the ceiling, then the portability isn't that big a factor.
However, if your purpose for purchasing a projector is to bring it with you for kids' parties, work presentations, or movie projection in any place other than your home, then look for portable models.
Portable projectors are small and lightweight. Many of them come with a screen and carrying case, so you have everything you need on the go. If your projector has built-in speakers, then that's even better. It adds to the portability because there will be no need to bring external ones.
Unfortunately, the price range is another limitation because most speakers at this price don't support Dolby Audio.
What are the types of lamp in a projector?
There are a few types of lamps in a projector. The most common one is LED, which also happens to be energy-efficient and affordable. There are also the laser light source projectors and the hybrid types that combine both. As for the bulb, we recommend the metal halide bulbs as they are high intensity.
How do you measure a projector screen?
Just as you would measure your TV screen, a projector screen is measured from the top left to the bottom right corners. It's not the width or the length that's measured when you look at the description on the projector – it's actually the diagonal length. It's usually listed in inches, and they come in a range.
What are the common features of $100 projectors?
Common features that can be found in $100 projectors include built-in speakers, a native HD 720p resolution with full HD support. They are usually miniature projectors that are easily portable and feature connections compatible with a variety of multimedia devices. Some have wireless connectivity, but they should all support HDMI.
Our Top Pick For a Projector Under $100:
AuKing Mini Projector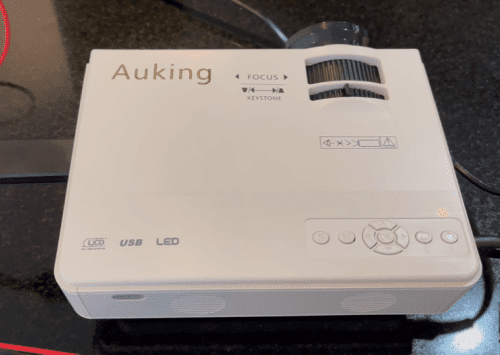 The AuKing Mini earns the title of the best projector under 100. Our media professionals are fond of this tiny projector not only for its portability but also its long-lasting lamp, built-in speakers, low-noise fan, and high-quality picture. You can connect this budget projector to many devices, and it comes with a 2-year warranty.
For related products, you can also check out the pages below: