RCA home theater projectors are known for being portable and affordable. Will the small and compact profile plus lower price impact the performance? There is always a risk for lower quality if you look at budget products. In order to make sure your money is going to the right place, our media team has conducted an RCA home theater projectors review.
Reviews of the Top RCA Home Theater Projectors
If you're looking for a portable home theater projector that works well outdoors, then the RPJ060 from RCA is the answer. It has built-in carrying handles and 2 stereo speakers within – it's a miniature home theater system in one.
The small projector comes in two different colors and can project on any flat surface and can project a max screen size of 150 inches. The RCA RPJ060 supports full HD 1080p resolution and the Bluetooth receiver allows you to pair the device with one that's Bluetooth-enabled for easy use such as your smartphone or laptop.
The RPJ138 from RCA is another very small and portable projector with some upgraded features. You can find an Mstar Advanced Color Engine within the small body which can portray more accurate and vivid colors.
Don't let the small footprint fool you as the RCA RPJ138 projector can deliver a screen size of 160 inches! There is even a focus adjustment and keystone correction to make sure the picture you are getting is perfectly centered and angled.
Don't worry about the RPJ138 running hot, because there is a cooling fan onboard and the noise suppression system will make sure it doesn't overpower your audio.
During our team's RCA home theater projectors reviews, we found that it's entirely possible to get an excellent product at a budget price, like the RPJ136. The tiny projector comes with its very own remote control, which really elevates the user experience.
The affordable projector also features the Mstar Advanced Color Engine and offers up to 60% more brightness with the improved LED lighting [1].
The RCA RPJ136 gives us the largest screen projection by far at 170 inches. The projector finds room to fully equip VGA, HDMI, USB and AV interfaces for maximum compatibility.
The RPJ140 is a 2-in-1 home theater projector that is really worth the already very budget price. It's both a projector and DVD player that addresses two of your needs. The tiny device supports full HD 1080p resolution and a 3000:1 contrast ratio.
The RCA RPJ140 comes with built-in Bluetooth for easy pairing with external devices and stereo surround sound speakers. The projector has a wide compatibility with most devices and the brand made sure to decrease the fan noise by 80% so you can play your content for longer.
RCA Home Theater Projectors Buyer's Guide
RCA home theater projectors are known for their small size and portability, so that is something you will definitely get. Our media team says to make sure the device is also lightweight and carrying handles are a plus.
Brightness and Resolution
Our experts recommend looking for upgraded lighting, more advanced color engines and a native resolution of at least full HD 1080p if possible.
You can find UST (ultra short throw), short throw, and regular projectors on the market. The one you choose will depend on the space you have.
How does a RCA home theater projector work?
An RCA home theater projector works by connecting to your media device via the built-in ports or Bluetooth. You can easily pair Bluetooth-enabled devices or connect the right cables via the compatible ports. Then, simply turn on the projector to play your content.
Our Top Pick For a RCA Home Theater Projectors:
RCA RPJ060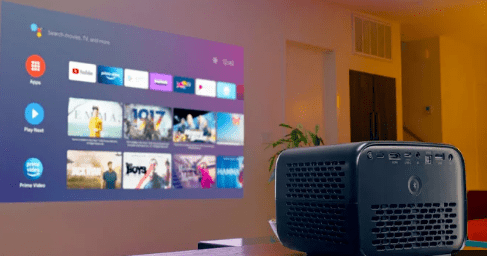 After an RCA home theater projectors review, our media experts have landed on the RCA RPJ060 as the best choice. It has built-in carrying handles for convenience and speakers at the ready to create the perfect movie viewing experience no matter where you are. Take full advantage of the Bluetooth receiver to pair with even more external devices.
For related products, we also have the list below: