The amazing Nakamichi Shockwafe is a heavy duty soundbar home theater system with a whopping 7.2 channels. However, with a monstrous system like this comes a higher price tag. Is it worth your money?
To save you from disappointment, our expert team has conducted an in-detail Nakamichi Shockwafe Elite 7.2 review.
Nakamichi Shockwafe Elite 7.2 Design
The Nakamichi Shockwafe Elite 7.2 is a well-built design that has stylish and edgy lines. The soundbar itself is larger than what other brands produce and would be better suited on a a flat tabletop rather than wall-mounted. However, if you would like it on your wall, the package does come with a wall-mounting kit.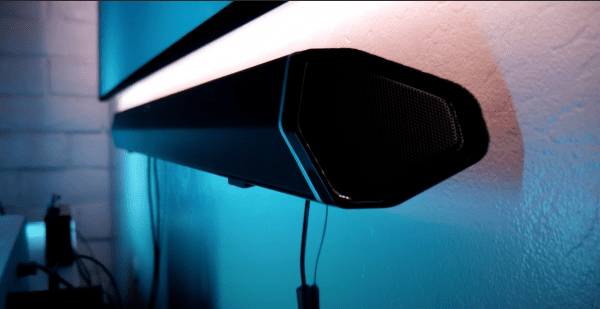 It features two subs and two rear speakers that can outperform even the best 7.1 channel system to create an evolutionary home theater system that brings the cinema experience home with you.
Features of the Nakamichi Shockwafe Elite 7.2
WIth supporting rear speakers and two large subwoofers, the Nakamichi Shockwafe Elite 7.2 not only delivers true surround sound that envelops you, it also brings the bass without any issue of buzzing.
The Nakamichi exclusive Spatial Surround Elevation (SSE) Technology, which will take into account the layout of your room to enhance the directionality of the audio.
Nakamichi Shockwafe Elite 7.2 Subwoofer
Unlike Yamaha SR-B20A with built-in sub, Nakamichi Shockwafe has external subwoofers. The two large subwoofers that accompany the Nakamichi Shockwafe are large in size and very powerful, as our experts found during our Nakamichi Shockwafe Elite 7.2 review. Many substandard sound bars come with a built-in sub, only one external one or none at all. You can imagine how much more power you will be getting from two large subs.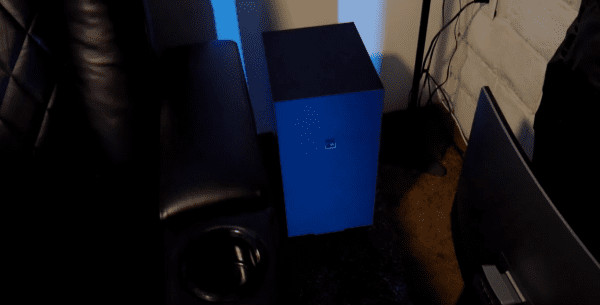 The subwoofers will not only immerse you in a full surround sound experience, but they deliver sound you can feel through vibrations.
Like the newly released Vizio Elevate, the Nakamichi Shockwafe Elite is equipped with high-end and advanced audio technologies such as Dolby Atmos, Dolby Vision, and DTS:X. With the help of these industry-leading advancements, the Shockwafe Elite produces an incredible surrounding experience.
Nakamichi Shockwafe Elite 7.2 Connections
No matter how good the sound system is, it's all fruitless if it isn't compatible with your TV. The Shockwafe Elite has advanced connectivity options. It supports eARC and regular HDMI for high-definition content. But for TVs without these ports, there is also the digital optical and coaxial cables.
For wireless connectivity and streaming, the Shockwafe Elite 7.2 offers Bluetooth [1] compatibility. You can stream your favorie content from your mobile devices wirelessly with ease.
Nakamichi Shockwafe Elite 7.2 Audio Modes
The audio modes on the Nakamichi Shockwafe will optimize the settings to match your content automatically. This will increase the clarity and accuracy of the audio relays. A few of the audio modes include movie, news and music.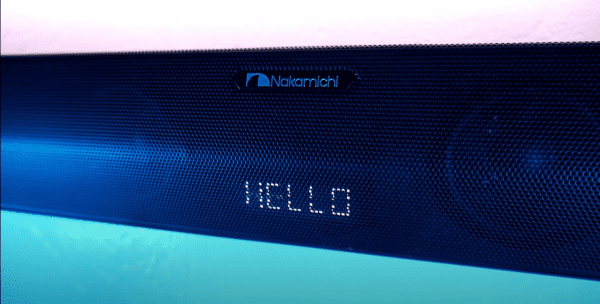 As an entire home entertainment system, the Nakamichi Shockwafe Elite 7.2 is a seven channel soundbar with two subwoofers. The dual side channels, dual center channel, full-range drivers, rear speakers and subs make up the amazing audio system to bring you full surround sound.
Nakamichi Shockwafe Elite 7.2 Setup
The setup of the Shockwafe Elite is simple, but since it's a larger soundbar with also larger components, you need more space to utilize this system. Find the appropriate connections from the Shockwafe Elite to your TV, and it's basically just a plug-and-play design.
Everything you need comes in the box including the wall-mounting system and remote control for a simple and easy setup process.
(Having a hard time controlling your home theater system using different remotes? Try setting up your system with Harmony Hub to get rid all of the remotes and put them in one place. )

Price of the Nakamichi Shockwafe Elite 7.2
For what you get with the Nakamichi Shockwafe Elite, the price is reasonable. The sound system is packed with audio technologies and powerful output to bring you true surround sound.
Is Nakamichi still a good brand?
Yes, Nakamichi is still a good brand. Nakamichi brings you amazing audio equipment to enhance your user experience. The Nakamichi Shockwafe Elite 7.2 is an excellent example of this.
Is Nakamichi sound bar good?
Yes, Nakamichi soundbar is good. They incorporate the most advanced technologies on the market today with high quality construction.
Who makes Nakamichi sound bars?
Nimble Holdings is who makes Nakamichi soundbars. The Japanese electronics company is behind these amazing audio products.
Does Nakamichi support eARC?
Yes, Nakamichi supports eARC. More specifically, the Nakamichi Shockwafe Elite 7.2 is an example of a soundbar audio system that supports eARC.
Nakamichi Shockwafe Elite 7.2 Review Conclusion
Our experts were very pleasantly surprised at the end of our Nakamichi Shockwafe Elite 7.2 review. The system unlocks previously unheard sound with advanced audio technologies, rear speakers and two amazing subwoofers for booming bass.
The system is easy to set up with a simple plug-and-play design with included cables and can be wall-mounted or placed on a flat surface for your convenience.