Homes nowadays are full of devices that need a remote control. TV is one example, but we also have TV accessories, sound systems, gaming consoles, lights, and many more.
To ease our lives, Logitech Harmony Hub helps us get rid of all the remotes and put them in one place. Our expert team fires up the Harmony Hub setup and shares its findings.
How to Setup Your Harmony Hub
What's Included in the Package
Logitech's Harmony Hub package comes as simple as possible with the Harmony Hub itself, a power adapter, one IR mini blaster, and a USB cable.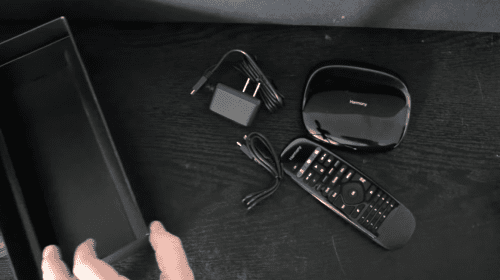 Proper Harmony Hub Placement
For a proper Harmony Hub setup, the device needs to be placed near your TV, gaming console, receiver or amplifier, and any other equipment that can connect via IR, Bluetooth [1], or WiFi for external control.
Turning On Your Harmony Hub
At first, when you plug in the power adapter, it will take about 30 seconds to turn on. Don't worry, though, as this process will be quicker in the future.
Setting Up With Your Mobile Device
The Harmony Hub setup is simple but requires your attention. It is like setting up the best HTPC in your home. First, download the Harmony app that is available on the iTunes App Store and Google Play.
Launch the app, then select Set Up New Hub, and you will get through various screens with instructions.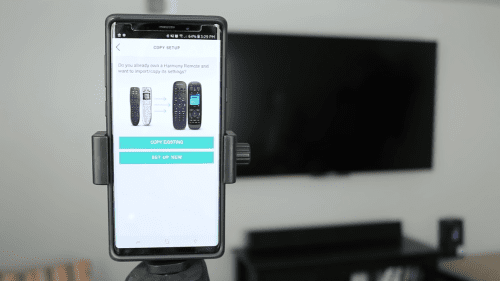 To pair up your phone with the hub, you need to make sure that the hub is powered on, your phone Bluetooth is enabled, and you are also connected to your home WiFi.
After the hub is showing up on the Harmony app, you'll be asked to enter the WiFi credentials.
The next step implies signing into the Harmony account — if you don't have one, you must create a new account.
Select "Add device" and start adding devices by entering the manufacturer name and model number. The hub will detect devices that can be controlled via IP commands.
The last step is to create activities, as suggested by the Harmony app.
Setting Up With Your Computer
In case your phone does not support a Bluetooth connection, this setup can be made using a computer.
The USB cable from the package can pair up the Harmony Hub to the computer using the saved WiFi credentials.
Devices Supported by Harmony Hub
The Harmony Hub database features over 270,000 devices, and it can be used with up to 8 devices simultaneously.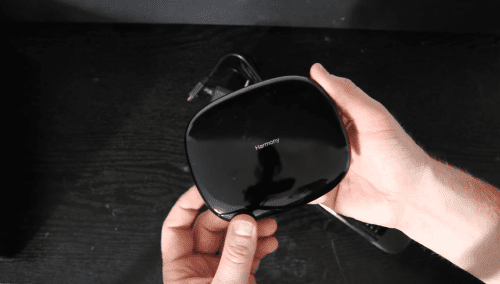 When first setting up the hub, it will try to pair up with devices that already use the home WiFi network.
Our experts observed that, despite the large database, Harmony Hub works better with other usual brands like Sonos, Roku, or Philips.
How the Harmony Hub Works
Harmony Hub is a device that allows you to sync almost any other smart device that you use in your home, from entertainment to home control.
Does Harmony One work with Hub?
Yes, Harmony One works properly with Harmony Hub.
How do I default my Harmony Hub?
You can go back to the default settings of your Harmony Hub by unplugging it, then holding the Pair/Reset back button while plugging it back in. The front LED will flicker red for about 30 seconds, meaning it restores itself to factory settings.
Can Harmony Hub Control WiFi devices?
Yes, Harmony Hub can easily control WiFi devices. Just make sure they are relatively close to one another.
Why is my harmony hub not working?
Our experts observed that Harmony Hub could not work well due to tight broadband connection, or its decoding limitation of certain kinds of passwords, or the frequent changing of WiFi passwords.
Does Harmony Hub work through walls?
Yes, the Harmony Hub works through walls. Thanks to the IR blaster system technology, the Harmony Hub allows you to control your devices through walls without the need for additional gear.
Can I use Harmony Hub without a remote?
Yes, you can use the Harmony Hub without a remote. Everything can be done through the Harmony app and servers. If Harmony stops taking and sending commands, unplug its power cable, wait for 10 seconds, then plug it back in.
How do I connect my Harmony Hub to WiFi?
You can connect your Harmony Hub to WiFi by selecting Set Up New Hub after you launch the app. Ensure your hub is powered up, press the Pair/Reset back button, then follow the on-screen commands.
How do I update my Harmony Hub firmware?
You can update your Harmony Hub firmware by signing in to your Harmony app account, selecting the Harmony remote you are using, then picking the upper right sync icon. This step might need your computer. Either way, follow the on-screen commands.
If you are tired of using one remote to change the channel, another to turn up the volume, then get off the couch to turn off the light and even set the thermostat at your convenience, then the Harmony Hub might improve the quality of your life.
It will allow you to turn everything on and off with one remote and even with a dedicated app for both iOS and Android users. Our team tested this gadget, and we recommend giving it a try.