The Dolby Atmos is a high performing home sound system that offers similar results to a movie theater, but the downside is that it's quite expensive. So you might be asking, "Is Dolby Atmos worth it?"
In this article, we answer just that so you can decide whether or not you should buy one. Let's get to it.
Is Dolby Atmos Worth It: An Overall Assessment
Dolby Atmos provides an immersive and realistic sound environment for your home theater, plus excellent film recording that makes Dolby Atmos definitely worth it. It mimics the technology in cinemas, with a surround sound coming from all angles. This "sound bubble" allows and experience of more dimension compared to normal speakers.
Dolby Atmos is a theater sound system designed to bring true surround sound to the theater experience. Instead of bringing sound from the front and the side, Dolby brings sound from above as well.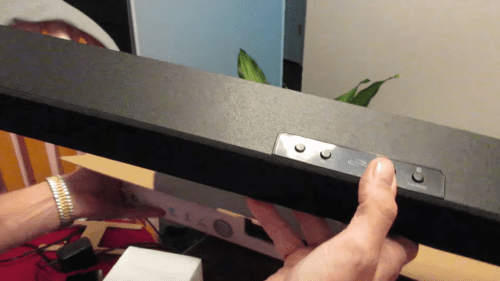 Because it adds in that height channel, this makes the viewer hear the plane from above just like the hero would in the movie.
Dolby Atmos is a theater sound system that is developed in the Dolby Laboratories. Atmos made its theater debut in 2012 with the movie Brave.
While Atmos was originally created for theaters and cinemas, companies today have expanded into home theater use that can be present in top-notch 7.1 channel theater system. Today, Atmos is present in some home theaters, VR gadgets, and even mobile.
When buying soundbars, you often see numbers such as 2.1 or 5.1. This follows the universal naming system for home theaters so that users can easily identify what the components are.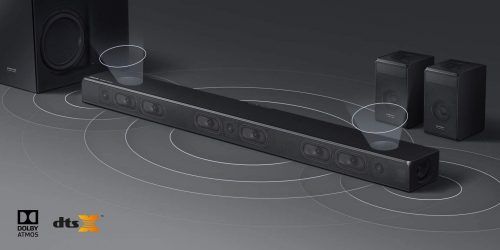 Non-Atmos soundbars have two digits (e.g. a 2.1 soundbar). The first digit refers to the number of speakers while the second digit refers to the number of subwoofers.
In most high-ranking Dolby Atmos soundbars, there's another digit at the end which represents the number of overhead-channel speakers. So, a 5.1.2 soundbar has five speakers, one sub, and two overhead channels. Typically there are two or four height speakers in an Atmos system.
How Does Dolby Atmos Really Work?
Dolby Atmos works by installing speakers in the ceiling to create that height channel. But aside from that, Atmos also relies on metadata and surround sound signals. These two components deliver object-oriented audio through the speakers.
And since it's object-specific, Atmos singles out objects on screen instead of improving all the sounds in general.
Compatible Content for Dolby Atmos
Compatibility is one of the concerns when people ask, "Is Dolby Atmos worth it?" Actually, there are over 100 Atmos-compatible films on Blu-ray. You just have to look for the Atmos icon which is usually beside the movie title. Streaming services like Netflix have Atmos-ready content as well.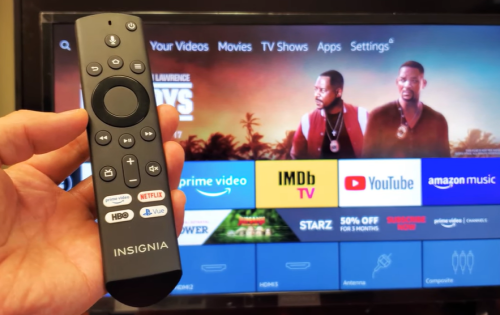 When it comes to games, however, Atmos content is still pretty hard to find.
When buying hardware, you must make sure that it's compatible with Atmos for the tech to work. Whether it's speakers, soundbars, game consoles, or Blu-ray players, the device must be Atmos-ready or otherwise it will just downplay the audio.
Dolby Atmos Speakers, Soundbars, AV Receivers, TVs, and Streaming Boxes
Atmos speakers like the 5.1.4 system Vizio Elevate are great if you have a larger space, but if you don't, Dolby Atmos powered soundbars like TCL Alto 8i are available too. For receivers [1], get one that supports 7.2 channels. Streaming boxes like Apple TV 4K and Roku Ultra also support Atmos, but if you're looking for TVs, they're a bit trickier to find. As you can see, you have a number of options.
Does Dolby Atmos Really Make a Difference?
Dolby Atmos really makes a difference as it brings a higher sound quality and makes it seem like the sound is coming from all directions. It is the benchmark for theaters, so it makes a huge difference to your home setup.
Is Dolby Atmos Worth Gaming?
Dolby Atmos is worth it when gaming. Whether on a gaming system or through a VR system, Dolby Atmos is a top of the line option for those who want to immerse themselves in the game.
Is Dolby Atmos Good for Music?
Dolby Atmos is good for music as it is designed for it as well as movies and shows. Dolby Atmos Music can immerse you in the song and make it feel like you're surrounded by music.
Which is Better, DTS, or Dolby Atmos?
DTS and Dolby Atmos are almost similar. Both DTS and Dolby Atmos are top of the line sound systems that are made to get the most out of your home theater with surround sound. DTS does offer a higher sound bitrate, but the two are identical.
When asking yourself "Is Dolby Atmos worth it?" you need to think about what you want to use your home theater for. If you want to make your theater as similar to a professional theater as possible and you have the time and means to set the system up, then Dolby is worth it.