There are few things as bad as spending hours setting up a new soundbar for your Sony TV, only to find that the default speakers are better. Avoid that problem⁠—we have personally tested the soundbars that will never give you this and have compiled the best Sony TV soundbars below:
Top Sony TV Soundbars Reviews
Sony Sound Bar with Rear Speakers HT-Z9F - Best For Sony Bravia TV
This is the best Sony soundbar for Sony Bravia TV. With the Sony HT-Z9F, you can choose to purchase either the best performing Dolby Atmos soundbar alone or the combo with rear speakers. We highly suggest to go with the whole setup of subwoofers and rear speakers for a more dynamic experience.
You can place the rear speakers where it suits you so you can direct the sound to your location from all sides. The 3-channel soundbar possesses front, left and right drivers to provide a multi-directional sound.
The HT-Z9F is also compatible with 4K TVs. The 5 sound modes can pair high quality picture and visuals with equally high-quality sound. You will find gaming, music, movie, news and sports modes to deliver the ideal sound for the content.
Complete with both Wi-Fi and Bluetooth wireless technology, the HT-Z9F will give you a choice in how to stream your content wirelessly from your devices. The HT-Z9F is also Chromecast compatible for wireless streaming.
Our audio experts really appreciated what the Sony HTX8500 brings to the table. It takes previously 2-dimensional sound and upgrades it to mirror a 7.1.2 system quality. The soundbar supports Dolby Atmos and DTS with a vertical sound engine.
There are also dual built-in subwoofers in your device that will handle all the bass notes. In order to help you customize your experience, the HTX8500 soundbar offers 7 separate sound modes to optimize the content.
Finally, for connections, this low-profile soundbar can be connected via HDMI eARC and wireless Bluetooth.
For cinephiles and audiophiles looking for something a little bit more low-key and affordable, the Sony HT-S350 is a definite hit. The soundbar subwoofer combo has its own separate but powerful subwoofer for bass improvement.
With the help of Sony S-Force Pro, this slim soundbar can create virtual surround sound to bring the cinema home with you. Speech will be brought to the surface with the voice enhancement technologies and the 7 sound modes will take care of the rest.
For connection, the HT-S350 has wireless and cabled connections via Bluetooth, HDMI eARC, and more.
Soundbar for Sony TV Buying Guide
Getting the best Sony TV soundbar isn't as simple as determining the best sound. There is much more involved when selecting your new soundbar, and our guide below will help you determine what is the best Sony soundbar for you:
(Alternatively, you can expand your knowledge of soundbars by reading our comparison of the Sonos Beam and Playbar, too.)
Soundbars mostly feature a flat profile that is easy to fit into tight spaces. However, a soundbar can come with an entire sound system to help you gain even more home theater benefits [1].
Models like the Sony HT-CT800, for example, comes with its own subwoofer. This gives it an advantage over models that go without one because it's capable of producing thundering bass that can be felt through your body.
Picking one from our list, the Sony HT-Z9F not only comes with a subwoofer but also two satellite rear speakers that can create even more accurate surround sound. You can fully enjoy the dimensions as the sound creeps onscreen and offscreen.
However, if you have a tiny space that doesn't allow for more components, the Sony S100F is ideal. It is just a single soundbar but it can still improve your default factory speakers. V21-H8 from Vizio is also a good choice.
The capabilities built into the soundbar itself are important. Most content now features 5.1 audio and needs a soundbar with a high-tech decoder to produce the intricate acoustics.
Dolby Atmos, DTS:X Virtual, S-Force Pro, Dolby TrueHD, DTS-HD are just a few technologies your soundbar can have. Each one can create a more detailed sound experience than your Sony TV's factory speakers.
Full-range drivers can also emit audio from many directions. By taking advantage of the room's acoustics, these can create a unique home theater sound.
Soundbars can also come with sound modes, which are different preset settings that can optimize certain content. For example, movie mode is ideal for enhancing the sound effects and speech within a movie. Meanwhile, gaming mode on soundbars allows you to enhance the sound effects of your video game.
Do your Sony TV and soundbar support HDMI connection? This is the most recommended connection for 4K TVs and high-quality audio. It can pass high-res audio and can relay the sound from TV to soundbar without lagging.
If not, digital optical is your next best choice. Many soundbars on the market offer more than one connection. The most important thing is to make sure your two devices have compatible connections to work seamlessly together.
Bluetooth is a basic feature for wireless streaming, but some soundbars also have Wi-Fi. With wireless streaming, you can build your soundbar system with more external subs and speakers for a customized system.
If the soundbar you choose supports multi-room streaming, you can enjoy impressive audio from any room in the house. Aside from that, wireless connections also allow you to stream content directly from your mobile devices.
For small room setup, you can check our the best soundbars for small setting.
There are a few ways to control your soundbar. In most cases, a soundbar will come with its own remote control. Some can also be programmed to work with universal remotes.
If your soundbar has a compatible app that can be downloaded to your phone, that can be used as command central when inputting your preferred settings. Or, you can also find a control panel built directly on the soundbar. However, most control panels only provide the most basic control functions such as power, volume, and mute.
Extra features can come in handy for some users. Soundbars like the CT800 and the HT-Z9F have more advanced features such as 4K compatibility and Google Home integration. Some soundbars may even have Chromecast built-in and voice assistance.
Need help finding your next TV? Go through our list of the most recommended 60 inch TVs, next!
Our Top Pick: Sony Sound Bar with Rear Speakers HT-Z9F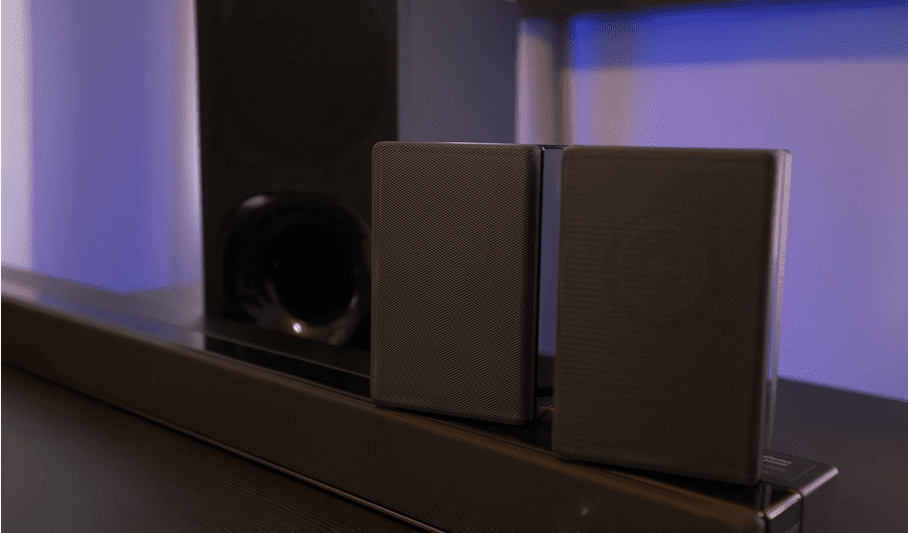 The best soundbar for Sony TV is the Sony HT-Z9F. It features both Wi-Fi and Bluetooth with 4K compatibility. The rear wireless speakers offer variety and flexibility in terms of placement, and can be used to create more accurate surround sound.