You might be looking to upgrade to an impressive sub for a sealed box to improve the quality of your jams. However, as the options are overwhelming and extensive research can only confuse you further, it is best to rely on experts to avoid wasting your time, energy, and even finances. Thus, this guide collated by our team will help you with the product search.
Compare our top pick with other products
At A Glance: Our Top 3 Picks for Subwoofers for a Sealed Box
Quick Summary: Our Top Picks for Subwoofers for a Sealed Box
IMAGE
PRODUCT

Best Overall

10-inch dual 2 ohm competition grade sub
Massive double stack magnet
Advanced air flow cooling design

VIEW LATEST PRICE →

Premium Option

Highly durable
Compatible with both sealed and ported enclosures
Lower than 30Hz average response

VIEW LATEST PRICE →

Budget Option

Good value for its price
1300W peak power handling
Seamless IMPP cone design

VIEW LATEST PRICE →
Reviews of the Top Subwoofers For a Sealed Box
One look at the Skar Audio DDX-10 D2 would seem like you are looking at the best subwoofer for a sealed box with its competitive specs.
The DDX-10 is a dual 2-ohm competition grade car subwoofer with a peak power of 1500W and an RMS power of 1000W. It has a massive double stack magnet and high temperature 2.5" Copper Voice Coil. Its premium paper cone stitched to high roll foam surround guarantee its competition-grade performance.
Additionally, the Skar DDX-10 also has an advanced air flow cooling design that makes it ideal for both sealed and ported enclosures.
The JL Audio 12W0V3-4 promises a high-end performance for a mid-level price with its competitive specs. For starters, it can handle up to 300W of RMS power and 600W peak handling, making it powerful yet controlled. It provides enough boom without harboring too much sound distortion for a budget sub.
It is designed to perform efficiently both in ported and sealed enclosures, and can be customized to accommodate your preference. The 12W0V3-4's high grade polypropylene build not only makes it withstand heavy usage, but also maximizes its sheer power capacity while reducing unwanted distortion.
If you are looking for a high-quality 12-inch subwoofer that excels in sealed enclosures on a budget, then the Pioneer TSW126M may be right for you. Do not let its small price tag fool you, for it has so much to offer in terms of power, volume, and overall sound quality.
The TSW126M is packed with 1300W peak power and 350 RMS. It can be mounted inside a sealed or vented enclosure depending on your preference. Its seamless IMPP cone design reduces its overall distortion while increasing its sound accuracy which makes it one of the best subwoofers for a sealed box.
(For more options, you can also consider reading the Velodyne Acoustics subwoofer review here)
Subwoofers for a Sealed Box Buyer's Guide
The subwoofer's power is determined by the wattage, whereas the higher it is, the more powerful your sub is. Higher-wattage subs are generally preferred because not only can it handle louder volumes, they could also sail through lower frequencies more efficiently.
Bass notes cover the lower end of the audio spectrum and often manifests as the guttural drum notes of a track. In layman's terms, a smooth bass quality would indicate an efficient sub in play. Our experts refer to this quality of sound as Hi-Fi [1].
It is best to remember that the best subwoofer for a sealed box is one that is compatible with what you already have. Our experts recommend that it is best to prioritize the best fit instead of how flashy or appealing its size may be.
Is a sealed sub box better?
A sealed sub box is better in terms of sound accuracy and reverberation. Its advantage over vented enclosures is cleaner sound that can deliver deep bass clearer throughout the frequency range below 80Hz.
Our Top Pick For a Subwoofers For a Sealed Box:
Skar Audio DDX-10 D2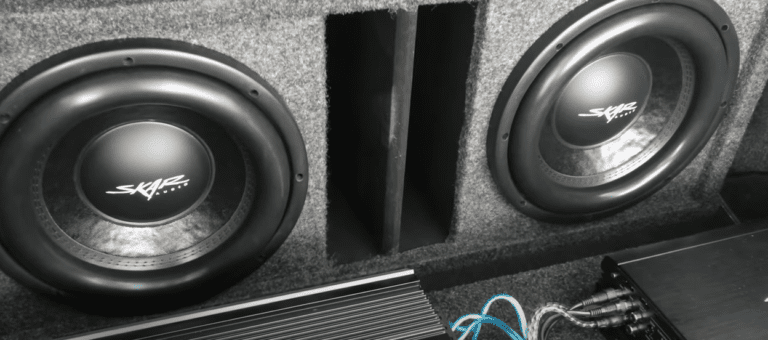 We said it before and we will say it again: you can never go wrong with the Skar Audio DDX-10 D2. Featuring its solid boom and resonance, it is sure to be enjoyed by audiophiles and casual listeners alike. Its high-end specs are durable enough to withstand a beating while retaining clarity—indeed our expert's choice for the best subwoofer for a sealed box!
For more great selections, you can also check out the list below: