Choosing a subwoofer can be a daunting task especially if you do not know where to start. A lot of options are readily available, but based on our experience, not all can carry out the specs they claim to offer. Our team is here to give you a rundown of the best SPL models that we've tried and tested to save you the time and trouble.
Reviews of the Top SPL Subwoofers
Skar Audio ZVX-12v2 D2 12"
If you are an audiophile seeking to have a subwoofer that can guarantee a phenomenal experience with its competitive specs, the Skar Audio ZVX-12v2 D2 may be right for you. Equipped with a legitimately solid bass and portability, this is the go-to option for most hobbyists.
The ZXV has 4 different-sized subs, each of which carrying great-value resonance. For its 12" variety, it runs on a competition-grade paper cone center wound up in a high roll foam surround. This allows the subwoofer to excel in its throbbing faculties.
Additionally, the Skar Audio also excels in maintaining its flawless performance even in extremes where the volume or even temperature is high.
Sundown Audio SA-12 D4 Rev.3 12"
If you are new to SPL subs, it is likely you will come across reviews raving about the performance of Sundown Audio for quality car subwoofers.
Made from the highest quality materials, you are sure to step up your car audio system gaming with the Sundown SA 12 D4 Rev.3 SPL Subs.
With its durable dual-sealed and ported enclosures, this SPL sub effortlessly produces high-quality music that is sure to please someone who has been aiming at a perfect SPL setup. It has a louder bass even though it is in the range of smaller subwoofers.
Harmony Audio HA-ML152 Monolith 15"
The Harmony Audio subwoofer line swears to be simple and innovative in its models. By using interwoven tinsel leads, increased durability and performance are guaranteed on their SPL subs. The Monolith 15" in particular is built for prolonged usage and increased volumes.
That said, even though the dual 2 ohm Harmony Audio HA-ML152 Monolith 15" is built for heavy use, keeping its cool is guaranteed by the large, slotted vents under the spider that allows more air to properly circulate.
Cutting corners is not something Harmony Audio is known for. Rather, they make sure that they do not compromise quality with accessibility, making it a sound choice for the best SPL subwoofers.
Massive Audio SUMMO 124 12" Car Audio
Massive Audio has been one of the pioneering manufacturers in creating high-quality subwoofers. For this reason, it is safe to say that it has mastered its craft of sound reproduction for well over a decade. With its stellar credentials, the SUMMOXL stuns us with a rugged yet sleek design that delivers a highly satisfactory, polished output.
This Massive Audio series comes in 3 size variations, and each model houses a 4-ohm voice coil that allows high-grade resonance. Its Kevlar fiber, unpressed paper cone sets the Massive Audio SUMMOXL124 apart from other SPL subwoofers. It features a die-cast aluminum basket that allows the speakers' output to have solid quality and high resonance.
Earthquake Sound SubZero-15 15-inch Car Subwoofer
The Earthquake Sound Subzero-15 has made its mark by having efficient bass drivers that excel in speed, sound quality, and SPL. This 15-inch car subwoofer is handmade from the US and has a massive 3.25" aluminum voice coil with flat wire wrapped around edge-wound style.
Its 3.5" tall stature on the 15" model allows an astounding 4" peak-to-peak travel as it winds the magnetic gap at all points. Additionally, the Subzero 15" also prides itself on its TCT coil and pole technology for high efficiency output, and exclusive 8-gauge PSP Terminal block that allows mono and stereo impedance simply by flipping fuses.
For other great options, you can check our comprehensive review of Velodyne Acoustics subwoofers here)
Orion HCCA15 12" Car Subwoofer 2000 Watts
The Orion HCCA152 is known for its 5000W peak power handling and an RMS power of 2000W, sealing its place as one of the best SPL subwoofers. Its performance is loud yet efficient, and every one is sure to turn their heads once they hear you coming.
Its powerful specs are backed by the heavy build that is designed to withstand it. In addition to its high power applications, the Orion HCCA15 also has an enhanced built-in cooling system to assist the high-temperature voice coils during prolonged usage.
To seal the deal, it also has a rubber tri-radius symmetrical surround, and dual flat conex spiders with loop stitched tinsel leads.
Sundown Audio X-12 V.2 D2 12" 1500W RMS Subwoofer
For most car audio subs, an increased volume would usually mean increased sound distortion. However, for the Sundown Audio X-12 V.2 D2, this is hardly the case.
This subwoofer rightfully belongs to competition subwoofers as it is integrated with monster specs designed to produce a consistent optimum performance no matter how soft or loud it is used.
It has a high-quality build that allows it to handle additional power and volume effortlessly. With its dual voice coils and dual 2-ohm sub with a 3000 watts max capacity, enabling it to deliver exceptional performance, even at full-blast volumes.
SPL Subwoofers Buyer's Guide
There are lots of sizes to choose from when it comes to subs, but the most common are 8", 10", 12" and 15". The general rule is, the larger, the better, deeper sound output although there are always some exceptions.
As for the installation, it is best to assess the space available to you. As some subwoofers can be bulky, choose one that would perfectly fit in your vehicle to maximize its usage.
Other manufacturers offer professional installation depending on your location. If it is not too steep and the circumstances allow, our experts recommend you take them up on it.
The subwoofer's power rating is determined by watts. In simple terms, a wattage refers to the overall power of your speaker not only in terms of how loud it can go, but also a measurement of how much power it can emit from your amplifier. An SPL meter[1] can help gauge the decibels to determine how loud your stereo plays.
As a rule of thumb, if you have an expensive, powerful amp, you need to match its minimum load capacity to avoid the risk of damaging it. That said, you would need a subwoofer with a larger watt capacity to fill that load.
It is also important to note that a higher wattage car subwoofer should not only emit more decibels but also have a higher sound quality even at lower volume frequencies as well.
All subwoofers perform differently in such a way that each of them has a specific area they excel in. For example, SQ subs take pride in sound quality which is usually subjective, while SPL subs are more well-rounded overall.
The type of enclosure used in your subwoofer plays a pivotal role in determining your sub's performance. In simple terms, subs with a ported enclosure tend to have a louder, deeper bass but are less accurate in terms of resonance. These are generally more efficient, and do not require much power, making them a more common choice for SPL subwoofers.
Meanwhile, subs in a sealed enclosure are tighter and more accurate in terms of bass quality. They are smaller in size, but require more power to operate.
The frequency response refers to the range of frequencies your subwoofer can handle. Generally, humans hear faint bass frequencies at around 20Hz, although it is not a clear, resonant sound.
That said, if you are looking for the best SPL subwoofers, you would need to look for a versatile model that can explore a variety of frequency depths. Our experts suggest leaning on a maximum range of 35Hz for bass power, to ensure its clarity and resonance.
The subwoofer's voice coil supplies the motive force to the cone, which allows it to produce clean sound and resonance. The voice coil is also responsible for the thermal power handling of your speaker.
An SPL subwoofer can either have a single or dual coil, depending on its model and make. A subwoofer with two voice coils generally provides a better overall output; while a single voice coil may run hot over prolonged use, so it is best to opt for one that has a longer design.
As for the sub's cone, paper cone is usually preferred as it is lightweight and compatible with a number of treatments and coatings. Another top pick is the polypropylene cone. This is usually used for midrange speakers, and is less likely seen in sub cones. They have a tendency for some distortion on very high volume frequencies.
Lastly, a metal cone is exactly what one should go for if they prefer to avoid distortion. It is even less likely to be seen in a car subwoofer as it is quite heavy, thus effectively reducing the amount of air it can push.
To put it simply, an SQ stands for Sound Quality. This kind of subwoofers produces accurate sound without any distortion, while SPL (Sound Pressure Level) is suggested when you wish to focus on the powerful bass for your car audio system. The sound pressure level is objectively measured in decibels (dB).
Larger SPL subwoofers averaging 15"-18" are more common since the extra atmospheric pressure provided by a wider cone is recommended to guarantee high quality music output. Consider steel tweeters with intense highs to accentuate the booming, and a hefty bass to boot.
SQ subwoofers are more difficult to gauge as the sound quality is measured subjectively. Generally, it only suggests that the system has an outstanding sound staging and remarkable tonal or musical precision. Smaller subs at 10" and 12" are a lot more commonly used for SQ applications.
Depending on one's demands and capacity, subwoofers range from a couple of hundred dollars to a thousand. Larger subwoofers with better make and competition-grade are obviously a bit pricier than those that are intended for basic utility. When determining which sub to go for, our team suggests you take into account what you will use it for, and go for something that you can maximize in the long run.
What is SPL on a subwoofer?
SPL stands for Sound Pressure Degree. This refers to a sound pressure level that indicates how loud a subwoofer can go, and is usually known as the boom in the subwoofer. Ported enclosures are the norm as far as SPL subwoofers go due to the fact that it offers a better resounding sound that can complement the bass.
Our Top Pick For an SPL Subwoofer:
Skar Audio ZVX-12v2 D2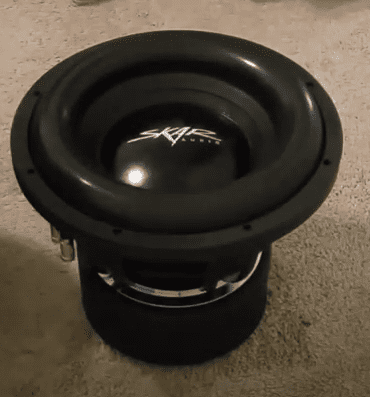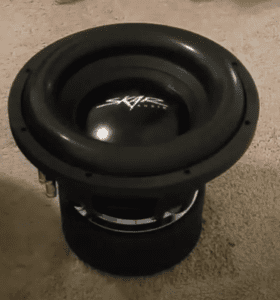 If you are an audiophile going on frequent road trips, making sure you have the best jam is surely one of your priorities. Aside from being highly affordable, the Skar Audio ZVX-12v2 D2 marked its claim as the best SPL subwoofer with its tremendous resonance, and high-grade make that allows it to pack a tighter punch than most others within its range.
For a wide range of selections for subwoofer products, you can check this list below: