Are you looking for a new and trusty short throw projector? Like most items, not all short throw projectors are the same. Without vetting through all the subpar products, you could end up with one that blurs the image at close range. To help you avoid this, our home entertainment experts have reviewed the best short throw projectors.
Reviews of the Best Short Throw Projectors
As a WXGA projector, the BenQ MW632ST delivers higher picture quality than its SVGA counterpart. Whether it's movies, presentations, or graphics, the small short throw projector has you covered.
Offering 32 lumens and a high native contrast ratio, the MW632ST is excellent in both a light and dark room for color portrayal. The lamp life is also extended with up to 10,000 hours of playtime, which should last for at least 10 years.
The BenQ MW632ST will turn on instantly, so there is no wait time before presentations. The auto vertical keystone will allow you to adjust the projection angle.
The premium features of the Epson Home Cinema 4010 bring more vivid pictures and color contrast. As an actual 3-chip design, the 4010 brings a more impressive color gamut to every frame. There are 4K and HDR processing abilities for sharp and clear pictures regardless of the content.
The focus produced by the Epson short throw projector from its lens deserves some recognition. There is minimal light leakage, which provides more uniformity and clarity.
The precision lens has 3 axes and is motorized to act as the keystone correction vertically and horizontally.
Even a projector for those on a budget can produce 3400 lumens for crisp and clear images. The ViewSonic PS501X small short throw projector is helpful in various environments, including work or home use.
Worried about how to get it all set up? Don't be, because the PS501X is a simple plug-and-play design. The long lamp life, with the help of SuperEco mode, has the ability to shine for 15,000 hours, which means no bulb replacement for at least a decade.
The PS501X works with your PC, media players, and mobile devices through various connections backed by a 3-year warranty.
Epson EpiqVision Ultra LS300
The Epson EpiqVision Ultra LS300 is quite a sight. Not only does it produce visually appealing pictures, but it's also lovely to look at. The device comes in both black and white to match your interior decor. The picture is stunning with laser array technology, but it doesn't stop there. This tiny short-throw projector is jam-packed with a ton of features.
You can find built-in Android TV, Chromecast, and a 2.1 sound system embedded by Yamaha. Google Assistant is also at the ready and can assist you at any time you want entirely hands-free.
The Optoma GT1090HDR short throw projector is a very highly-rated movie projector by our media engineers. It comes with a DualCore Laser Light Source, which can play up to 30,000 hours and is maintenance-free. The light also has an IP rating of X6, which means it is dust-resistant.
The short-throw projector works with HDR10 and delivers very detailed pictures with a high contrast ratio. You can play actual full 3D content via the GT1090HDR, and it comes with extensive connectivity options. View your favorite content with the light on or off as the bright picture will permeate the room.
If you're a fan of video games, then the ViewSonic PX703HD is an excellent gaming projector that supersizes the images. This feature is also great for movies as it simulates a cinematic experience at home with low input lag.
The short-throw laser projector has exclusive color technology from the brand that brings a wider color gamut to the screen. There is even an exclusive game mode that works to reduce latency so you can enjoy lag-free gaming and smooth frames.
EcoMode is also found on the PX703HD, which allows the lamp to stay bright for up to 15,000 hours. The short-throw projector integrates easily and is backed by a 3-year warranty.
This tiny projector features a novel design. XGIMI Halo has portable projectors that fit easily into a carrying case. The compact design is a short-throw projector that has all the state-of-the-art bells and whistles consumers want.
It's rated at 800 ansi lumens, which makes it brighter than traditional projectors. It also delivers cinematic sound with the help of Harman Kardon technology and Dolby Audio. There is both vertical and horizontal keystone technology and Android TV built-in.
How much space does it need? Next to none as the small short throw projector isn't even 10-inches tall.
The LG HF65LA is an ultra-short throw projector or UST projector for short. This means the HF65LA only needs a mere few inches to cast the perfect picture. It's also full-HD capable and is equipped with wireless Bluetooth.
The ansi lumens rating of 1000 is incredible and blew our media experts with the image portrayal and brightness. The tiny projector has LED illumination and connects with HDMI for the best passthrough.
The ultra-short throw projector is easy to set up and has 4-corner Keystone Technology that will provide the perfect picture alignment. The LG HF65LA has easy integration with the brand's WebOS smart TV interface.
The Optoma CinemaX P2 is very pricey unlike other projectors under 200 listed here, but not without good reasons. The ultra-short throw projector delivers one of the highest contrast ratios we have seen at 2,000,000:1. The 4K UHD and HDR10 bring the cinema home with you.
The color wheel brings more accurate hues to the high image quality, and the Laser Technology makes this laser projector provide 3000 lumens of brightness for over 30,000 hours.
The setup and control are easy with nothing but your voice, thanks to Alexa and Google compatibility. You can customize the picture from your smartphone as well via the SmartFit app.
Short Throw Projector Buyer's Guide
You must have so many questions buzzing around your head. Is there an advantage to short throw projectors? Are long throw projectors better or worse? Our professional techs will answer all of your questions, show you what to look for in the best short throw projectors, and give you some tips for placement.
You need to consider the size of the projector, although our media team says they are rarely significant. You will have a hard time finding ones that exceed 13 inches, so the key is to find small and portable ones. Ask yourself what you plan to use the short throw projector for and if you need to transport it.
For example, if you plan to use it as a gaming projector for outdoor movie nights and work presentations, our team members suggest purchasing a small one.
Since short-throw projectors are extra ergonomic and these devices aren't generally significant, considering the size of your room is less pressing. However, you should still think about where you plan to place it to see if the size will get in the way.
The projector brightness, or lumens rating, tells us how bright the images onscreen will be. You may sometimes come across an ansi lumens rating as well. Ansi lumens is just a lumens rating that Ansi standardizes. It makes ansi lumens ratings more accurate.
Our media experts suggest looking for a projector image that has at least 3000 ansi lumens or lumens. The higher the number, the brighter the image. If you plan on enjoying your content in a dark room all the time, then a lower ansi lumens rating is acceptable.
If your entertainment room is susceptible to ambient light, then our team would recommend a 3000 ansi lumens rating or higher. This way, even if ambient lighting creeps into your viewing area, your short throw projector will be bright enough not to be affected.
The resolution pertains to picture quality. 1080p or Full HD is the very lowest standard our media team suggests. Yes, 720 is also considered HD, but there is a marked difference between just HD and full HD in terms of sharp image quality.
1080p is the very least amount of pixels we suggest, but we'd also recommend you to shoot higher than the primary standard. A 4K laser projector will deliver an incomparable picture at four times the amount of pixels as the regular full HD.
There are very high-quality full HD projectors and entry-level 4K projectors that won't show many discrepancies in image quality. So down-grading to a top-of-the-line full HD short throw projector can save you some coin, and the difference is barely noticeable, especially in dark rooms. However, you may notice a difference when ambient lighting is factored in, but the difference is still minimal.
The projectors our professional media team chose are all at least full HD, but many offer 4K, UDH, HDR content compatibility as well.
Although we are focusing on short-throw projectors, it's still necessary to understand the throw ratio and what separates long-throw projects from short-throw projectors to ultra-short-throw projectors.
In short, the throw ratio is the distance required to "throw" a precise image up on your wall. Regular throw ratios need around 8 feet or more, and short-throw projectors will need a distance around 8 to 5 feet and sometimes less. Ultra short throw projectors are where the miracle happens. Some ultra-short-throw projectors only need a few inches!
The throw ratio is depicted with a decimal number. For example, a throw ratio of 1.5, which is very common, means that the projector needs 1.5 feet for every foot of the image. The manufacturer will list the throw ratio, but it may require some math to get the correct figure for your setup.
The frame rate or refresh rate is significant for a short-throw or long-throw gaming projector. Any content you play that requires fast images across the screen, the refresh and frame rates will determine your experience. The refresh or frame rate is how fast your projector can process video images.
The frame rate is measured in FPS [1], and the refresh rate is calculated in Hz, but they are essentially the same. Our media team recommends at least 120 FPS or Hz. The higher the number, the faster your projector can process images and produce smooth and seamless imagery.
Image and focus adjustability is a bonus feature that not all short throw projectors provide. The best short throw projectors will have lens shift, which can counter the keystone effect. The keystone effect is the blurring of images because they are projected at an angle. If lens shift is automatic, the projector can auto-detect unclear images and configure its lens accordingly.
Lens shift allows the short throw lens to move in every direction to correct the image without repositioning.
Then there's the focus feature, which can be manual or automatic. Of course, the best short throw projector will have all auto features, but a hands-on approach can give you more control. The focus feature is like the focus lens in a camera. You would adjust it to find the most explicit imagery.
Lastly, we have the keystone technology, which is something our team and many consumers strongly recommend looking for. Keystone is available in long-throw, short throw, and ultra-short-throw projectors.
There are vertical and horizontal keystones that ensure you have a perfect rectangle image on the screen. Traditional projects will produce an uneven shape when casting at an angle, but this won't happen with a keystone.
How do you set up your short-throw or UST projectors? Aside from the projection distance, you need to look at the connectivity offered on the device. As always, our media engineers suggest HDMI, as it's the best connection to ensure crisp image production. It can do the RGB color wheel justice with a high-resolution passthrough.
HDMI is also great because it's a plug-and-play method. Just identify the correct ports, plug the cable in, and you're good to go.
If you have audio needs, an HDMI ARC will guarantee the highest sound quality. Before you opt for a portable projector with HDMI, you need to make sure your sound system and other media devices support the same connection.
What is a Short Throw Projector?
A short throw projector is a projector that can cast a large image, usually around 100 inches or more, from just a few feet away. The average short throw projector has high contrast and needs a distance of around 5 feet for maximum screen size. Most people opt for a short-throw design as they take up less room and are ideal for smaller spaces.
Our experts have also featured many models that have a wireless connection via Wi-Fi and Bluetooth. If going wireless is something you prefer, then look into the XGIMI and LG options, to name a few.
Short Throw Projector vs Ultra Short Throw Projector
Short throw or ultra-short throw projectors – which should you go for? This is a question we are asked a lot, so our engineers wanted to take some time to address it. Both types of projectors can cast large images in a tight space, but ultra-short-throw projectors win in a confined area as they need only to be just inches away from the screen or wall.
In comparison, most short-throw projectors need around 3 to 5 feet to cast a 100-inch image. However, a UST device only requires 3 to 20 inches for the exact image size.
Of course, the UST models cost more. Aside from a smaller throw ratio, they have a higher contrast ratio and handle ambient light better.

Which should you go for? Our media team suggests ultra-short-throw devices for people with specific needs or who want the best of the best. If you're a casual viewer and don't require a projector for professional purposes, a short-throw unit will be enough.
Advantages of a Short Throw Projector
One clear advantage of a short-throw projector is it demands less room to operate. You can get big-screen images by only sacrificing a few feet of room. A short-throw home theater projector is your best bet for efficiency and convenience. Installing and placement for a short-throw projector are also hassle-free. Traditional long throw projectors may need to be mounted on the ceiling or placed on an elevated surface, but short throws can conform to your room.
You can get excellent quality images and screen mirroring by just putting it on your coffee table. If worse gets to worst, you can even just hold them in your lap. Short throws are also more undersized in size, so users can carry them wherever they need to go.
Our experts will say that purchasing a screen instead of just casting on a wall with your shorter throw projectors will yield better results no matter where you place it.
Ideal Placement and Position
Speaking of placement, is there an ideal position to set up your big-screen presentation? First, ask yourself if the unit you opted for has image adjustment features such as auto keystone. If it does, then your placement options will significantly expand. If not, you need to consider the right angles and proper levels to find the ideal spot.
In general, place the projector directly in front of the screen at a distance of around 5 feet. If you have an ultra-short throw, then you can move it forward closer to the wall. There are also mounting options if you want to get creative. You can consider securely fastening the projector on the ceiling to forever keep it out of the way.
It may take some experimenting to find the right place, but just make sure the image is always a perfect rectangle and enough brightness. Set up your system in a place where you won't be affected by ambient lights for the best color accuracy.
(For affordable options, you can consider buying excellent projectors below the price of 100 here)
Is a short-throw projector better?
Yes, a short-throw projector is better if you have limited space to work with. Some models can even come with a digital laser display for high resolution and accurate colors. They are more expensive, but they also come with advanced features such as innovative TV features with an Android TV dongle, a deep black contrast ratio, a high ansi lumens rating, and very low input lag.
How long does a short-throw projector last?
A short throw projector can last for at least a decade. Many models with energy-efficient technology, such as a LED light source, give the light up to 30,000 hours of life and enough power to light up all the bright scenes at any throw distance.
Our Top Pick For a Short Throw Projector:
BenQ MW632ST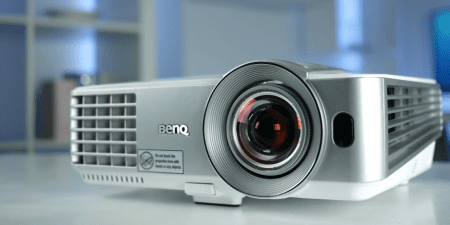 Our media team landed on the BenQ MW632ST as the best short throw projector in the group. It produces very accurate colors with WXGA resolution. The short-throw distance is supported by an auto vertical keystone that positions the images at the best angle. You also get an instant-on feature, low input lag, an anti-dust sensor, and a Kensington lock.