A premium TV soundbar, like the Samsung HW-Q990B, can give a more immersive viewing experience. While you can rely on its quality, this soundbar can be very expensive for some.
If you don't want to splurge on a piece of equipment with lesser features, our audio engineers have prepared this in-depth Samsung HW-Q990B review to know if it's worth the money or just another hype.
The Samsung HW-Q990B soundbar is exquisitely elegant for your home design. Unlike most soundbars that are huge, bulky, and distracting under your TV, this sound equipment is simple and has a minimalistic design.
It is entirely black in a non-reflective matte finish, so it does not draw much attention. It has angled corners with a sturdy metal mesh grill. Also, it fits perfectly under your 55 inches TV screen or larger.
Another improvement that Samsung made to this model is they put the display back in front of the soundbar where you can easily view it. With the older models, it is on top, which is quite impractical.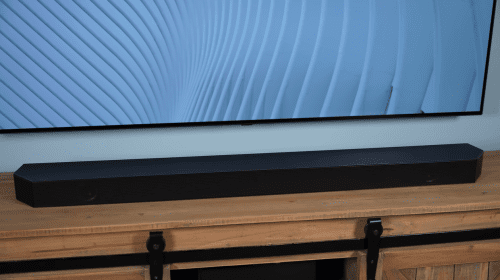 It comes with wall mounting brackets that you can use if you prefer it over a stand. Either way looks stylish and will not be out of place in your entertainment room.
The subwoofer has an aesthetic design with a stunning matte black finish. But what we like the most is its improved 8-inch driver designed with an acoustic lens, which creates uniformity of the bass and makes the low-end clearer and more precise.
It has wireless connections but needs to be plugged into the power source.
The rear speakers mimic a curved cabinet designed with a metal mesh grill like the soundbar, so the design has seamless consistency. These rear speakers are just the right size to produce a clearer and louder sound.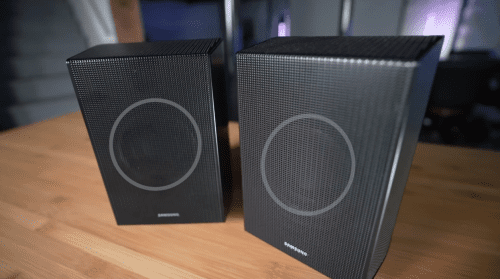 Although they are quite big, they are not as bulky and hideous as other speakers. You can either mount them on the walls or the stand.
Samsung HW-Q990B Features