A common misconception is that a projector cannot be used in a living room. Projectors are no longer synonymous with dedicated home theaters. Some would be adamant about setting up a projector in the living room. Nevertheless, installing a projector is as beneficial as getting a television. With our experts' advice, you can make the projector an important part of your home theater system.
Living Room Projector Setup
One way to set up your projector in the living room is by mounting it on the ceiling, although this could be more complicated in some living rooms. Installing a projector in the ceiling not only offers an impressive viewing experience but also saves a significant amount of space.
Here are the steps that you need to follow to mount the projector in the ceiling properly:
Locate a place in your ceiling to mount the projector

Determine the height of the ceiling

Position your projector

Explore the best throw distance

Find the ideal vertical offset

Look for the best viewing angle

Attach the mounting bracket to the projector

Connect the cables
Use a Mobile Projector Stand
If you do not intend to have the projector in the living room indefinitely, you will want to use a mobile stand. You'd only do it for specific movies, big events, or special occasions. A mobile projector stand allows you to quickly and easily install any of your audiovisual presentation equipment[1]. You can adapt it to your needs for your next presentation thanks to its upper tilting tray, height customization, and flexibility. Here's how you can set this up.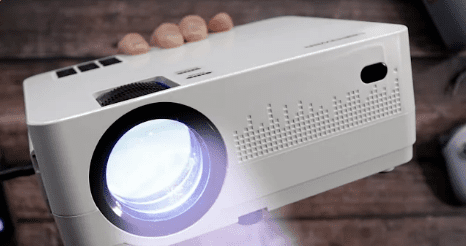 Find a mobile projector stand that you like

Assemble the projector stand

Find the ideal location and distance from the screen

Make adjustments to the height of your projector stand
Place It on a Coffee Table
Installing the projector in a suitable position and running the cables can be incredibly challenging in some living room arrangements. As a result, it might be possible to merely place the projector on top of a coffee table facing the screen at times. Here's how to get started.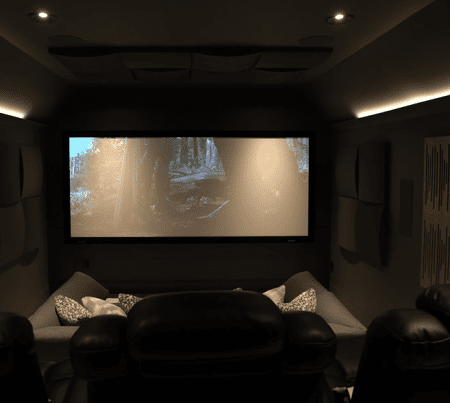 Find the right location to place your projector

Set up your projector screen

Determine the proper height

Connect the wires and turn them on

Align your projector to the screen

Make adjustments

Select the right picture mode

Switch the lights off and enjoy!
One option you might want to try out is to set your projector on a shelf behind the couches or chairs if the living room ceiling is high. You may use a bookshelf/cabinet or a revolving shelf that is attached to the wall. In this approach, the cables can be routed in a variety of ways. Here's how you can do this setup for your living room.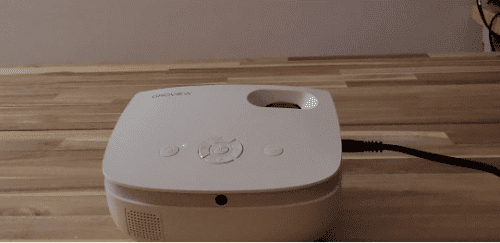 Make sure that your projector has an adjustable vertical lens shift

Find the ideal location on your shelf to place the projector

Ensure that your projection has proper ventilation (you may drill some holes on the shelf to get ventilation)

The projector should be completely level in both horizontal and vertical directions – practically perpendicular to the screen

Switch your projector on and make the proper adjustments

Enjoy!
Most people are unaware that installing a projector in a room is the closest thing to having your home movie theater without necessarily owning one. One advantage of this setup is it will indeed bring the whole family together as you can host events, parties, or gatherings of family or friends.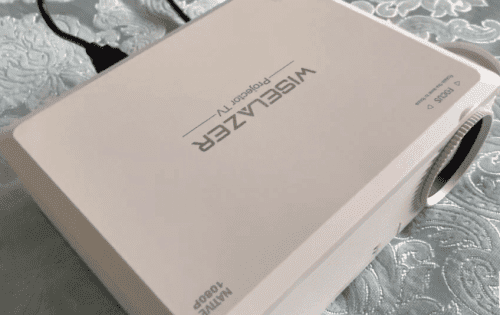 In terms of screen size, a living room projector is an increasingly cost-effective option; projectors may cast a picture onto a much larger viewing space, while a similarly sized television would be prohibitively costly. Finally, you can see all of the fine details in your ultra HD material with a living room projector rig.
(If you are looking for a great projector for your home theater, we have the most outstanding home theater projector for you)
Can you use a projector for everyday TV watching?
Yes, you can use a projector for everyday TV watching. It has the same output/input connections, so there should be no problems. As long as it is connected properly to the source, you can enjoy watching TV with a projector.
How dark does a room need to be for a projector?
The room surfaces should be dark when using a projector. There should be no off-white walls, and the ceiling and floors should be medium to black. The darker the room, the better. However, this is still dependent on the size of your projector screen and the kind of projector you have.
Setting up the projector can be a difficult job. There are many factors to consider. However, setting it up in your living room is worthy because of the advantages, benefits, and versatility it provides. Our experts hope that this article has helped you determine the ideal projector setup for your living room.