Most Insignia TVs have the same problem of not starting or turning on. We've encountered a lot of owners dealing with this problem. So, if you're one of those, lucky you, you're at the right place.
Our professional technicians will share the nine best fixes if your Insignia TV is not turning on or starting like before. Keep reading this post to learn more!
How to Fix an Insignia TV That Won't Start or Turn On: 9 Best Fixes
Fix #1: Unplug the TV and Do a Power Reset
The first thing you should do before you do a power reset is to unplug it from the power source. While your Insignia TV is unplugged, press and hold the power button (of your TV, not the remote) for about 30 seconds. Then, leave the TV unplugged for another 30 seconds.
After the full 60 seconds, plug it back on the power supply, and your TV should turn on without any problems. If this your Insignia TV won't turn on still, proceed with the following fixes.
Fix #2: Check the TV's Temperature
If you have an Insignia Smart TV, it is prone to throttling, which eventually shuts down when the temperature rises.
You can touch your TV's body to check if it's too hot. If so, turn it off, and let it sit for a few hours until it cools off. Also, ensure it is in a well-ventilated space to maximize cooling and heat dissipation.
Fix #3: Remove the Batteries From the Remote
The next fix is to remove the batteries from your remote control. With the batteries removed, hold down the power button for 30 seconds.
Afterward, put the batteries back in your remote's battery compartment and turn on your TV.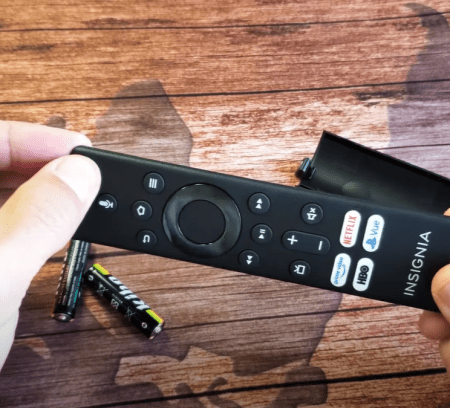 You might want to consider using new batteries to be sure.
Fix #4: Use a Different Power Outlet
If your Insignia TV won't turn on still, we suggest plugging it into a different wall outlet or wall socket, as long as there's a power supply.
There are instances when a power outlet or power source has blown or has a short fuse, thereby causing the issue. So, if your TV turns on without any problem, that's an outlet or power supply issue.
To test the issue, you can plug any electronic device into the power source and see if it will turn on. If not, immediately seek help from an electrician.
Fix #5: Check the Power Cord or Ports For Defects or Damages
The issue might be caused by a defective power cord, port, or TV cable, so double-check both the TV and ports for damages.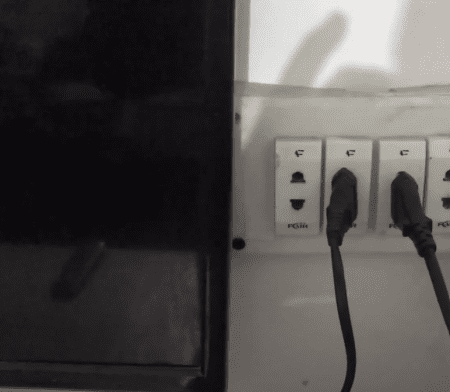 Detach the cord from your TV or streaming device. For an easy fix, leave this unplugged for 60 seconds or more, then plug it back to ensure the connection is snug.
After you plug back the power cord, turn on your Insignia TV by pressing the TV power button. You'll see the red light indicator as it comes back to life as usual.
Fix #6: Do a Factory Reset on the TV
Another effective fix is to factory reset your Insignia TV. Here's how:
While your TV is plugged, turn it on, then press the "Home" on your remote.

Navigate to "Settings" and select "Device & Software."

Next, choose "Reset to Factory Defaults." Your TV will turn off and on again. Once it turns on, a setup screen will appear.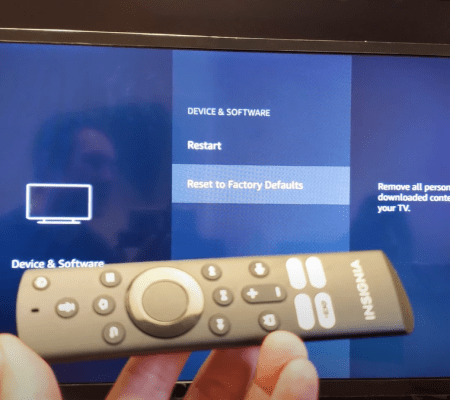 If you have a reset issue on your older TV model, try these steps instead:
Navigate to "Settings" and select "System."

Choose "Advance System Settings," then "Factory Reset," followed by "Factory Reset Everything." That's it!
How to Factory Reset an Insignia TV Without a Remote
If, for any reason, you don't have your TV or universal remote, you can still reset the TV to its factory settings.
Unplug your TV from the power source

[1]

(or power supply) and find the power button.

Press and hold the power button. While pressing, plug your TV back in.

When the Insignia TV logo appears, release the power key. Then, you'll see a recovery screen.

Press the power button until you get on the "wipe data or factory reset."

Once you're in this option, press and hold the power button again until you see the "wipe data or factory reset" option turns green.

When a box asks if you're sure to reset the TV, select "Yes," then wait for the TV to reset.

Lastly, select the "reboot system now" option.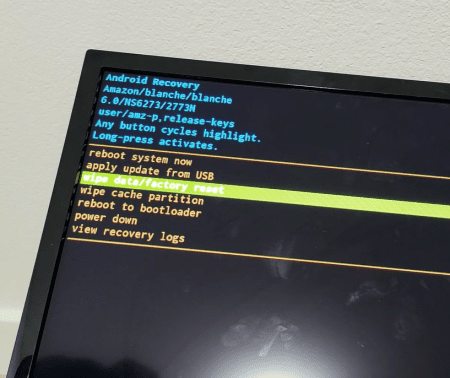 Important Note: Your Insignia remote control will stop working when you factory reset your TV. Repair it by pointing the remote at your TV, pressing the "Home" button then holding it for 10 seconds. Wait for a minute, then try using your remote. It should work fine now.
Fix #7: Choose the Correct Input
Your Insignia TV won't turn on possibly because the input source is not in the correct settings.
If you're using a DVD player, a cable box, or any connected devices, make sure that the TV's input and source match the number of HDMI ports it uses.
Option #1: Enabling the Input Source With a Remote Control
After you plug the TV into the power source, turn it on.

On your remote, tap the "Source" button.

Search and choose your desired input mode.
Option #2: Changing the Input Source Without a Remote Control
Start by plugging your TV into the power source, then turn it on.

Tap the "Menu" Insignia TV button (usually located at the bottom or side of your TV).

Navigate to the "Source" option using your TV's volume keys.

Tap the "Menu" button, then search and select your desired input source.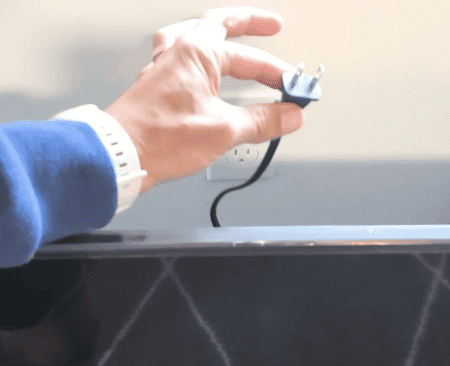 Note: Some Insignia TVs have the "Source" button at the side or back. Check yours carefully.
Fix #8: Check the TV's Backlight
If none of the fixes work up to this point, your TV's backlight may be broken.
Try taking a flashlight with you when you turn on your TV to check the issue. Flash the light on the screen and look closely to see if there's any image or picture.
If you see a faint image, it could be because the TV's backlight has failed. You should replace it immediately.
Fix #9: Check the TV's Power Board
If there's been a storm recently, it's possible that your TV's power board has got fried. One way to confirm this is to remove the back panel.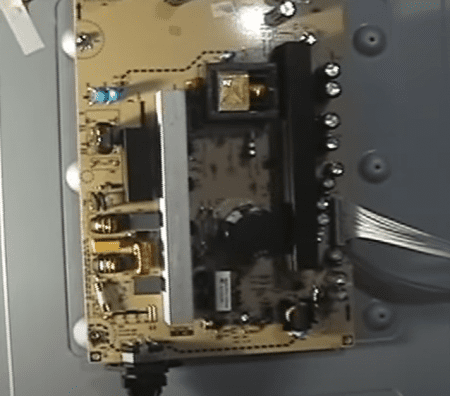 To test if the motherboard is not the culprit, plug in your TV, then turn it on. Detach the cable connecting the power board and motherboard. Your power board is OK if your TV lights up (or the red light lits), but you have a bad motherboard. So, we suggest replacing the broken board.
When to Contact Insignia's Support Staff or Get a New TV Unit
If your TV is still not turning on, it's time to contact Insignia's customer support. You can reach their support team by calling 1-877-467-4289 – available daily from 8 am to 9 pm CT.
Alternatively, you may consider buying a new TV unit if you feel like your TV is hopeless. If you have the budget, why not?
Will I be able to get my Insignia TV replaced if it's unable to turn on?
Although the one-year warranty on all Insignia televisions is a standard feature, it doesn't cover internal component damage or accidental damage. You can still get your TV replaced and hope your TV doesn't have internal components damaged so it can be replaced with a brand new unit.
What are the signs of a bad capacitor on an Insignia TV?
One sign of a bad capacitor is when there's brownish fluid flowing out of it. Also, having a bulged capacitor is a sign of damage.
Is it possible that my Insignia TV was infected with a virus from an app, causing it to malfunction and not turn on?
There have been reports of Insignia Fire TV units being infected by crypto viruses. These infections occur when users sideload apps from malicious websites. But, none of the viruses have a function that prevents the TV from starting or turning on. Therefore, this possibility is low.
Don't be alarmed if your Insignia TV is not turning on as usual. It is a very common issue, and several fixes exist to resolve this concern.
But, if your Insignia TV won't turn on frequently, we suggest consulting an appliance technician. Recurring issues turning on your TV or any electronic device can be one of the signs of an underlying technical problem.