People always love to have a potluck karaoke party. However, it might be intimidating to set up a karaoke system at home as you need to sort out a lot of cable connections and equipment. Don't worry as our experts detail everything you need to know on integrating a karaoke system with your home theater through this guide.
Preparing a professional karaoke setup with your home theater system is easy if you follow these simple steps. Start with preparing the essential things needed below:
These cables are your standard connection cables. Remember, your RCA cables need to have the yellow cable as it carries the composite video signal.
Most karaoke machines come with cables, but if they don't, you can always buy \online in order to make the RCA connection possible.
A home theater system can receive audio from different sources. If you want a karaoke system setup with your home theater, an audio input should be available to accommodate it.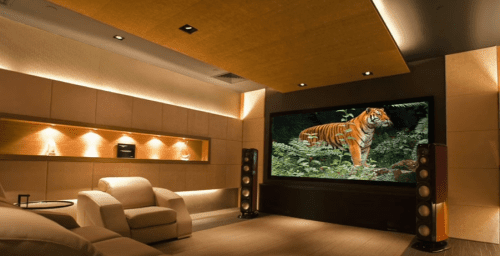 Removing the audio input jacks from your TV or other sources every time you need to use your karaoke is time-consuming.
Most karaoke machines also have their own PA speakers. So hooking it up with the home theater speakers would really enhance the sound quality and your karaoke party experience.
There are two main types of karaoke machines, the ones with built-in speakers, or those without one. Karaokes without built-in speakers are those which have songs in their system already. These are designed to be connected to a home theater system or an external speaker system.
A karaoke machine with built-in speakers is already a complete system by itself. However, not all of them have sound output. When looking for a karaoke system, look for one with RCA connections for its audio output.
Steps to Set Up a Karaoke System With Your Home Theater
Once you have a decent karaoke machine with RCA cable and other equipment mentioned above, you may begin following the steps on how to set up a karaoke system with home theater below. Our experts detailed the methods for a successful home karaoke party.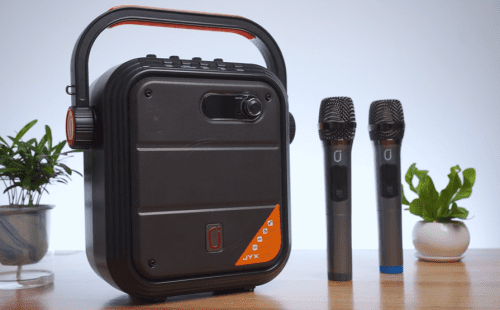 Step #1: Locate Ports and Cables
Check your karaoke player and look for its audio-out plugs. A standard audio system has the input and output located side by side. Remember to insert the cables into the plug labeled as OUT.
Step #2: Plug the Karaoke Machine to Receiver and Speaker/s or Mixer
Now, look for your home theater system's receiver. Connect the other end of the cables to the input plug of the receiver. Remember to color-code the plug and the jack.
Then, switch on the karaoke system with a home theater receiver. Look for the receiver selector knobs then set it to the karaoke's jacks.
Use a sound mixer if available. This device functions to mix different audio sources like wired microphones, musical devices, and others. The sound mixer will then send the mixed audio to the speakers.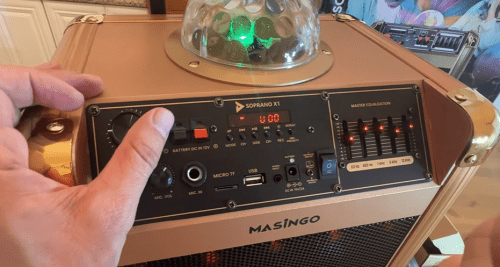 There are many types of karaoke sound mixers available online. Some allow you to regulate tempo, echo, tone, and balance. There are some that accommodate connection to wireless microphones.
Step #3: Set Up Microphone
Karaoke parties are not complete without a duet song. Using more than one microphone is absolutely essential for that party vibe. So why not use different types of microphones for your karaoke player sound system?
Our experts suggest using a wireless mic. This will prevent tripping hazards when you set up a karaoke system or while you're enjoying the party. Most models allow you to regulate the microphone volume and to enhance the sound quality.
If you are using a wired mic, plug the cable to the "MIC IN" input of the receiver. Connecting the mic to any external system is also possible if the MIC IN input is not available.
In order to properly set up a karaoke system, you have to ensure that all wires and cables will not be a source of accidents. Having the stereo cables hidden will also ensure that they will function properly as they won't be tugged accidentally.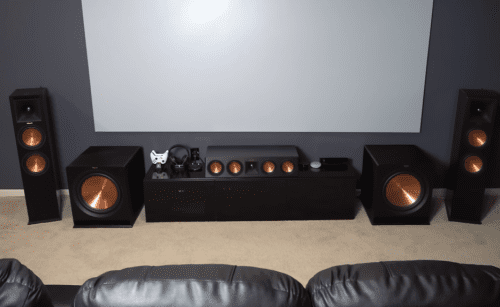 Step #5: Test the Connections
Once you have done all the necessary connections to set up a karaoke system to your home theater, you may now plug it to the power source. This ensures basic functionalities of the entire sound system. You can also regulate other settings like music volume, bass, and tempo once connections are ensured.
Step #6: Adjust Lighting and Seats
Now that you are done with the process to set up a karaoke system, you can now adjust the physical components of your home theater. It would be best to install lights that can give varying light intensities [1] so you can adjust the mood lighting of the room.
To have the best home party experience, you can also install pin lights. If you have a spacious home theater, you can place a big couch or several dining chairs to make your visitors feel comfortable.
Helpful topics:
How do I connect a karaoke microphone to my home theater?
To connect a karaoke microphone to your home theater, you have to turn off the system first. Then, plug the microphone jack into the "MIC IN" of the receiver. Once everything is in place, turn on the power and test your microphone.
How do I make my own karaoke at home?
To make your own karaoke at home, you just need a stable internet and a smart TV. Connect to Youtube and select a song choice that you want to sing. Plug in the microphone and start singing.
Nothing can beat singing your heart out in karaoke. Our engineers summarized the steps on how to set up a karaoke system with home theater so you can enjoy this activity at home. Just remember to follow the steps correctly and set up your home theater properly for the best experience.
Planning to upgrade your home theater room? Well, you can also check out amazing products here: