Do you always need a full surround sound system with 3 or more channels to get the best audio experience? Only picking the right models will ensure expansive audio. You could be met with disappointment for a system that advertises a 3.1 or 5.1 system that doesn't deliver. Our acoustic engineers have reviewed the top-performing multi-channel home theatres to save you the trouble.
Reviews of the Top Multi-Channel Home Theatre Systems
The Vizio SB46515-F6 is priced reasonably for the sound effects it will bring to your living room. The home theater system is fortified with Dolby Atmos, the highest standard for cinematic sound.
As it is a full 5.1 system, it is considered a true surround sound system that can deliver expansive audio that reaches every corner of the room. The large 10-inch subwoofer will also bring heavy-hitting low notes to support the surrounding speakers.
Finally, the dedicated center channel will enhance speech and dialogue onscreen so you won't miss a single word.
Nakamichi Shockwafe Elite
The Nakamichi Shockwafe is excellent for audiophiles and those who want heavy-hitting audio. The Elite is a 7.2.4 system consisting of a soundbar, surround speakers, and dual subwoofers for the biggest bass ever.
The dual 8-inch subwoofers give you placement flexibility as they can bring even bass from opposite directions of the room. The Elite delivers true surround sound with an 800-watt total power rating.
With this model, you can bring the cinema home with you, thanks to Dolby Atmos. It will fine-tune the sound and deliver the most realistic audio experience.
Don't want to spend a lot for a full surround system? Then the Vizio V-Series 5.1 system is the one for you. Even for a budget system, it is still optimized for 4K HDR with Dolby 5.1.
The excellent sensitivity rating of 96 dB and with the help of DTS Virtual:X delivers realistic sound that will expand to fill the entire room. Since it is a 5.1 system, the surround sound is not virtual, but true.
The affordable system is also very compact, with the subwoofer only measuring in at 5 inches, which opens many doors for placement.
The Klipsch Cinema 600 features a 3.1 system that consists of a soundbar and subwoofer. If you don't quite need a full system, the 600 is an excellent alternative. The 3.1 soundbar subwoofer combo has a total peak power of 600 watts, which can bring a ton of sound.
It's also ARC compatible and is capable of 5.1 decoding to bring virtualized surround sound even without the full 5.1 system. You can expand your soundstage with true clarity and convenience with the help of the Klipsch Cinema 600.
Multi-Channel Home Theatre System Buyer's Guide
Home Theater System Configuration
Our experts suggest a 5.1 system if possible because that's the standard for the best multi-channel home theatre systems. It's an entry point to expansive surround sound as some may find a 7.1 system overwhelming in a smaller space.
Our media team suggests looking for models that have brand-specific audio technology or decoding technology. Dolby Atmos [1] and DTS Virtual:X are our team's best choices.
The size of the system is often reflected in the power output. How loud do you want the sound to be? Look for a total power wattage of 500 and over for the best results.
Our Top Pick For a Multi-Channel Home Theatre System:
Vizio SB46514-F6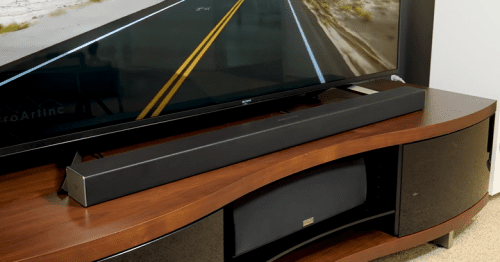 Our audio team has picked the Vizio SB46514-F6 as the best multi-channel home theatre system. It's not outrageously priced, yet it features high-end functions such as Wi-Fi and Bluetooth connectivity, a dedicated center channel for speech, and a large subwoofer. Dolby Atmos is also present, and it's the most coveted audio profile for home theaters.