A Samsung soundbar is an excellent addition to your entertainment system. It improves the sound quality and overall listening experience once connected to your TV speakers, and other Bluetooth enabled devices.
However, occasionally, you may encounter issues and problems, so we'll teach you how to reset your Samsung soundbar if necessary.
Why Should You Reset Your Samsung Soundbar?
Conducting a reset on your Samsung sound bar solves several problems. Some include connectivity issues, but it is generally easy to reset Samsung soundbar pairing with other devices.
Other issues include re-pairing it with all your devices, such as a TV or subwoofer, optimizing general soundbar functions, hardware problems, and other minor difficulties.
When you encounter difficulties with your soundbar, it is best to try and conduct a soft reset first. Conducting a soft reset is easy and will not erase any data and configuration on the soundbar.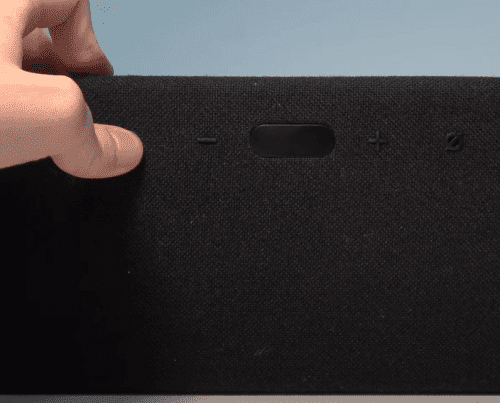 Turn OFF the Samsung Sound bar by removing the power cord from the power outlet for approximately two minutes. Make sure that the device is powered down. Afterwhich plug it back into the power source.
Connect an HDMI cable or RCA cable to the soundbar, Samsung TV, or a computer unit and turn the power button ON. Afterwhich, the option 'Reset soundbar' should show on the blue menu screen. Click Yes and check if the soft reset is successful.
You have successfully placed the device in reset mode. Check the item if it is now working.
Conducting a hard reset should be considered as a last resort when all other methods are unsuccessful. A hard reset erases all user data entered into the soundbar and returns it to its default settings. This is also a sure way of fixing gadget problems and persistent issues you may encounter with your Samsung soundbar. This process inevitably reverts the gadget to its original production setting.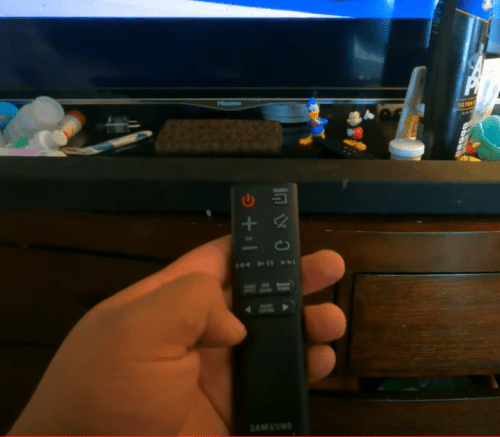 Resetting a Samsung soundbar is a process that can easily be followed in no time at all. Check a manual before making any reset to ensure you're following the correct setup. However, if the manual is no longer in your possession, you may contact customer support for help.
What to Do First Before Settling for a Hard Reset
Before conducting a hard reset, thoroughly check the device and all other gadgets connected to it. This is an opportune time to clean all your gadgets as well. Ensure to check and perform a few things first.
Do a proper and standard diagnostic test on the soundbar to identify any issues or if it is working fine.

Proceed to conduct a power cycle by turning the power button ON/OFF on your Samsung soundbar and allowing it to cool down.

Connect the soundbar to a different TV unit or other connected devices that can pair with the soundbar

Check the wiring and the power cord to see if it is damaged or accidentally moved.

Once you find damage among its wirings, replace it at once.

If you find no problems with the soundbar, try to restart other gadgets in connection to the soundbar.

Remove obstacles in between the soundbar and the TV.

Make sure to remove devices that use the same frequency, such as medical devices.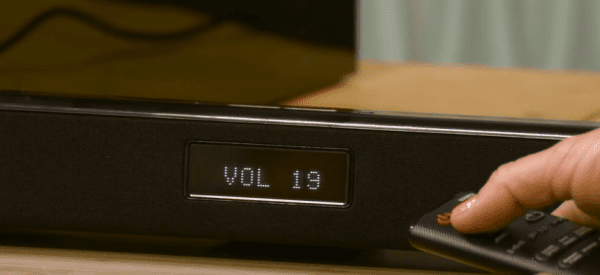 If you have performed all these and the sound bar is still not working, you may proceed to perform a hard reset.
Do Samsung Soundbars Come With a Reset Button?
Unfortunately, there is no reset button present on a Samsung soundbar. Normally the power button and a few buttons on the unit do the reset. The absence of this button is not a hindrance, nor is it a problem to reset the soundbar.
Fortunately, there are different ways to reset the Samsung Soundbar successfully. These methods are outlined in this article.
Steps to Resetting a Samsung Soundbar to its Factory Settings
Doing a factory reset is relatively easy and will usually fix gadget issues. However, ensure you have all your preferred settings before the reset. Follow these steps to reset your Samsung Soundbar.
Turn ON the Samsung Soundbar

At the same time, press and hold down the power button on the Samsung soundbar remote or the one found on the Soundbar Control panel.

Wait for the message INIT OK to be flashed on the display panel. It should show a blinking red light if it does not have a display panel.

Wait for the device to reset for approximately one minute.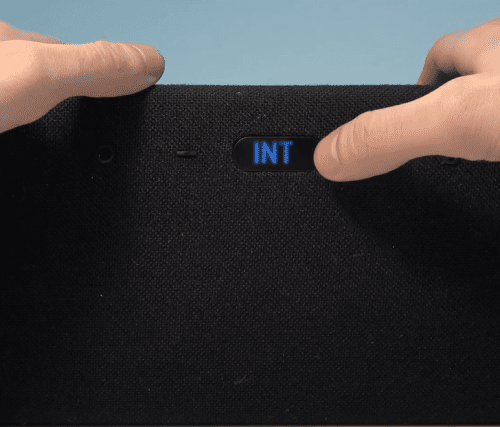 Once you have accomplished these steps, check if the hard reset is successful. Then continue to adjust the device to your preferred settings.
Also, reconnect it to Bluetooth devices that are part of your entertainment system. Check and test the soundbar's audio and another connected device if they are working properly.
However, if the factory reset was unsuccessful, go ahead and check the user manual or contact Samsung technical support. If all else fails, professional help will help you fix the gadget.
Another solution if the hard reset does not work is to look for a solution online. There is other troubleshooting information readily available on their website.
Steps to Resetting a Samsung Soundbar Without a Remote
Some units do not have a remote control. A remote is convenient, but you can still reset your Samsung soundbar if you do not have one. Follow this method and easy steps to reset your Samsung soundbar without a remote.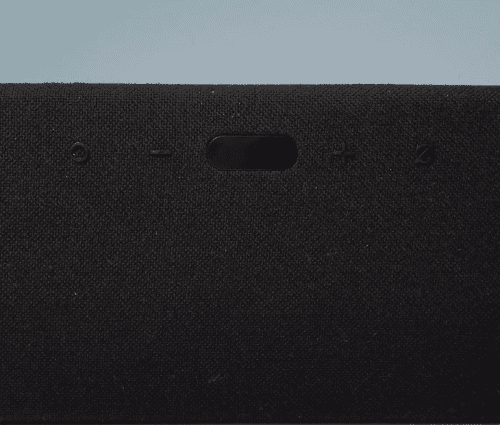 Turn the power button ON found on your Samsung soundbar.

Press Input and Bluetooth found on the soundbar and hold it down for about ten seconds.

Check the soundbar if it is working properly.
If this method does not do the trick of resetting your gadget, try the following steps:
Press the ON/OFF button and button at the same time

Hold these buttons for a few seconds

Check the soundbar if it is working properly
There would be a third way if the two ways mentioned earlier did not work.
Press the ON/OFF button and the Volume Down button at the same time

Hold these buttons for less than a minute

Check the Soundbar if it is working properly
Steps to Resetting a Samsung Soundbar With a Remote Control
Most Samsung soundbars come with a remote, and there is a reset button on their remote controls. Follow these easy steps to help you reset the Samsung Soundbar
Look for the reset button found on the remote control.

Bring the remote near the soundbar and press the reset button

Wait for the reset screen on the blue screen
How to Reset Your Samsung Soundbar's Remote
At times you will also encounter problems with the soundbar's remote. You can easily fix this through a simple reset.
Turn ON the Samsung Soundbar and simultaneously press the OFF button on the remote.

Wait for a few seconds until you see INIT OK on the Soundbar Display screen.

Check the Samsung soundbar Remote to see if it is working properly.
In old soundbar models, you will see a red light instead. After a reset, ensure you see a red LED blinking light, which means the reset is successful.
How to Reset Your Samsung Soundbar's Subwoofer
Other gadgets, such as your subwoofer, may fail to connect to your Samsung Soundbar. This can easily be rectified by a simple reset as well.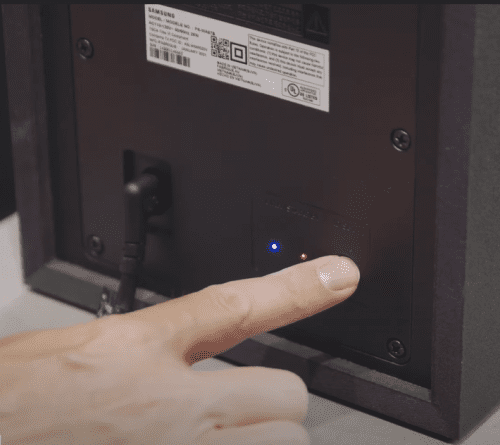 Turn ON the sub woofer

Press the Sound Control for twenty to thirty seconds

Check the Samsung soundbar's display panel to check if the software and the gadget are working well
How to Restart Your Samsung Soundbar's Bluetooth Connection or Pairing
Sometimes a connection problem may exist between the soundbar's Bluetooth connection or while it is in pairing mode. It is easy to reset your Samsung soundbar's Bluetooth [1] pairing with another device.
Try to turn the Samsung soundbar Bluetooth button ON and OFF. This button can easily be found on your mobile phone or another similar Bluetooth device such as a tablet.
How to Restart Your Samsung Soundbar's WiFi Connection
There is a way to fix other gadget problems, especially if you have the unfortunate experience of losing the WiFi connection to your Samsung soundbar. Follow the following steps to reestablish or reset the Samsung soundbar WiFi.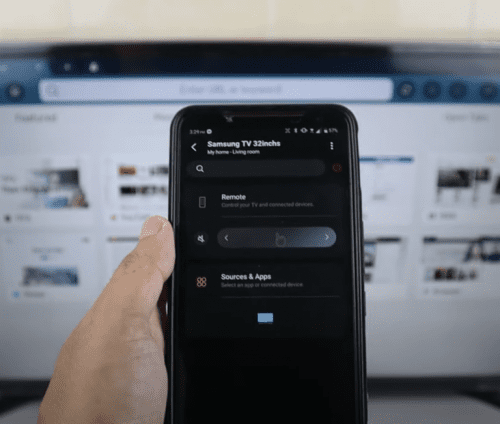 Search the application from the app drawer

Download and install the SmartThing app to your mobile phone

Open the app and follow the instructions to add your Samsung soundbar
Resetting the soundbar as well as restarting its WiFi connection is easy. One way is by bringing your gadget closer to the wifi network. Another is by securing a wired connection.
What is the best method to reset a soundbar?
Any of the methods above can help easily reset your Samsung soundbar. One quick way is to do a quick soft reset.
This can be accomplished by turning OFF the Samsung soundbar by removing the power cord from the power outlet for approximately a few minutes and turning it back on.
What can cause my soundbar not to work properly?
Many reasons cause the soundbar not to work properly. Like any technology, it will encounter connectivity issues, including problems with wireless connection and malware functions.
But do not worry, a soundbar is a very simple device that can easily be fixed.
How can I connect my Samsung soundbar to a TV?
One of the most efficient and best ways to connect your Samsung soundbar to a smart TV is by using an HDMI-ARC port. Unfortunately, you may use a regular HDMI or optical connection if you do not have this port.
Samsung soundbars are some of the best audio products that optimize the entertainment experience. One that's functioning properly can provide a high-quality Samsung soundbar bass and other frequencies. We hope that this article has helped you learn how to reset your Samsung soundbar.