Struggling to choose between Harman Kardon vs JBL for your ultimate audio experience? With over 50 years of expertise, these vintage brands offer distinct designs and sound quality variations.
Discover the key differences and make an informed decision following this guide made by our industry and audio experts!
History of JBL and Harman Kardon
Harman Kardon, an American audio equipment manufacturer, specializes in both home and car audio solutions.
Founded by Sidney Harman and Bernard Kardon, the company is renowned for its high-performance, premium-grade speakers, wireless systems, headphones, and soundbars, as well as car stereo equipment.
Harman Kardon's innovative designs and collaborations with distinguished professionals set it apart.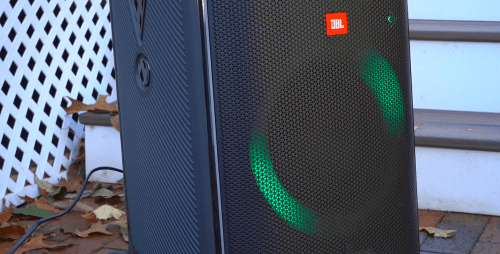 JBL, another major player in the audio market, was founded by James Bullough Lansing, whose initials inspired the brand name.
Beginning with 6″/8″ drivers for radio sets, JBL now offers an extensive range of products, including headphones, speakers, and home theater systems, catering to various applications and earning global acclaim from audiophiles.
Comparing Harman Kardon and JBL
We compared the Harman Kardon SB 20 with the JBL Bar 5.1 Surround Soundbar. The SB 20 is a two-channel soundbar featuring a powerful wireless subwoofer, extensive HDMI [1] connectivity, Bluetooth compatibility, and TV remote control integration.
With dual two-way modules, each containing two 3″ midrange drivers and a 1″ dome tweeter, the SB 20 supports Dolby Digital formats and the Harman Kardon mobile app.
Conversely, the JBL Bar 5.1 utilizes "Multibeam" technology to enhance surround performance, offering punchy bass suitable for EDM and action films.
Though featuring room correction and wireless music streaming options, the JBL Bar 5.1 lacks Dolby Atmos support and has limited EQ options.
Harman Kardon speakers boast polished aesthetics and modern designs, seamlessly blending with any décor while delivering exceptional sound quality.
Their iconic design and unrivaled sound quality appeal to both audiophiles and newcomers alike, with options ranging from wireless Bluetooth and computer speakers to home theaters and soundbars.
In contrast, JBL excels in providing feature-rich, modern audio equipment, outshining Harman Kardon and other competitors.
Committed to offering premium sound quality at an accessible price range, JBL has produced some of the best-selling audio products in history.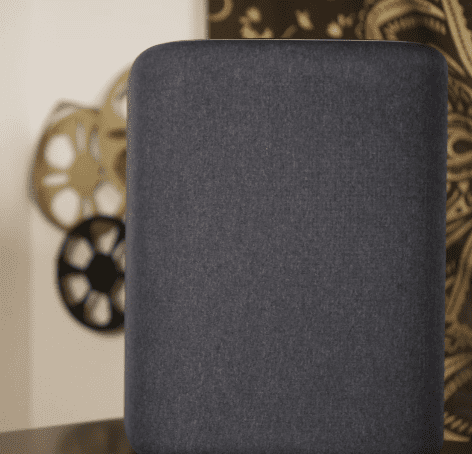 Although some high-end brands have emerged, few rival JBL's sound quality, making it a worthy investment despite a slightly higher price tag.
Comparing the Harman Kardon Onyx Studio 4 and JBL Flip 4, the Onyx Studio 4 is portable due to its built-in battery and cordless operation, but it's larger and bulkier.
(Also Read: Harman Kardon Onyx Studio 3 vs. 4)
In contrast, the JBL Flip 4 boasts a longer battery life, a compact design, and superior sound quality. Furthermore, with a price tag under $100, Flip 4 presents an excellent value proposition.
This is because of its weather-sealed design, larger 20mm driver unit, dustproof construction, additional live Bluetooth connection, 4-hour longer battery life, and significantly lighter weight, making it a more versatile and user-friendly choice.
We examined the Harman Kardon Go+Play and the JBL Boombox, two popular portable speaker options.
The Go+Play delivers rich, mellow highs, and warm, spacious bass, particularly when played at half-volume, making it an excellent choice for those who appreciate a more balanced, soothing listening experience.
On the other hand, the JBL Boombox generates crisp highs and punchy bass, which, when combined, create an authentic live performance feel in vocals and highs, perfect for energetic, immersive listening sessions.
It is generally the superior choice due to its stereo speakers, additional two drivers, subwoofer, compact size, passive radiator, weather-sealed design, battery level indicator, and rechargeable battery, making it a feature-rich and versatile option for a variety of listening environments.
Power and Frequency Response
Comparing JBL and Harman Kardon's power and frequency response, JBL speakers boast a high power handling capacity, such as the 840 Cinema Surround Speaker at 350 watts continuous play and the Stage 1210 12″ woofer at 250 watts RMS with a 1000 watt peak.
JBL's frequency response varies, with the ES Series operating between 65 Hz – 40 kHz and the 840 Very High Power Cinema Surround Speaker covering 60 Hz – 19 kHz.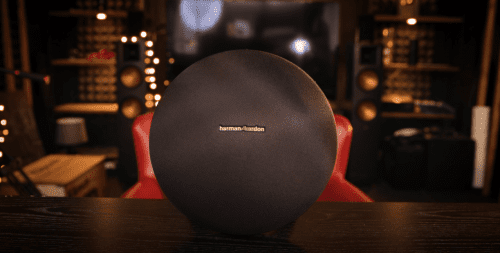 Conversely, Harman Kardon's power range differs across devices, with the Automotive Mini offering 360 watts and the HKTS 15 providing 100 watts.
Their frequency response also varies, from the AVR 1610 receiver's 87 MHz – 108 MHz range to the portable Onyx Studio 4 speaker's 50 Hz – 20 kHz range. Be sure to check the specs of the specific Harman Kardon product to know its frequency response.
Harman Kardon is renowned for delivering clear and accurate sound, revealing previously unnoticed audio details akin to upgrading from a flip phone to an iPhone.
In contrast, JBL focuses on powerful bass and bold sound, perfect for those who enjoy loud music reminiscent of a front-row concert experience.
While both brands offer distinct audio profiles, JBL's impactful bass ultimately gives it an edge in terms of sound quality, appealing to listeners seeking an immersive, energetic experience.
JBL Bluetooth speakers cater to a wide range of budgets, and they offer affordable options while maintaining sound quality and portability.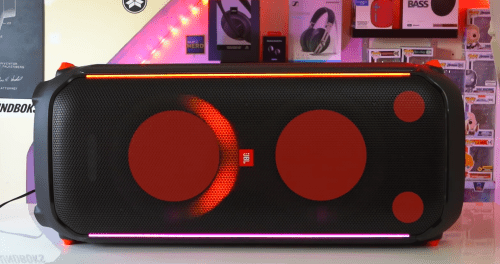 Conversely, Harman Kardon has a similar price range, but most of the products often carry a premium price tag. Despite their delightful sound and quality, some may find Harman Kardon devices expensive.
JBL prioritizes making exceptional sound accessible to everyone, ensuring budget-conscious customers can enjoy top-notch audio without breaking the bank, making JBL the winner in terms of affordability.
JBL Boombox vs Harman Kardon Onyx Studio 6
The Harman Kardon Onyx Studio 6 is a Bluetooth speaker boasting an elegant design and exceptional sound quality, further enhanced by its durability and IPX rating 7 water resistance certification.
In contrast, the JBL Boombox is a robust, powerful Bluetooth speaker with a bulkier build. JBL's expertise in crafting Bluetooth speakers ensures the Boombox elevates your wireless listening experience to new heights.
When evaluating factors such as design, technical specifications, connectivity options, and audio quality, the JBL Boombox stands out as a more advantageous choice.
Harman Kardon Onyx Studio 6 vs Citation One
Harman Kardon Onyx Studio 6 tends to be pricier than the Citation One. However, Studio 6 offers additional benefits, such as an integrated rechargeable battery and a battery level indicator, which enhance its user-friendliness.
Furthermore, the Onyx Studio 6 features a visually appealing design and an IPX7 water resistance rating, allowing for greater durability and versatility in various environments.
These added features and capabilities contribute to the higher price point of the Onyx Studio 6 compared to the Citation One.
Additional advantages include an extra driver, passive radiator, weather-sealing, rechargeable battery with level indicator, in-built radio, and a 31mm larger driver unit.
Why Opt for Harman Kardon?
A standout feature of Harman Kardon speakers is their ability to produce remarkable 360-degree sound, enabling users to enjoy an immersive and captivating surround sound experience.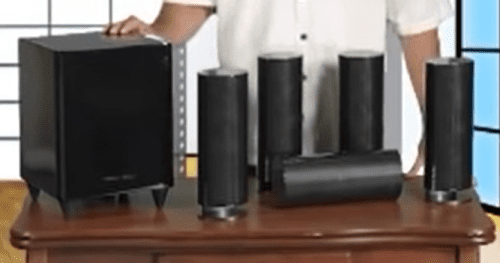 Harman Kardon speakers boast a stylish and unique design that enhances your living space, while their compact footprint allows for versatile placement options throughout your home.
Harman products feature a rechargeable Li-ion battery, providing up to eight hours of continuous playtime, and also offer the added convenience of charging your phone or other devices via a USB cable.
Offers a Variety of Home Theater Systems
JBL excels in creating top-notch wireless home theater systems featuring components such as floor-standing speakers, soundbars, and center channel speakers.
These elements employ cutting-edge sound technologies to deliver an unparalleled surround sound experience.
Known for Their Marine Speakers
JBL also provides high-quality audio products for marine applications, including boat-friendly speakers designed to withstand harsh conditions like mud and water splashes.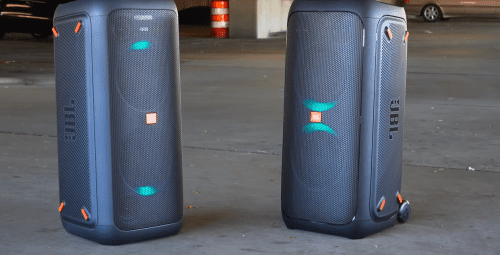 Their range extends to marine amplifiers and subwoofers, allowing you to elevate your boating audio experience.
JBL excels in car audio products, offering car speakers, subwoofers, amplifiers, and processors. These high-performance components serve as excellent upgrades for stock sound systems, ensuring superior audio experiences.
See Also: Morel vs Forel
When choosing between JBL vs Harman Kardon, consider your preferences. JBL excels in powerful sound systems with pronounced bass, while Harman Kardon offers wireless, compact speakers with a minimal footprint. Ultimately, your specific audio needs will determine the superior option.