We all love wireless speakers with high quality sound at an affordable price. There's no wasting money though, and we would want to make the right decision upfront.
When talking about top-notch sound speakers, two models stand out: Sonos Play 5 and Bose SoundTouch 30. Our experts tested and reviewed both speakers to help you take the best pick.
Bose SoundTouch 30 or Sonos Play 5?
Features of Bose Soundtouch 30 and Sonos Play 5
The most important aspect of our topic Sonos Play 5 vs Bose SoundTouch 30 is the sound quality.
Both sonos play 5 vs bose soundtouch 30 wireless speakers have a high-quality music, clear and consistent at all volume levels. However, both two speakers have different sound profiles.
Both play 5 bose soundtouch 30 has a tight and consistent low-end without sounding over-inflated and bloated. On the other hand, bose soundtouch 30, although it has a nice and rich low-end, seems to lack Sonos' definition and tightness.
All over the rest of the frequency spectrum, both speakers sound oddly similar. The midrange is more defined and even better in the Sonos, while the top-end is more excited in the Bose. However, these are subtle differences that can be neglected if you are not a pro.
Provided you need a single speaker solution, we noticed that Sonos has a slightly better sound quality than Bose.
When it comes to expandability, Sonos Play 5 takes the lead. You can extend the two speakers to the entire 5.1 home theatre system if paired with extra Sonos equipment. Unfortunately, SoundTouch 30 lacks this important feature.
Furthermore, Sonos can support up to 80 music streaming services, while Bose will play only the existing music streaming services on your PC or another device.
Play 5 vs Sound Touch 30, both require an application to be downloaded on iOS or Android devices to utilize respective speaker's full functionality.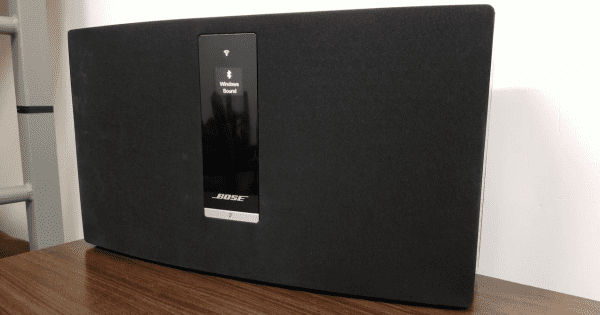 Sonos' smart application, the Sonos Controller app [1], allows you to control the two speakers on virtually any device. Also, the app integrates 49 different streaming services applications such as Spotify, Amazon Music, Apple Music, even Bandcamp. The app features multi-room audio control that gives you the possibility to set different moods for every room. It's still the slickest multi-room set-up going.
The Bose app has pretty much the same features as the Sonos app. However, it goes a little further, featuring six preset buttons that can be set up within the app. These buttons are customizable and stored, so you can jump between them without opening the application.
Although both apps hold cool features, Sound Touch 30 is the winner due to its dedicated buttons that push the speakers' functionality further.
Sonos and Bose do music streaming services over Wi-Fi but in a different manner.
Sonos uses its own SonosNet, a dedicated wireless network. This Sonos system communicates with the other connected speakers via this network, thus avoiding congestion and interference. Also, it is easier to add additional speakers if you plan to expand your audio system.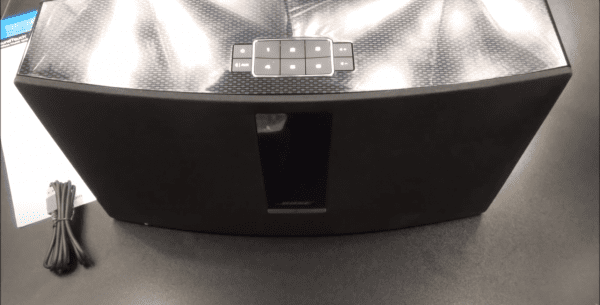 Play 5 does not have Bluetooth connectivity and wi fi. However, it features an Ethernet port that allows you to plug it up into your wireless network.
Both sonos and bose sound Touch 30 has the option to connect to other speakers via Bluetooth and Wi-Fi. Although Bluetooth and wi fi connectivity is not often used, it comes in handy when you want to play music from your phone via the YouTube app without switching to another wireless network. SoundTouch 30 also features an Ethernet port.
The winner of the Bose SoundTouch 30 vs Sonos Play5 competition, when we talk about the connectivity aspects, is Bose SoundTouch 30. Our experts noticed that this product provides the most flexibility in terms of connectivity.
For a list of speakers that fully support wireless connection, you can check these devices under 200 with Bluetooth connection, as well.

Both speakers support Amazon Alexa. However, they have different means of control, apart from the virtual assistant. The speakers have physical remote control so you can control the play pause of the music right from the device.
Sonos is enormously appreciated by Apple users due to AirPlay2, which allows support for the Siri-enabled devices. This smart speaker also features standard control buttons.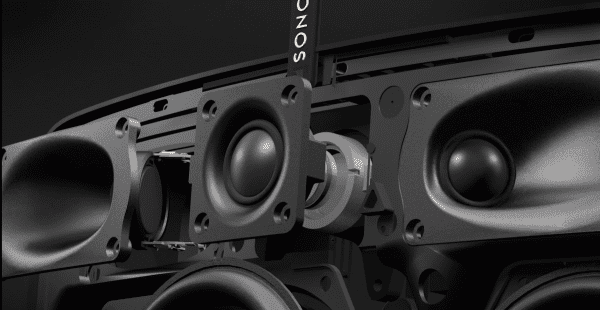 Bose does not offer support to Apple users, although Google Assistant is usable via AirPlay support. Also, the standard button controls have a lag.
In terms of physical remote control, we can safely declare that SoundTouch 30 falls behind Play5.
Both speakers are known for their ease of use and straightforward setting up. The only thing you have to do is to download the mobile application and follow the installation steps. The whole process of setting up Sonos Play 5 and Bose SoundTouch 30 will not last longer than a few minutes.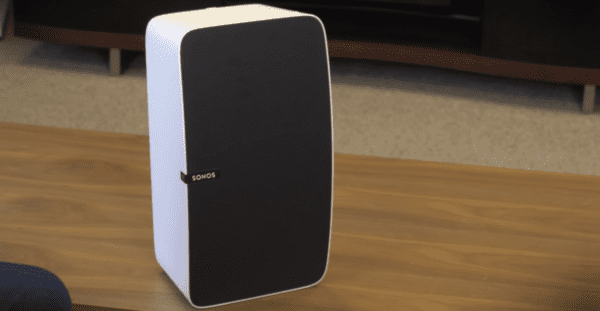 There is no chance to mess the installation up, but if this happens, you can always refer to the users' manuals, which are very well written.
For fast setup, you can choose setting up Sonos Connect properly with other home theater devices as well.
Bose SoundTouch 30 features a sturdy yet elegant design that perfectly fits your home. The dimensions of the SoundTouch 30 are 17.1 x 9.7 x 7.1 inches. This speaker comes in two colour variants and has an oled display in the center of the speaker.
On the other hands, Sonos 5 has a compact and durable design. The dimensions of the Sonos 5 are 8.03 x 14.33 x 6.06 inches and 14 lbs in weight. The speaker looks fantastic and is surely an eye catcher.
An amazing feature of Sonos 5 is its ability to detect the position. We tested Sonos speakers and, either horizontally or vertically placed, the speaker will automatically pick the correct setting (stereo or mono).
Maybe one of the essential aspects when you decide to purchase speakers is the price tag.
Bose SoundTouch 30 tends to be slightly pricey but is still within the same range. It is obvious that quality comes at a high price. However, as our tests concluded, sometimes a cheaper product might surprise you.
Sonos speaker, although cheaper than Bose SoundTouch 30, offers a superior audio quality.
Is Bose SoundTouch 30 discontinued?
The support for Bose SoundTouch 30 will not be discontinued, although the manufacturer might not release new SoundTouch products in the future. You can continue enjoying Bose's clear sound for a very long time.
Are Bose and Sonos compatible?
Both products are compatible. It means that you can always incorporate a Bose device in a Sonos audio system. We tested and the Bose speaker can be an active component in a Sonos system.
Overall Winner: Sonos Play 5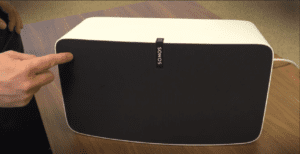 Sonos Play 5 shares many features with Bose SoundTouch 30. Reliable and durable, Sonos Play 5 enjoys a high degree of demand on the market. Following our expert review, we noticed that Sonos speakers offers more flexibility and freedom.
Sonos is a great smart speaker, with one of its great features being the incredible bass response and the crisp, clear sound.
Sonos Play 5 uses your home network in communicating with the other connected speakers in streaming your music. Moreover, you can stream music from the playlists on Spotify, Apple or Google Play app.
Our experts also conclude that the Play 5 speaker is one of the best choice in case you aim to build the ultimate surrounding system. Best sound, adjustable bass, and amazing treble controls, the Sonos Play 5 speaker has it all.