A 10-inch subwoofer provides an excellent balance between power and a small profile, just the right size to fit in seamlessly and enhance your car audio system. However, getting a poorly-built one with substandard components can't give you the audio quality you want— and that's a total waste of your hard-earned money.
To get your money's worth, follow our experts' assessment of the best 10 inch subwoofers in the market today.
Compare our top pick with other products
At A Glance: Our Top 5 Picks for 10 Inch Subwoofers
Quick Summary: Our Top Picks for 10 Inch Subwoofers
IMAGE
PRODUCT

Best Overall

300W amplifier
Closed-loop design
All-inclusive system

VIEW LATEST PRICE →

Premium Choice

75-300W RMS range
600W power peak
Shallow-mount 10" sub

VIEW LATEST PRICE →

Best Budget

1500W
Dual Voice Coil subwoofer
Polypropylene material

VIEW LATEST PRICE →

Wide frequency range
Great fit for a car sound system
Easy to install

VIEW LATEST PRICE →

Shallow mount subwoofer
Elevated temperature voice coils
Continuous power of 400 watts

VIEW LATEST PRICE →

Glass fiber
1300 watts high power handling
Vented pole for better support

VIEW LATEST PRICE →

Features Harman-proprietary SSI
Low mounting depth
High sensitivity rating

VIEW LATEST PRICE →
Best Soundbars for Samsung TV Reviews
Rockford Fosgate P300-10 Punch Single 10" 300 Watt Amplified Subwoofer
For folks who like it simple, the Rockford Fosgate P300-10 Punch is one of the best choices available on the market for the best 10-inch subwoofer. It comes in its own enclosure with a built-in 300-watt amplifier that's ready to go. The plug-and-play 250 watts to 300 watts subwoofer features a Punch 10" woofer with sound that can be adjusted with the low pass crossover and EQ settings.
Behind the enclosure is a closed loop setup, which enhances the performance of the auto subwoofers for aftermarket component integration. As with most products, the P300-10 Punch subwoofer from Rockford Fosgate comes with a 1-year full warranty.
JL Audio 10TW1-2 10" Shallow Mount 2-Ohm Subwoofer
This 2-ohm powered subwoofer has low-end impedance and is one of the best mount subs to give you a flush and neat setup. It is our experts' premium choice, so it features state-of-the-art materials such as a mica-filled polypropylene injection cone with elastic surrounds.
The JL Audio 10 TW1-2 10 Inch Subwoofer doesn't boast a very high level power handling, but it does have very durable materials. You're looking at a 300-watt peak power and a max power rate of 600 watts.
This JL Audio 10 inch subwoofer works well with either ported enclosure or sealed enclosures to give you more flexibility during setup.
Planet Audio AC10D 10 Inch Car Subwoofer
As a budget choice, you may not be expecting a lot from these automobile subwoofers. However, our experts were careful to pick one that still produces excellent sound quality. AC10D has superior power handling at an impressive 1000 watts to 1500 watts peak power handling, bringing deep and thumping low bass for a more awesome sound.
The Planet Audio AC10D features a propylene cone, a durable yet flexible material that's great for a low-frequency range setup. The surrounds allow for better excursion and is very flexible but has a low watts RMS. It also works well with the dual voice coil design that can handle high heat dissipation for a longer performance.
Skar Audio SDR-10 D4 10" 1200 Watt Max Power Dual 4-ohm Sub
Skar Audio is known for durable and quality subs at great prices. They often offer a wide selection of sizes from 8 to 18 inches at different impedances. For the best 10 inch subwoofer, the top power handling is at 1200 watts of peak power range, which then gives you 600 watts. As one of the best subwoofers, you can expect more than decent sound quality from this sub.
The Skar Audio SDR-10 D4 features an elevated temperature single voice coil design made of copper for durability. Plus, there's also a high roll foam surround with a pressed paper cone to facilitate the accurate big bass relays. This ten inch subwoofer can pump out the low frequencies for long hours, thanks to the advanced frame cooling design system.
Kicker 43CWRT102 CompRT 10" 2-Ohm Subwoofer
The Kicker CompRT series is on our best subwoofer list as it's a great choice for a great amount of continuous power. They can produce deep bass on a continuous power of four hundred watts and have an injection propylene cone.
The Kicker 43CWRT10 has a shallow mounting depth with elevated temperature coil so the subwoofer can handle more amount of power. For the best sound from this compact subwoofer, use a 300-watt to 600-watt amplifier rated for 1-ohm or 4-ohm speakers. With the two ohm dual voice coils, you can easily wire additional speakers and choose the impedance.
This 10 inch subwoofer is our experts' top recommendation for superior bass sound relays but also for convertibles and topless vehicles. The elastic surrounds make the hard hitting sub weatherproof, so the elements don't get in your way of enjoying hard, accurate bass.
Pioneer TS-A250D4 10" Dual 4 ohms Voice Coil Subwoofer
The Pioneer brand often spearheads the speaker and subwoofer industry by setting high standards for bass sound output. The Pioneer TS-A250D4 sub is a 4-ohm voice coils subwoofer with glass fiber and mica injected propylene cone.
The TS-A250D4 provides enough power, flexibility, and rigidity for the resonance and vibrations. This then results in more accurate decreased frequency ranges.
The continuous power handling of 1300 watts makes this 10 inch subwoofer an excellent fit into your audio system for heavy bass. To ensure the sub can handle such a high power level, Pioneer has inputted a stacked magnet and vented pole as support as well.
Infinity REF1000S 10 Inch Shallow Mount Subwoofer
The Infinity REF1000S sub has a very low profile design and is equipped with Harman-proprietary SSI built-in to optimize the impedance. The SSI, or Selectable Smart Impedance will allow you to switch from 2-ohm to 4-ohm impedance by just flipping a switch.
The sensitivity rating for this particular sub comes in an impressive 89 dB, so you can expect booming bass sound in your music. The durable polypropylene cone woofers help with excursion and deliver the best response without any delay.
These powerful 10 inch subwoofers are easily mountable and are a great fit for your automobile audio system. Because of the design, you'll have a clean and flush installation.
10 Inch Subwoofers Buyer's Guide
The best 10 inch subwoofers should be able to hit a broad frequency range, be easy to install, and of course, produce high quality bass. However, you can't get the best experience if you don't know what to look for. While we've compiled a good comparison above, the guide below has been compiled by our experts to help you find a sub that fits your car audio system.
The sound quality of the best 10 inch subwoofer hinges on many factors such as the materials used, power rate, and even the ported enclosures. Our team will dive into each section in detail below.
If you have passive sound systems, meaning the sub doesn't have its own amplifier, then searching for the right one is important. The placement of your sub will also impact the audio quality. Brands such as Infinity Reference will incorporate extra technologies like the Harman-Proprietary SSI to help improve the bass.
Many factors contribute to the overall sound quality of a subwoofer, but looking for one that has brand-specific features can improve upon it further.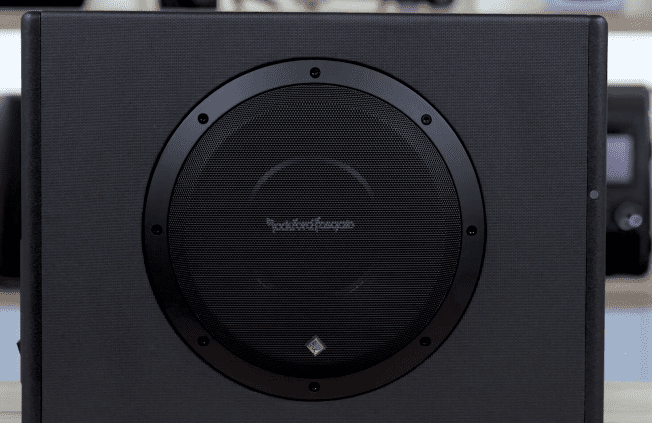 Placing enclosed subwoofers under your seat will really bring the bass vibrations directly to you, but placing it in the trunk of your automobile will reverberate the thumps throughout your vehicle. What's great about car woofers is the flexibility of placement and the lightweight build quality. You can play around with the positioning to find the optimal spot.
If you want to make your subs louder, you can check these helpful tips on how to make speaker subwoofers louder and stronger.
Depending on the space you have, our experts say that as far as car subwoofers go, the larger, the better. This is because a larger sub can handle more power and thus pump out louder sounds. However, the compact size isn't the only thing that can impact the bass you enjoy. The construction and the materials used are imperative to how the sound is relayed as well.
As far as automobile woofers go, you can find ones as small as 6 or 8 inches, and they can go up to 15 or more. Our experts say 10″ subs are the best choice as they allow for a better balance between power and installation. 10 inches can fit into the space in most vehicles, handle an optimal frequency response, and be able to have a decent level inputs and output power. Topnotch shallow mount subwoofers are ideal, as well. If you can find a shallow mount 10" subwoofer like the ones that are included on our list, then that will leave you with a very clean and easy-to-install system. That said, if you have a larger space and you have the budget, you can get a larger sub for more immersive music.
As for the materials, there is a lot to cover, but our team will try to break it down as simply as possible. In this section, our experts will talk about the basket, the surround, the cone, and spider venting.
The basket design is essentially the entire foundation of the subwoofer and acts as the support audio system for the cone. You might have heard of a stamped basket, like the one featured on the Planet Audio sub in the number two spot. A stamped basket design has much power and is much more durable. In fact, it's often touted as the strongest. But keep in mind that it doesn't bend, so there is less resonance as well.
A cast basket design is more bendable and flexible than the tougher stamped design. You may think that makes it less desirable, but a cast basket has better heat dispersion, which means longer playing hours and better bass. Luckily, you may not have to pick between the two as there are hybrid baskets on the market that are a combination of both.
You then have the surrounds on a sub, which protects the fragile cone in the center. You want this material to be durable but also soft. Generally, you can find either foam or rubber surround types. They both offer excellent support and longevity. Elastic surrounds, on the other hand, can stand higher temperatures, have nice flexibility, and can last long as well.
Then we make our way to the actual cone of the sub, which is responsible for the quality of the overall sound. There are a ton of material choices for this but our experts will just touch upon the best choices that can cope with a high RMS power rate and frequency response.
You will see polypropylene a lot because this type of material in the sub lasts the longest and is very rigid for maximum support. In this category, there will be secondary materials such as mica-injected polypropylene or mineral-filled polypropylene cone.
You then have the paper cones. The treated paper cones offer the most flexibility and are very lightweight. They will provide enough give for a wide frequency response for accurate bass. You then have the Kevlar reinforced cones, like those in the Alpine R-W10D4, which are very robust but are still lightweight. The carbon fiber cones are also lightweight and durable, but they can experience some breaks.
Anodized Aluminum cones are excellent for heat dispersion, so it's no surprise that our team often recommends this. An anodized aluminum cone is best to use for grills and speaker enclosures.
The unique spider venting is an audio component located directly beneath the cone, and its main role is to hold the it steadily in place. The spider is usually coated in a resin and can come in a wide variety of materials as well, ranging from cotton to paper. One of the top notch subwoofer models with this design is the 500 watts Rockford Fosgate P3D4-10.
The power rating is another very important part of a 10" subwoofer. The subwoofer will have two different power rates listed: the peak or max power and the RMS rating. The RMS rating is the one that's more important to keep in mind, as it indicates how loud your sub can be played for a long period of time.
The peak is usually twice that of the RMS [1] power and signifies how loud the sub can go without blowing out for a short period. For example, a 500w RMS, then the peak power is likely at 1000 watts or more. Since it isn't recommended to play at the max power for an extended time, the peak power is much higher.
Even if you are allowed to go up to 200 watts to 1000 watts, for example, our team still advises playing at 75% of that to avoid blowing out your car speakers.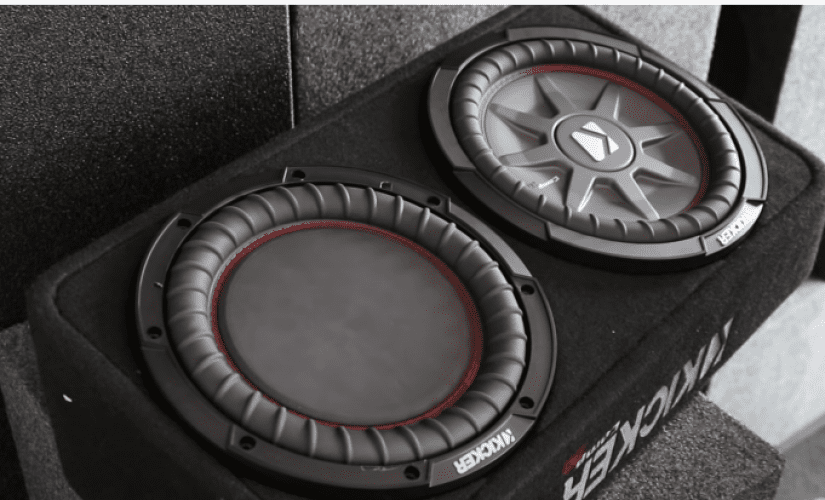 If you like loud bass, then other than the power rate, the sensitivity is also another factor that will have a hand in it. Measured in dB or decibels, this pertains to how efficient the sub is at converting power to sound. The higher the number, the higher the sensitivity, which means the less power your sub needs to generate impressive, cleaner sound.
As a rule of thumb, our team suggests looking for a rating of around 90 dB for the best sound. A little lower than that, starting from 82 is still considered decent, but 90 dB and over is ideal. A good starting model is the Pioneer TS-SW2502S4, where the rating clocks in at 91 dB. To ensure the best and most powerful sound, the sensitivity and the power rating need to work together.
The impedance rating for your 10" subwoofer indicates the resistance your sub has to the electrical current. The lower the number in this case, the better. The common ohm ratings are 2, 4 , 6, and 8. The top subwoofers would of course have 2, but 4 ohms are quite common and excellent as well.
Many people might be wondering what a voice coil does and why it's often mentioned in regards to car subwoofers. You can find single or dual voice coil options in a 10-inch or top-tier 15-inch subwoofer, so our team will explain it further.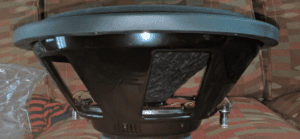 Often referred to as SVC or coil DVC for short, the benefit comes down to the configuration. Dual voice coils will give you more compatibility with different setups and single coil subs will have less flexibility in this case.
DVC subwoofers can be wired at two different ohms, so you can have two ohm and 6 ohm voice coils. For SVC, you need to make sure your subwoofer is wired at the right ohm. They will also come in a wide variety of materials, but our team recommends an aluminum voice coil design for the best audio production.
More about the subwoofer is the enclosure that encases the sub. As we mentioned before, the enclosure can also influence the bass sound. For example, a sealed enclosure will have more impressive bass if you like deep tones and more accuracy, but it does muffle the sound a bit.
A vented enclosure, or sometimes referred to as ported enclosure, is one that isn't completely sealed. This type of enclosure allows for better airflow and overall louder bass without difficulty. However, the precision of sound from a vented enclosure is behind that of the sealed enclosure sub.
Much like speakers, there are two types of subwoofers: active and passive. If you aren't familiar with the difference, our experts are here to clear things up. The difference between the two can be summed up in one short sentence. A passive sub doesn't have an amplifier built-in, while an active one does.
If you are working with a passive sub, then you will need to source an external amplifier, but that takes a lot of effort on your part to make sure it is compatible with your sub. Ensure that the impedance matches up to ensure your setup won't get damaged.
Although it is less convenient, a passive subwoofer allows for more opportunities to upgrade your system down the line. This is because the amp isn't hardwired into the car stereo system, so you have the freedom to mix and match components without having to replace the entire sub and amp combo.
The benefit of an active sub is, of course, the convenience factor, but they are also space savers because the amp is embedded inside. But keep in mind that the extra amp does add some weight to your ten inch subwoofer. Also, since the amp is already matched up to the sub, you will have the best sound relays for your stereo system .
You won't be able to upgrade your system as easily, but if you don't plan to, then active subs are a great choice. They also tend to be more expensive than their passive counterparts because of the extra part.
No matter how good the best powerful ten inch subwoofers are, nothing matters if the installation is complicated and lengthy. Our experts recommend plug-and-play designs that can start pumping out the bass sound right when it's hooked up. Look for straightforward models that don't require a large overhaul of your existing system. Choose a model that only needs minimal effort out of the box so you can get to enjoying your music in minutes.
Keep in mind the warranty during the installation process just so you know what's covered. It's very easy for different components in the sub to damage over long periods of use, so you want to be sure you are protected for as long as possible, but make sure it's at least a year.
What is the hardest hitting 10 inch sub?
The hardest hitting best 10 inch subs is the Planet Audio AC10D ten inch automobile subwoofer. It has a max power output of 1500 watts, with 750 w RMS. Combined with a propylene coil, the AC10D delivers thumping bass frequencies and awesome overall sound.
Does 10 inch sub sound good?
Yes, 10″ subwoofers sound good. They are the best balance for size, installation, sound, and power. They are larger and more powerful than the smaller 8 inch subwoofers. Even at this size, with the right materials, placement and frequency response, the subwoofer can outperform larger 12 inch subs.
What's better two 10 inch or one 12 inch sub?
Two 10 inch subwoofers are better than one 12 inch sub simply due to the sound balance. Having two subs is usually better than just one and has improved dynamic motor analysis. Not only that, but there is less strain on each subwoofer as they can balance the sound output between them.
Are 10 inch subwoofers better than 12?
No, 10 inch subwoofers are not better than 12″ subs if you are focusing on the power and loudness of the bass production. However, 10″ subs are a better fit for most vehicles and can still outperform the larger 12 inch counterparts if it is made with the ideal materials.
Our Top Pick For a 10 Inch Subwoofer: P300-10
Our experts' top pick for the best 10 inch subwoofer is the Rockford Fosgate P300-10 Punch. The subwoofer packs quite a punch and is part of the series of the same name. According to the pros, great subwoofers come in its own enclosure and already has an amplifier built-in, therefore making it an active plug-and-play subwoofer with a compact design.
Rockford allows users to adjust the sub with the low pass crossover and the EQ settings. The high output subwoofer is covered by the standard Rockford full 1-year warranty for buyer's protection. This Rockford Fosgate Punch series subwoofer will surely give you great value.