Taking one look at this speaker will show you it was built for portability. But that's not enough to make sure that the speaker won't disappoint with all the capabilities it is advertised to have.
Our experts were intrigued by what this little speaker could offer and thus, conducted a Bose Soundlink Revolve+ II review.
Our experts tested the speakers in different colors for multiple Bose Soundlink Revolve+ II reviews. The appearance of the Bose Bluetooth speaker was enough to get our team very excited. The soft handle makes it easy to take the speaker with you, and it's even small enough to fit into a bag.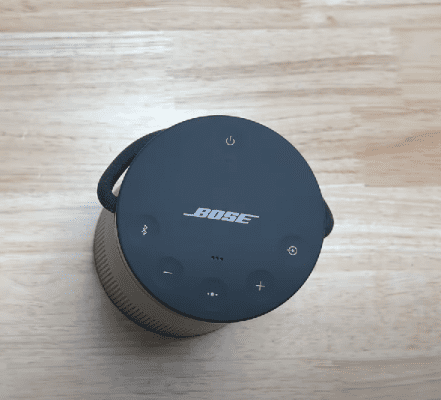 Bose didn't lose any focus on the finer details and created a totally seamless design with an integrated grille and soft-to-the-touch buttons.
Bose Soundlink Revolve+ II Features
As one of the smallest portable Bluetooth speaker options, the Bose Soundlink Revolve+ II barely weighs 1kg. The compact device is easily portable and created from a blend of silicone and aluminum.
Sound Quality: Bose Soundlink Revolve+ II
Under the seamless grille, we have 2 passive radiators and a 360-degree speaker design. What this means is the small Bluetooth speaker has the ability to emanate audio all around the room. Even if you place it near a wall, the speaker can use interior acoustics to create a 3D soundstage.
Audio Modes: Bose Soundlink Revolve+ II
The Bose Soundlink Revolve+ II features Stereo and Party Mode. Stereo Mode allows you to have distinguished left and right channel playback, while Party Mode pairs two speakers together for boosted sound.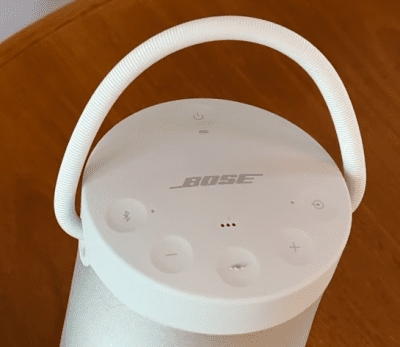 Our team found that pairing in Party Mode allowed the two speakers to fill larger venues with reverberating sound.
Utilizing lithium-ion batteries, Bose makes the most out of a small profile and allows up to 17 hours of playtime without diminishing audio.
Voice Control and Microphone: Bose Soundlink Revolve+ II
The Bose Soundlink Revolve+ II is compatible with Siri and Google Assistant. The built-in microphone has superior voice pickup for audio commands. Our team attests that the mic sensitivity was exceptional.
Wireless Connectivity and Range
Bluetooth wireless connectivity is supported in the Bose Soundlink Revolve+ II, but unfortunately, there isn't Wi-Fi. Our experts didn't feel that compromised the performance by much, because most devices feature Bluetooth over Wi-Fi.
As for the range, our team was impressed with the stability of the Bluetooth even up to 30 feet.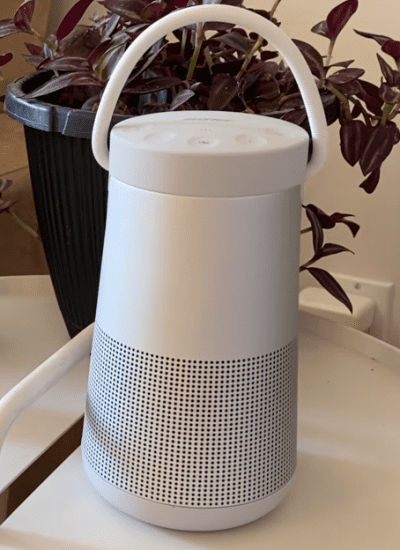 Connections: Bose Soundlink Revolve+ II
Other than wireless connectivity, the Bose Soundlink Revolve+ II also has wired connections. You will be able to connect the Bluetooth speaker to any device with 3.5mm aux inputs or Micro-B USB.
Dust and Water Resistance
Many of Bose's products are dust and water-resistant, and the Bose Soundlink Revolve+ II is one of them. The speaker has an IP55 rating [1], which makes it durable and protects it against liquids and dust. You won't have to worry about carrying the speaker around water or worry about spilling drinks at your next party.
For all the features you get with the Bose Soundlink Revolve+ II, our team felt the price is reasonable. Not to mention, Bose doesn't require a full commitment from you right out the door, as they offer a 90-day risk-free trial period.
The warranty depends on the region, but in the United States, you get a limited warranty that covers your purchases directly from Bose or a licensed retailer and reseller. The warranty extends to manufacturer defects and is valid for one year.
Our team always suggests users read the warranty carefully to know what it covers. The longer the warranty the better, but with the robust construction of the Bose Soundlink Revolve+ II, it's unlikely that damages will happen down the line.
Bose Soundlink Revolve+ II Review Conclusion
Our experts had a great time during the Bose Soundlink Revolve+ II review. We liked how it came in two colors, and hope that they will add more in the future. There are many coveted technologies such as the 360-degree speaker design, voice assistant compatibility and the IP55 dust and water resistance that really catapult this model to the top of our Bluetooth speaker recommendations.