Twitch has gained popularity as the largest streaming service especially concerning gaming and other related content. While it's readily installed on most smart TVs, you may need to install it on some Vizio Smartcast TVs manually.
If you're unfamiliar with this process, our team of TV technicians details how to get the Twitch app on your Vizio TV.
3 Ways to Get Twitch on a Vizio TV
Watching Twitch is absolutely free as long as you have the Vizio Twitch app installed on your television. So, here are several ways to easily get Twitch on your Vizio smart TV: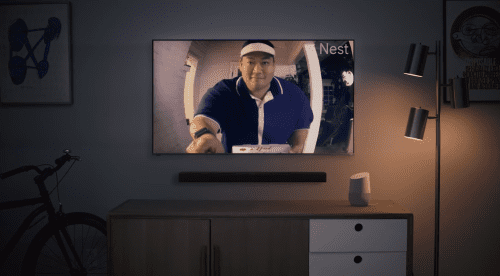 Option #1: Vizio TV App Library
One of the easiest ways to watch Twitch on your Vizio smart TV is by directly downloading the application from your smart TV App library. Like other applications, you need to add apps to download and install.
You can get Twitch conveniently, as it's readily available on your Vizio TVs app library.
Before downloading the application, ensure your Vizio Smart TV is updated. You must install the latest OS to watch your favorite Twitch streams easily. Remember, the updated version of the OS will allow Twitch to work on Vizio TVs.
However, the company has some changes to the API data policy, and it might not work on several platforms. Fret not, especially if your Vizio smart TV meets all requirements that allow Twitch to work.
Here are the steps to get the Twitch app through your Vizio smart TV app library.
Check if your Vizio smart TV is connected to a dependable Wi-Fi connection.

Search and press the "V" button on your Vizio remote control.

From the screen, look and select the access bar to launch the app store on your TV.

Search for the Twitch app.

From the resulting app's search, select Twitch and select "Install App."

Select "OK" to confirm and initiate the installation of the Twitch app.

Proceed to launch the app and create your Twitch account.

Once the Vizio Twitch app installation is successful, stream gaming videos or your favorite content.
You can still access the Twitch app or other streaming services with your TV browser or web browser. This way of getting Twitch on your Vizio smart TV is very convenient, as you don't need to download apps.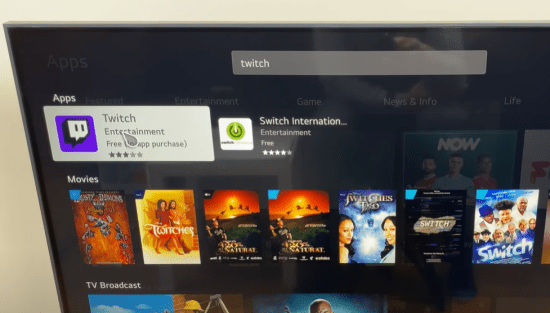 Here is the step-by-step guide to getting a Twitch on a Vizio smart TV through a browser application.
Proceed to connect your Vizio Smart TV to a dependable WiFi connection. Then, launch the web browser on your TV.

Go to the Twitch live page and make your account and sign in.

Once you're in, you can stream your favorite video or channels.
Option #3: Streaming Device
The final method to cast Twitch on your Vizio smart TV is through a streaming device. But note that not all streaming devices support Twitch, like Roku. But if you're using Apple TV, you can watch Twitch.
Fun Fact: Twitch is a subsidiary company of Amazon. Using Amazon Fire Stick [1] is the best and most compatible device to get along with Twitch and other streaming apps.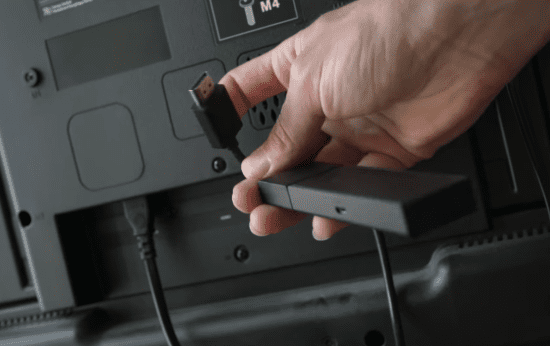 Here are the steps to guide you in getting Twitch on your Vizio smart TV through the Amazon Fire Stick.
Purchase a Fire Stick and attach it to your Vizio Smart TV, then proceed to change the input source on your TV.

Check if your Wi-Fi is reliable, then connect the fire stick.

On the Home screen of your Fire Stick, select "Find" and search for the Twitch app.

From the results displayed on the screen, choose Twitch and the download button.

Once you have successfully downloaded the application, tap "Open" and proceed to create an account; then, you can open your preferred Twitch streams and watch videos.
Tip: You can also follow these steps using Apple TV.
Twitch App Key Features and Subscription Packages
If you have decided to install the application, here are some key features of the Vizio Twitch app. Many platforms, such as an Android and iOS device, Roku, Firestick, and Xbox, can help create community meet-ups for users.
Furthermore, you can live stream different tournaments. One of the most popular features of this application is the chat room option. You can chat with other players even while playing the game.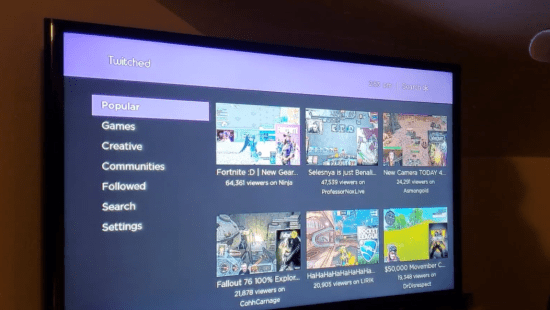 Twitch comes with two subscriptions which are Twitch Prime and Twitch Turbo. Besides, there's a direct message (DM) feature and some subscription packages like any other social media platform.
You can chat with other stakeholders using this application using your Android or iPhone device and Smart TV.
With continuous technological advances, many gadgets and applications can aid and maximize your full viewing experience. Twitch is one of the most popular platforms since it allows individuals to watch gaming videos, among others.
You can easily get the Twitch app on a Vizio Smart TV and use it seamlessly. Just follow the steps outlined above and start playing your favorite video in no time.