Are TV soundbars worth it? The answer is yes, it's worth it if you care about sound. Purchasing the right one should make the dialogue clearer and enhance your overall experience.
Today, we're discussing all the benefits of a soundbar and also which soundbar deserves your money.
3 Reasons That A Soundbar Is Worth It
1. They Are Easy To Set Up
Our experts know people who have settled with less than adequate TV speakers because they don't want the hassle of adding a new device. Contrary to other audio products, soundbars have a really easy setup.
You don't need to set things up from scratch the way you would a customized computer system [1] or a sound system. Soundbars probably come with everything you'll need in the box.
This includes the cables, mounts (for wall mounted designs), remote and user manual. Most soundbars only require you to connect the soundbar to the TV through a single connection,whether wired (with cables) or wireless (with Wi-Fi, but more on that later).
For control, you can use a remote control that typically comes with the purchase, a control panel, or a compatible app.
Plus, there are also soundbars with smart features that make it compatible with other home devices, including a receiver, and require less configuration.
Affordable is a term that's different for everyone. Typically, if you're willing to spend money to get surround sound quality in your home, you'll have a couple of hundred dollars to spare.
Thankfully, there are good options for soundbars at different costs, like soundbars with minimalist designs for less than three digits! These soundbars priced below 50 dollars are great examples.
You can also check out a soundbar with all the fancy bells and whistles such as Google Assistant (where applicable), a wireless subwoofer, and DTS Dolby Atmos technology, often for a higher price.
Consumers have plenty of flexibility in their budget when purchasing soundbars. It often boils down to which features matter.
3. It's All About The Sound
Inarguably, the soundbars' worth is in the sound quality. You'd want to use a soundbar that's up to standard, regardless of the space you have and whether you'll play movies, music, or video games.
Over the years, soundbars have greatly improved in sound quality and, in a way, can be considered close to full home entertainment systems. When you buy a soundbar, make sure you can play around with surround sound capabilities and sound modes.
Sound modes are basic to most soundbars, even budget ones. You'll be able to hear balanced sounds in terms of bass and tweeters. These pre-programmed settings might improve different media types such as movies, music, news, and video games.
For instance, movie mode enhances special effects while dialogue mode is good for news and TV shows. Game mode has also been popular around the world with the popularity of video games.
However, soundbars that don't have preset sound modes are not less in sound quality, as there's a high chance they could come configured.
For surround sound technology, soundbars with Dolby Atmos and/or DTS X Virtual offer good sound quality. Surround sound is crucial to home entertainment, as it makes your living room feel like a small theater. This technology makes a great world of a difference if you wish to hear the sound around you.
So, even though you're looking at a beautifully-designed device, remember that the soundbars' worth is really in the quality.
Features Of TV Soundbars That Worth it
Soundbar speakers (or drivers) are now even better than ever. Most of the time, soundbars come with a number reference attached to them. These indicate the channels and subwoofers that a soundbar has.
The number before the decimal refers to the channels. The more channels a soundbar has, the more balanced and projected the sound will be. The number after the decimal signifies how many subwoofers the soundbar has.
Five channels are the industry standard for surround sound. Five speakers usually mean that you have center, left, right, and two rear satellite speakers. Yet, there are available soundbars with a whopping 7.2 channels like Nakamichi Shockwafe Elite 7.2.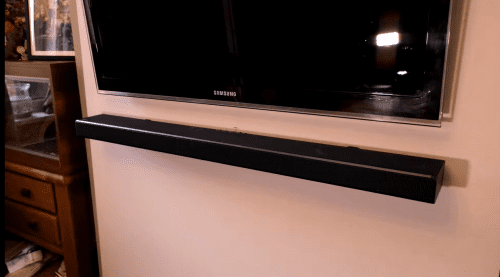 The subwoofer can either be built-in or a separate add-on. Typically, the latter is even better than the former because of the great size difference and the space for the technology.
However, if you don't have much space in your living room, a soundbar with a built-in sub should be fine.
Most consumers find the design of a soundbar more appealing than that of add-on external speakers. It has high power in a small and compact design. The best soundbar could provide surround sound despite its size.
Their small design gives you a condensed product that can match large speakers. Even with the size limitation, the technology is these devices is top notch and it's close to theater quality.
Most new soundbars are designed to be sleek and minimalist. They can go on your entertainment unit or on the wall without trouble. Since soundbars mostly depend on wireless connections, you minimize clutter at the same time.
Easy Bluetooth Connectivity
While higher-end soundbars are compatible with WiFi, it's Bluetooth that's present in even more products. Through this, a device like your Bose Solo 15 Series II can be connected to your TV without many different cables. Plus, you can also use it for music streaming from mobile devices.
The best soundbar has more than one method to connect to TVs. HDMI inputs and HDMI ARC are the most desirable because they support 4K.
However, TVs that don't support HDMI can still use other methods like coaxial, analog, digital optical, and RCA. This means that most soundbars are compatible with most TVs, you just have to check the options. For instance, the JBL 3.1 Soundbar presents multiple connections for better connectivity.
There are some higher-end features which may not really be for functionality, but for convenience.
Smart virtual assistants Amazon Alexa and Google Assistant can come with the soundbar as well, helping you control the soundbar hands-free. Some soundbars like the Sonos Beam can connect to your smart home system which is typically great for different tasks such as streaming.
If you like to tune the audio, some soundbars come with volume leveling technology. The bass and tweeters can also be adjusted to your preference, so even if a strong bass isn't for you, you can to hear it in a lower audio level.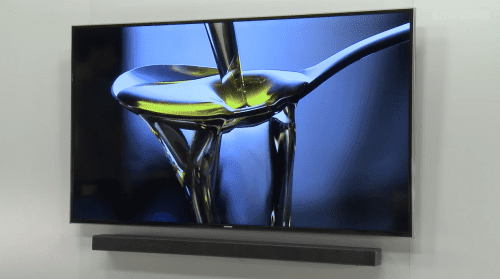 Top soundbars have surround sound technology to amplify your device's power to fill the room. The more common ones you've probably read about include Dolby Atmos, DTS X technology, Harman Kardon, and Meridian Audio, just to share a few.
Nothing comes close to what you hear with Atmos, but most of the time, people just want sound that fills the room.
Compared Home Theater System - Are Soundbars Worth it?
Soundbars are much more compact than a traditional home theater system. It's a great way to remove the hassle of multiple devices and wires for setup. It will take less time to set up a soundbar in front of the TV, but what other advantages are there?
They can be used as a speaker for other devices if you have wireless connectivity options. This means that your soundbar isn't only for TVs but even for other devices as well. Samsung soundbars such as Samsung HW-Q900T offer you versatility. You can connect it to TV, home theaters and even gaming consoles.
Soundbars are usually priced at a lower point. Full-on home entertainment systems can range anywhere from a few hundred to over a thousand dollars. Soundbars are a wide range of products for your TV, so you have a high number of options to choose from.
Size is a big advantage soundbars have. Not everyone has enough room for a complete sound system, and this is where the sound bar becomes the top solution. You can set it in front of the TV and connect them.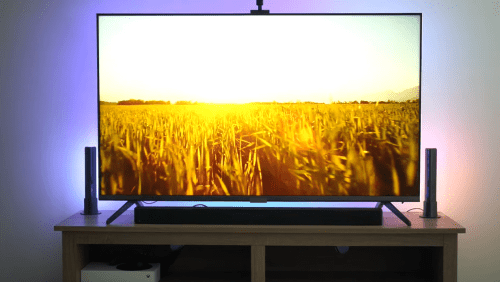 At the same time, a soundbar having only one speaker or channel is a common misconception. Soundbars have more than one channel, and you'll find at least two channels in your soundbar. They're not as big as TV sound systems, but for smaller spaces it's more than enough. The Klipsch Cinema 400, for example, is a 2.1 channel soundbar great for small spaces while providing good surround sound experience.
Some home entertainment systems are designed to be assembled. But if you're not the type who wants to put together things, then a soundbar is good because it's easy to place in front or below the TV.
Top-notch home entertainment systems have many pieces, with the standard being 5, 7, or 9 speaker sets. You can imagine just how many wires and cables that would entail.
Soundbars are designed for an organized setup. A soundbar with a wireless sub takes up more space in the room, but there's a way to be flexible with placement.
We have separate articles that should provide you with the information on the best placement options for your soundbar and its subwoofers.
How much should I spend on a soundbar?
You should spend anywhere from $300 and over for soundbars. However, there are many options for under that price range that can improve your listening experience as well.
What is the best inexpensive soundbar?
The best inexpensive soundbar is the TaoTronics Three Equalizer TV soundbar. It's a slim and well-designed soundbar capable of room-filling sound.
Are sound bars better than speakers?
Yes, sound bars are better than TV speakers. Soundbars are not as powerful but the sound quality from the former can be just as clear and crisp with the right configuration.
Are Dolby Atmos soundbars worth it?
Yes, Dolby Atmos soundbars are worth it. The object-based technology will provide an immersive, life-like listening experience when you're watching a movie or playing a video game.
Conclusion - Is a Soundbar Worth it?
Are soundbars better than your TV speaker? Yes, soundbars are worth it because they enhance your audio experience, far outperforming your TV speaker. They also come with a other convenient features that can incorporate other media devices in your home. Placed in front of your TV, a soundbar does an excellent job in improving the sound.