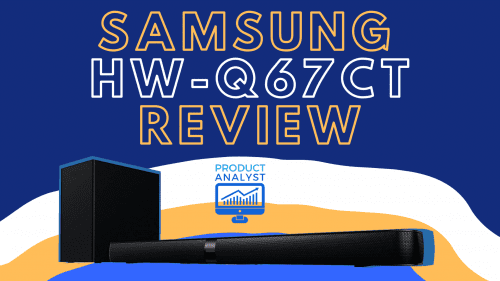 The Samsung HW-Q67CT soundbar comes complete with a subwoofer and rear speakers. But is the full home theater system worth your money and does it live up to the hype? Our experts have conducted a thorough Samsung HW-Q67CT review to give you an answer you can trust and to save you time.
The Samsung HW-Q67CT is a sleek soundbar home theater package that is designed to complement any interior.
The HW-Q67CT, unfortunately, does not have a display screen on the surface of the soundbar. What it does have are indicator lights to show users what their settings are.
The Samsung soundbar speaker package has an astounding 11 speakers to propel sound off the walls and around the room to your sweet listening spot. The speakers are up-firing, which means they can fully enhance the audio by using the acoustics of your room.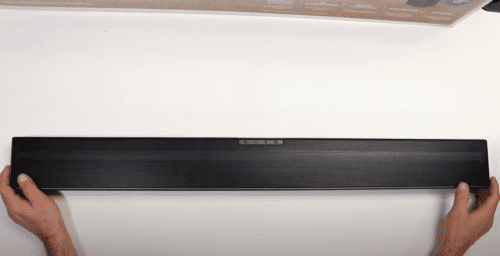 With the help of the wireless subwoofer, the soundbar set will punctuate all the sound emitted from your home theater system with high quality bass boosts.
The 38.6" soundbar is a good fit for TVs 40 inches and larger. When installed in your home theater, it has the capacity to fill larger venues with echoing sound. Since the entire package will take up significantly more space, the HW-Q67CT comes with its own wall mounting kit for the soundbar to save some room.
To understand more about your soundbar, know what D stands for in your Samsung soundbar, too.
Samsung HW-Q67CT Features
For a mid-range home theater package, the Samsung HW-Q67CT can offer quite the audio enhancement for your regular TV speakers. Due to its many components, the Samsung soundbar can simulate encompassing sound.
The soundbar comes with Samsung's proprietary Acoustic Beam Technology, which moves the sound in a realistic way. What it will do is aim the sound at its listeners from where the action is happening onscreen. This will deliver a more realistic experience for users.
The soundbar sound system also supports Dolby Digital 5.1 and DTS Virtual:X as advanced audio technology formats.
You will also find Q Symphony in the HW-Q67CT, which basically brings you an accurate wall of sound similar to a concert hall.
In our Samsung HW-Q67CT review, we found that it is able to relay encompassing sound even without the help of advanced audio technologies.
For that extra guarantee that the HW-Q67CT will not disappoint, Samsung enabled the soundbar with audio that wraps around the listener, thanks to the DTS formats and the Acoustic Beam Technology.
For more surround sound options, why not try the top-performing home theater in a box here.
Samsung HW-Q67CT Connections
A soundbar system is only as good as its setup and connections. The Samsung HW-Q67CT has both wired and wireless connections. HDMI [1] is our audio team's top recommendation, as with all other soundbars. HDMI is featured in this Samsung soundbar and is needed for high-definition audio frequencies.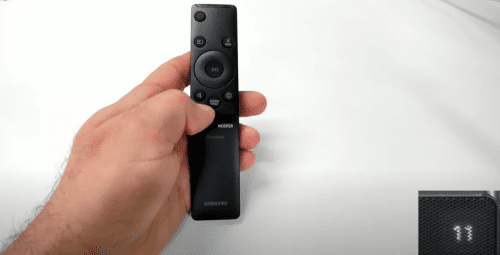 The HW-Q67CT comes with ARC, which is a one-cable connection for high-definition audio and video quality.
You can also find digital optical for the HW-Q67CT as another form of connection and all the cables included.
As for wireless connections, the Samsung HW-Q67CT is Bluetooth-enabled for wireless TV connection and connection to external devices for wireless streaming.
The Samsung HW-Q67CT features 3 sound modes: surround sound expansion, game pro, and standard. The standard mode is a good fit for all other content while game pro mode is excellent for glorious battle victories. The surround sound expansion mode is the top choice for movies and TV shows.
It is a 7.1-channel soundbar that brings multi-layered sound to your living room. As one of the top-rated 7.1-channel soundbar systems, the Samsung HW-Q67CT already surpasses the industry standard for surround sound capabilities, which is 5 channels.
Installing a home theater system comes with a price and tends to be difficult, however, with HW-Q67CT home theater combo, the set up is easy with the one-cable connections and wireless pairing. Once you have it all connected. The setup is simple in the settings menu.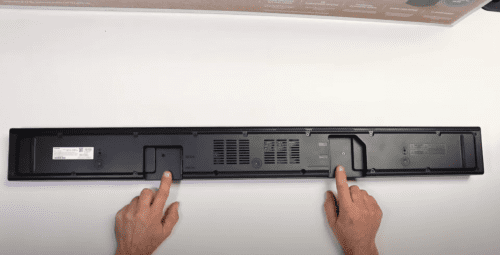 If you choose to wall mount your soundbar, our experts suggest finding it a permanent home directly below your flatscreen TV. Find your listening spot and aim all the components directly to it at a 45-degree angle to create a focal point for the sound.
For a home theater system that is guaranteed to deliver, the Samsung HW-Q67CT has an affordable price tag. Many people would expect to pay over four figures, but the HW-Q67CT gives you impressive sounds at three and includes everything you need such as a remote, cables and the wall mount kit.
Samsung HW-Q67CT Review Conclusion
After our detailed Samsung HW-Q67CT review, our experts found this Samsung soundbar very desirable.

The affordable price aside, this soundbar can generate expansive audio with high definition formats that are mostly seen in higher-end soundbars. It comes with all the components and channels needed to give users a surround sound experience, enhanced with booming bass and a full range of highs and mids.