Let's face it — it doesn't matter how much your TV is, chances are it sounds awful without an additional audio accessory. If you're looking for a reliable soundbar to enhance your audio experience, the LG SNC4R is a smart pick. Our experts have tested the device, so you can read this LG SNC4R review to know why it should be among your choices.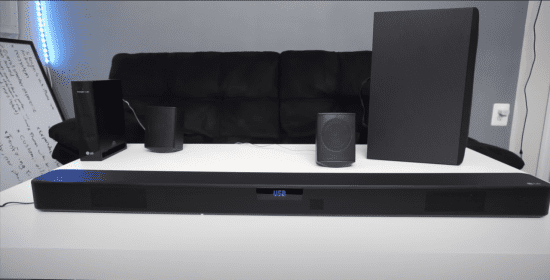 The finish is beautiful and the wood is quite smooth adding a touch of elegance and sophistication to any room. It's designed to allow for table-top and wall mounting options.
The LG SNC4R is certainly made for performance and features a 4.1 channel system. The 420 watts power output places the soundbar on the higher side when it comes to sound quality.
According to tests during our LG SNC4R review, the two extra wireless speakers add depth and an extra pop to your music or movies that inbuilt speakers cannot deliver. The 2.0ch rear speakers give your LG SNC4R an incredible cinematic home theater surround sound for a thrilling and immersive audio experience.
Movies, music, as well as news, have diverse frequency levels and that's why this LG SNC4R features the intelligent Adaptive Sound Control (ASC). ASC is a unique audio enhancing technology designed to identify different audio profiles as you listen to automatically adapt the sound to deliver optimal audio experience depending on what you are listening to or watching. The ASC technology provides clear and crisp dialogue or powerful punch action when watching.
A soundbar alone cannot properly reproduce all the frequencies that your audio source sends to it, and that's where a subwoofer comes in. LG SNC4R comes with a subwoofer unlike the JBL 5.0 that lacks external sub. The LG SNC4R adds a breathtaking immersive impact that you can feel or hear allowing the soundbar to focus on high and mid frequencies. As a result, you get low frequency audio effects in movies and bass in music.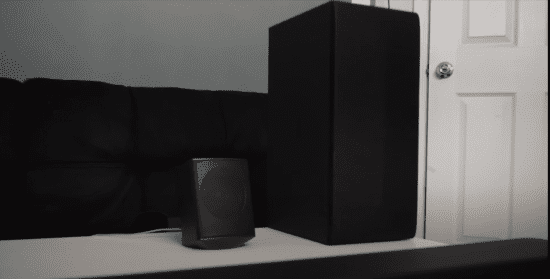 The most impressive feature of this subwoofer is that it easily hits the deepest bass notes and gives an immense output. Moreover, it delivers the low frequencies without overtaking the soundbar or calling attention to themselves.
The subwoofers also take up a small space. They are easy to install and look elegant, allowing them to blend in perfectly with any surrounding. The multichannel surround in this unit is Dolby digital which is different from Dolby Atmos and DTS:X [1].
Wireless connection is a crucial element nowadays and this unit doesn't disappoint. You can entertain yourself on the fly via Bluetooth, which allows you to effortlessly stream anything from your laptop, smart phone or any other mobile device to the LG SNC4R.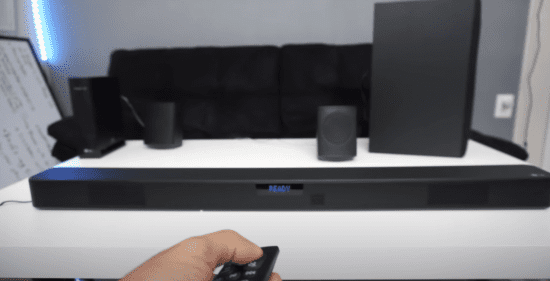 Moreover, you can connect the rear channel speaker kit wirelessly to the sound bar for an improved performance.
It's worth mentioning in this LG SNC4R review that it doesn't support WIFI and NFC.
The LG SNC4R comes with a wide range of connectivity inputs and options including optical, Bluetooth and USB inputs. The optical port provides you with a solid connection between your sound bar and TV, and it is a simple and reliable connection type. However, its bandwidth cannot deliver over 5.1 signals.
The USB port allows you to charge your USB-powered devices like MP3 players and smart phones. You can also use it for media playback from compatible devices.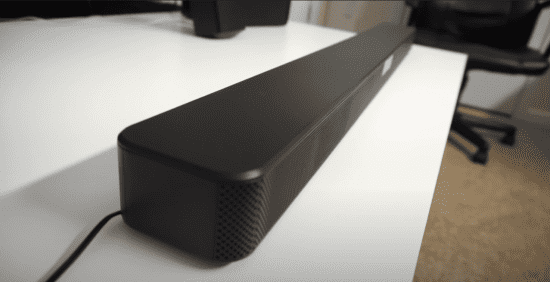 In addition, the unit also comes with an intuitive remote control to conveniently operate all features of your sound bar.
The LG SNC4R is pretty easy to put together with a couple of easy to follow instructions. It comes with minimal wires and you can start to use it straight out of the box.
LG SNC4R Review Conclusion
If you are looking for a budget friendly sound bar to match the visuals of your 4K TV, the LG SNC4R is a smart pick that will ensure you get the best out of your favorite music, films and TV shows.
Being a 4.1 channel soundbar and featuring 2 surround speakers, LG SNC4R delivers a cinematic and immersive sound experience when watching movies or listening to music.