Spending hundreds to thousands of dollars just to elevate your TV speakers can make you hesitate to purchase a soundbar, but it can do way more than that! Take the iLive models that can be hooked up to your game console, DVD player and more for total versatility—learn if they're for you with our iLive soundbars review below.
Reviews of the Best iLive Soundbars
1. iLive 5.1 Home Theater System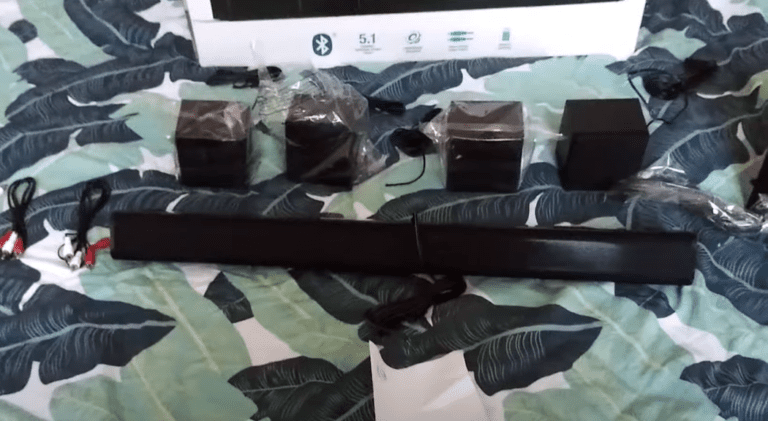 The iLive 5.1 gives you everything in one package. It comes with its own subwoofer and 4 satellite speakers without having you build your own system.
With the satellite speakers, the wireless connection will allow you to freely set up their location without being limited by the length of the wires. The wireless connection offers up to 60 feet in range for a stable connection in any sized room.
It comes with everything you need in the box to complete your home theater experience. The iLive 5.1 system will deliver that surround sound experience you crave with minimal effort.


The ITB295B from iLive is a simple soundbar for those who don't need extra frills – just enhanced audio. The 37-inch soundbar is a great match for TVs of that size and a few inches larger.
The soundbar comes with a removable stand and Bluetooth wireless connection up to 60 feet in range. The LED pairing indicators will clearly display the mode your soundbar is in, which you can adjust and set with the remote control.
There is a cloth grill covering the inner workings of the iLive ITB295B soundbar and there is a control panel on the side featuring digital volume control.
3. iLive ITB066B 32" Bluetooth Soundbar


The iLive 32" is a single soundbar with a wide stereo range. It's a very thin model and at only 32 inches it fits quite nicely with TVs 36 inches and over. It's compact size also lends the user more flexibility in terms of placement.
The built-in Bluetooth in the iLive ITB0066B 32″ soundbar has an impressive range that can still offer a strong connection even at a distance of 60 feet.
What puts the iLive 32" ahead of the 37" is the wired connection. The 32" offers optical digital audio input, which by far exceeds the abilities in sound decoding and high quality passthrough of the 3.5mm.
For remote setup, you can check this guide on programming universal remote control for iLive soundbar.
iLive Soundbars Review Buying Guide
After our iLive soundbars review, we have found that there are certain features a soundbar must have in order to produce the desired audio. To help you select the best one, we have condensed our tips into the buying guide below.
You can also read about affordable soundbars worth four hundred bucks and below here.
The design of soundbars may all seem pretty similar, but the materials used and the blueprint for each actually vary. A sturdy soundbar will have an aluminum grill and be made of sturdy material [1] that can stand the test of time.
Consider where you will place your soundbar. It shouldn't obstruct the remote sensor on your TV, and it should be lightweight enough to be wall-mounted.
Is the soundbar a model without a subwoofer? Does it come with satellite speakers and its own subwoofer? If it's the latter, the space needed for those units will have to be considered.
The size of the soundbar matters too. For aesthetic purposes, you shouldn't get a soundbar that is wider than your TV. Ideally, it would be of the same length, but since that isn't always the case, a soundbar that is a few inches shy of your TV is your best bet.
The soundbars we featured for 70-inch TVs should help you get an idea.

What does the soundbar come with? Soundbars with their own built-in subwoofer will have heavier bass. Soundbars that have an external sub will exceed the capabilities of the former due to the larger size of the subwoofer.
Satellite speakers, or rear speakers can offer more dimension and depth to otherwise flat sound. The strategic placement of these speakers will also create different effects when experimenting with a surround sound setup.
We have a separate, thorough guide on setting up iLive soundbars here.
Many soundbars come with advanced audio technology such as Dolby Audio. For example, the Vizio V51-H6 is equipped with DTS Virtual: X capabilities and can decode Dolby 5.1.
Soundbars that are professionally tuned are able to discern the content played onscreen and automatically adjust itself to give you the best calibration.
Sound modes are also technology presets in the soundbar that can help improve the media. Some soundbars will automatically modify the sound modes while others require your input.
If your soundbar lacks audio technology, there is still another way to achieve your coveted home theater sound. For example, the channels within a soundbar can simulate 3D surround sound without having the mechanics.
Channels refer to the number of points of sound emission your soundbar possesses. This is usually illustrated by the numbers on the product listing.
For example, a 5.1 soundbar equates to having 5 sound channels (that is, points of emission) and 1 subwoofer. The LG NB4543 is a 4.1 soundbar, which means that it comes with 4 channels and 1 subwoofer.
The channels are usually set far enough apart and aimed at different directions to utilize the acoustics of the room and to bounce off the sound. The more channels your soundbar has, the more blanketing the sound can be.
You can learn more about how soundbars with fewer channels fare against 5.1 soundbars here.
Wireless connections are usually offered in two forms: Bluetooth and Wi-Fi. Bluetooth is more common but can be just as convenient as Wi-Fi in streaming media from mobile devices. It also facilitates easier wireless setup.
Meanwhile, Wi-Fi allows you to configure your speaker system to play from multiple rooms and to integrate your soundbar into your smart home setup.
The wired connections are important when it comes to sound quality.
HDMI and digital optical are the most solid choices when connecting your soundbar to your TV. They are also the most convenient, being plug-and-play designs. Both HDMI and digital optical cables offer the most secure connection with minimal distortion or lag.
Our Top Pick: iLive 5.1 Home Theater System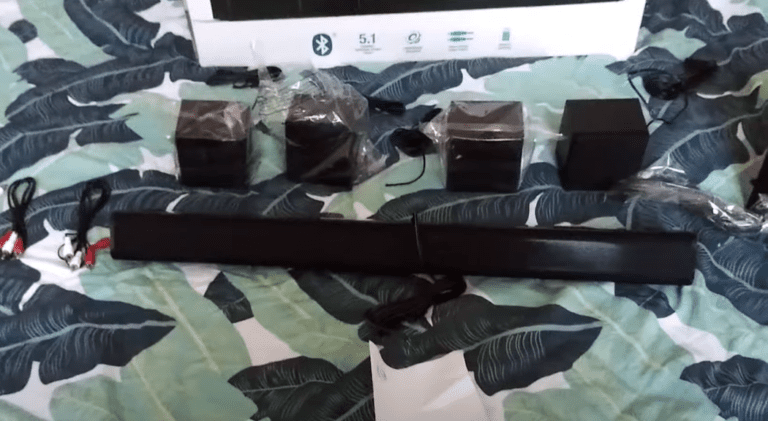 Why not go for the whole nine yards in your quest for high-quality sound? The iLive 5.1 home theater system is our top choice in our iLive Soundbars review because it has everything you need.
The iLive 5.1 includes a subwoofer and 4 satellite speakers to bounce off the sound from all sides in your room. You can enjoy surround sound five minutes after unboxing because all components necessary can already be found in your package.