Soundbars offer flexible placement, whether it's on your wall, the surface of a cabinet, or on a shelf. Some people don't want their soundbar mounted to their wall because they fear the amount of effort it might take. So, we're here to show you the step-by-step procedure in mounting a sound bar.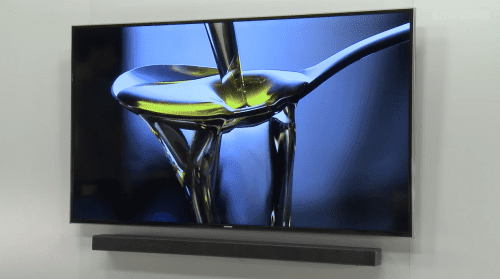 Mounting a Soundbar to the Wall
A wall is a great place to mount a soundbar, especially if your TV is already wall mounted. Many top-level soundbars already have a wall mounting kit so you don't have to go back to the store and buy one yourself. If not, then you would need to search online for a compatible soundbar mount.
Whether you're getting your soundbar wall-mounted above or below your TV is up to you. Know that there are, however, a few things you need to look out for before a wall-mounted soundbar installation.
Make sure you're mounting a soundbar on a vertical wall. Check the strength of the wall as well. If the drywall seems thin, it may not hold your soundbar, regardless if it's a Samsung, Sonos, or another top-notch soundbar brand. If your TV is already mounted on the wall [1], it should be safe to do a soundbar installation.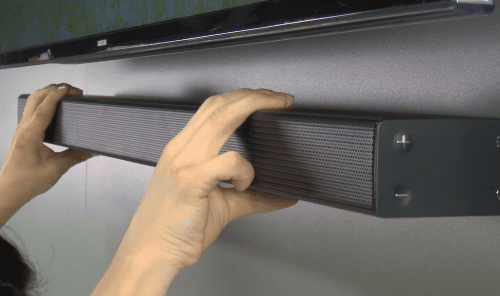 If you want to connect the soundbar via wires, you need to connect the devices prior to getting them mounted to make sure the soundbar cables at the back are within reach. Remember to turn off and unplug your soundbar and TV before you install them.
Whether you place it above or below your TV, measure two inches of space between the two devices. This ensures that the IR receiver on your TV and soundbar aren't too close.
For the soundbar installation, here's what you need to do:
Place the wall mount guide against the wall and align it straight. A good way to measure it is to angle it parallel to the bottom of the TV.

Make sure the center is aligned with the center of the TV.

If you have a wall mount guide, use a pencil and mark where the screws would go.

Use a drill bit and carefully drill into those holes.

Push the screw though the screw holder, then through the hole. Secure it safely.

Attach the bracket mounts to those screws on your soundbar.

Gently hang the soundbar brackets on the wall mounts and secure it well.
You can also just add the mounting brackets to the wall itself and bypass actually attaching the soundbar to the TV mount. This way, the TV still has freedom of movement while the soundbar stays securely mounted on the wall bracket.
Mounting a Soundbar to the TV
If you don't want a soundbar installation on the wall, the other option is to mount your soundbar to your TV. For those who want to avoid drilling holes in the wall, this is an option for you.
You need to buy a soundbar bracket for the TV mount. These soundbar brackets are available online or in stores. Yet, some soundbars such as the TCL Alto 7 include cables and wall mounting kit in the package. Once you have the brackets, you need to remove your TV from its mount first. If your TV isn't mounted yet, it makes your life easier.
Here are the steps on how to mount a soundbar:
Eyeball the soundbar brackets' placement on your TV wall mount. Line it up as closely as possible and remove the TV mount if you like.

If your soundbar has a control panel at the top, leave enough space between the soundbar and TV so you can still press the soundbar buttons.

Next up is the actual attachment of the TV to the wall mount and the bracket to the wall mount. You should already have lined everything up, so it's just a matter of getting them mounted in place with screws.

Install the soundbar on the brackets and see if any adjustments need to be made as well.

Once you have the soundbar brackets placed precisely, just mount the TV wall mount to your wall.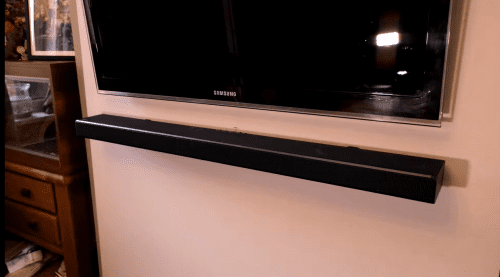 When buying soundbar-to-TV brackets, there are options available for specific products, but know that these soundbar brackets can be overpriced. You can just buy quality universal soundbar-to-TV brackets.
A soundbar can also be directly mounted onto the TV itself with a different kind of mounting bracket. These options are also available online and they follow a similar installation procedure to the one above. Be sure to remove the TV from being mounted for more precise measurements.
Need advice on which soundbars work best with certain TVs? You can check our recommendation of
brilliant soundbars for Samsung TVs
. Samsung is a top quality brand in the market, and they have their own Samsung soundbars too.
You can also have a soundbar mounted directly to a TV that sits on your console.TVs feature holes in the back where a regular TV wall mount would go. While you could buy a soundbar bracket and use that, you can make your own with three pieces of wood.
Measure the right size (long enough so it protrudes above the TV) and screw the soundbar brackets together in a U-shape. Drill holes in the wood to match up with the holes at the back of your TV. You can then use bolts or screws to secure them at the back.
Do the same to the horizontal plank and secure the wall mount brackets. You can leave the wood as is or you can customize the bracket color to what you like. Your soundbar will be mounted securely in place and you've saved a couple of bucks on your home theater too.
Finally, place the soundbar on the DIY wall mount and test the sound!
Benefits of Mounting a Sound Bar to Your TV
The main benefit of mounting a soundbar to a full motion TV is the improved sound quality. When your sound bar is mounted to the wall or simply sits on your TV rack, a good amount of the audio can be absorbed by the surface.
This is not the case with TV wall-mounted sound bars. Instead, the soundbar will move when the TV moves. Full-motion TV mounts are the perfect example for this. Whether you tilt your TV or face it in another direction, your sound bar will move together with the soundbar bracket that's mounted on your TV wall mount. That's why we recommend a full-motion bracket if you want a TV-mounted soundbar, because your sound bar will always be facing you every time, giving you the full sound.
Putting your Sound Bar on the TV Rack
If you don't want to mount your sound bar at all and you're skipping the soundbar bracket, you can just put the sound bar on your entertainment unit.
While this is a much simpler soundbar installation, there are drawbacks if you have children or pets. Your sound bar could be more prone to accidents and drops if it's not secured by a sound bar mount.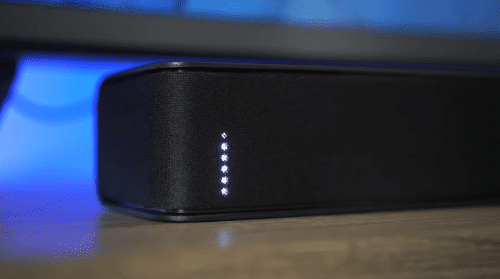 Sound bars aren't cheap, so mounting your soundbar to the TV or the wall can help avoid any accidents. As such, it's a good move to mount your soundbar instead of just placing it on a flat surface. This also allows more flexibility because you can get your soundbar mounted close to your ear level, again giving you the best sound, whether you have a Samsung HW-S40T, Vizio Elevate, or other model brands.
Tips for TV Wall Mounting
Considering where you sit when watching TV, it's preferable to mount it close to eye level and your soundbar close to ear level. This avoids strain in your eyes and neck, while giving you a better home theater experience.
If you have to mount your TV higher than eye level, it's good to choose TV wall mounts that can tilt downward. Full motion wall mounts today aren't expensive, allowing a better view wherever you're sitting. Still, there are different options you can choose from, like tilt, interactive, and full-motion.
Want to see us compare top Vizio soundbars against each other? Head over to our comparison of Vizio SB3621 VS SB3821, next!
Can you attach a soundbar to a wall-mounted TV?
Yes, you can attach a soundbar to a wall-mounted TV. However, you should get the TV and the mount off the wall first. This will give you an easier time when measuring and eyeballing the soundbar placement. Also, turn off the soundbar and the TV before removing or replacing them on the mount.
Does a soundbar have to go under the TV?
A soundbar does not have to go under the TV, but it typically does. This is because the sound will have a direct path to you, giving you the best audio quality. If you want to mount the soundbar on brackets above your TV, that's good too.
Placing the soundbar on a flat surface is easy, but many people prefer the good looks when you mount a TV and soundbar together. A full motion TV and a soundbar moving together will make sure you get the best sound quality wherever you're seated. However, you should buy a quality sound bar as well, because a cheap one won't cut it.
Mounting a soundbar doesn't have to be difficult, even if you have a 55-inch large television and big soundbar. With the right tools, you just need to follow our guide to mounting soundbars. Whether you're working with Samsung, Sonos, Sony, or other options, you can have your soundbar mounted with ease.