A small TV has a smaller built-in speaker, so an audio boost from a soundbar is a must. It takes a lot of research to find the soundbar that's perfect for you, but it can be a waste of time, especially if you end up buying a crappy one. Save yourself some hours and see our list of the best small soundbars below.
Reviews Of The Best Small Sound Bars For Your Smaller TV
The BOMAKER miniature soundbar features multiple wired and wireless connections such as Bluetooth and optical, among others. Even with such a tiny profile, the BOMAKER soundbar still manages to fit in 2 full-range speakers, a DSP, and 3D surround sound capabilities.
You can choose from 3 different equalizer modes to find the balance that's right for you. The small soundbar is highly versatile and can connect to your TV, phone, or computer.
The Bomaker 50W Soundbar unit will come with everything you need in the box to get started. Plus, it can reach 110 dB in speaker sensitivity, which can fill rooms with sound.
Polk Audio Signa S2 Ultra-Slim Universal TV Sound bar
This Polk Audio Signa S2 Sound Bar, like the other best small soundbars on this list, has an ultra-slim and compact design. However, it does include a wireless subwoofer, making it a 2.1 channel system.
It's simple to set up and connect the soundbar through HDMI inputs, aux, and optical inputs. The subwoofer placement can be a bit tricky, but our experts recommend placing it along the front wall for excellent bass.
Aside from the smart TV connection, you can also connect the soundbar to mobile devices using Bluetooth. Bluetooth support allows you to play music and other content for streaming.
Majority Bowfell Small Sound Bar
The Majority Bowfell Small Sound Bar is our budget pick. There's a built-in subwoofer present inside the tiny body, and the total 50W audio output from the small speaker is enough to create cinematic sound at home.
The tiny soundbar supports multiple connections, including AUX and optical. You can even use wireless Bluetooth to connect the device to your TV or mobile devices for streaming.
The brand also includes a small remote to offer users full control over their new devices. What's best about the Majority Bowfell brand is their eco-awareness — every product sold is equal to a tree planted.
Small Soundbar For Smaller TV: Buying Guide
Our Top Pick For A Small Sound Bar:
Bomaker 50W Sound Bar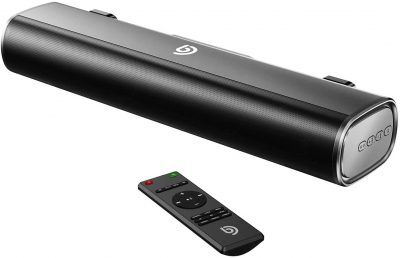 Our technical team's top pick for the best small soundbar is the BOMAKER 50W Sound Bar. The small profile isn't special, but what sets the small device apart from the others are the built-in DSP, 2 full-range speakers, the 3D surround sound simulation, and more. This model proves that expansive sound is achievable even with a 16-inch sound bar.