Sony Electronics Inc. has released the new SRS-XV900, its loudest and most powerful Bluetooth party speaker to date. But how do you know you are not getting tricked into the hype?
If you don't want to get a popular model with underwhelming sound quality and power, read our audio engineers' Sony SRS-XV900 reviews to ensure you're getting the best entertainment experience.
If you're familiar with Sony's X-Series of party speakers like the SRS-XP500, you'll find the SRS-XV900 nearly identical, with one major exception: size. It's not the portable Bluetooth speaker that's the rage in stores; this one's nearly 3 feet tall.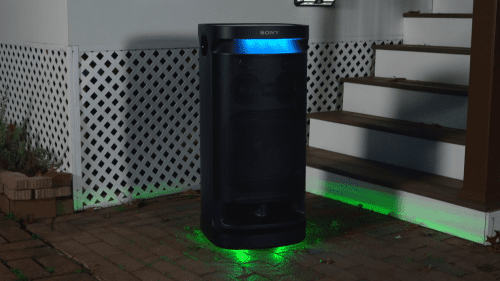 The Sony SRS-XV900 is a portable speaker designed for parties; it has a carry handle and two wheels for easy transport.
The SRS-XV900 is the latest model in the company's X-series of wireless speakers, and the company claims it is the loudest and most powerful of the bunch.
As part of their 'Live Life Loud' pledge, the Bluetooth party speaker creates thrilling listening experiences for music lovers with its high-end features.
The Sony SRS-XV900 will most likely outlive the celebration. In a controlled environment with no lights on, the battery life was very close to Sony's guarantee of 25 hours.
True to its claim, a 10-minute charge will give you three hours of music. As a bonus, the charging time is reasonable, as it didn't take as long as anticipated.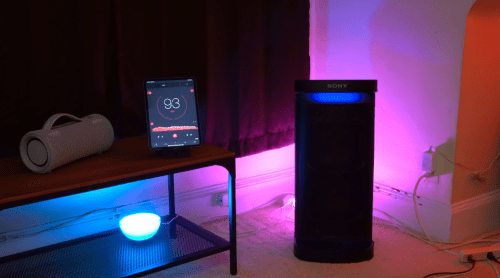 It contains a special battery care mode that stops charging at 90% to keep the battery healthy for as long as possible.
An easy-to-carry handle and mobile wheels are included in the package. Speakers are easily portable by grabbing the carry handle and tipping them back. You can roll to the event place thanks to the sturdy castors!
If you're throwing a huge party and want to ensure everyone is on the same rhythm, you can use Sony's Party Link through Bluetooth® to connect up to 100 of your speakers.
The speaker can be connected to a USB device to play music. You can directly charge any low-battery smartphone by plugging them into the speaker.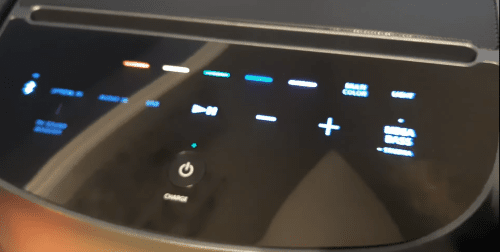 The SRS-XV900 speaker also has a feature exclusive to Sony products called TV Sound Booster, which improves the audio quality of television programs.
Touch controls for music playback, volume, Mega Bass, play, pause, and lighting are located on the speaker's top panel. In addition to its acoustic capabilities, the gadget also serves as a nightlight.
Sound Quality and Performance
Sony's SRS-XV900 is a four-way bass reflex speaker. Six tweeters strategically placed front, side, and rear provide an omnidirectional party sound. There features a Jet Bass Booster and X-Balanced speaker unit for rumbling low end.
No matter where in the room you are, you will hear crystal-clear music with excellent vocal quality thanks to the carefully calibrated speaker system.
Turning on the ambient lights (located on both sides of the Sony SRS-XV900) and the wheels gives the impression that the speaker is floating, which is a neat effect. Sony's software allows users to program their light patterns through the app.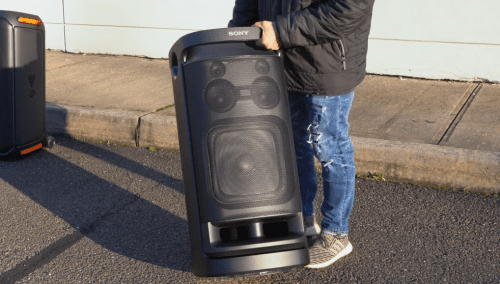 You can also adjust the volume, light intensity, and playback settings via the touchscreen display on its top.
Sony's SRS XV900 is protected from dust and moisture. Waterproof gadgets can withstand splashes and even high-pressure hose streams, but they normally limit how deep they can go and how long they can stay immersed.
Sony's new Music Center and Fiestable applications work with the SRS-V900.
Fiestable provides access to various entertaining features that you can use to set the mood for any party, from generating a party playlist to karaoke tools like Voice Changer and Echo and from DJ control to the addition of sound effects.
The speaker's MEGA BASS setting allows bass heads to crank up the sub-bass for a more immersive listening experience. In LIVE SOUND mode, listeners may re-create the special ambiance of a live performance and enjoy their music as often as they like.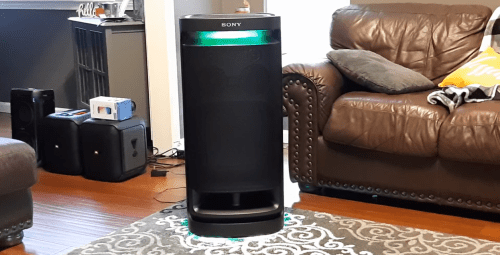 Furthermore, the speaker has two inputs, one for a microphone and one for an electric guitar, allowing it to be used as an amplifier [1].
The SRS-XV900 can be pre-ordered via Sony Electronics since its release on September 20, 2023. While on the pricier end of the spectrum, buyers are protected by a one-year limited warranty that covers hardware parts of the product.
See Also: GravaStar Mars Review
Review Conclusion: Sony SRS-XV900
Excellent quality usually doesn't come cheap, which is true in our Sony SRS-XV900 review. The speaker is one of the most extravagant Bluetooth speakers on the market, but its otherworldly omnidirectional audio, pounding bass, and exceptional battery life set it apart.
The Sony SRS-XV900 is one of the best speakers available if you frequently throw parties or need a powerful, portable music system.