With all the impressive home theater system releases from Sony, it's hard to identify which are good and worth the money. Their popular release, the Sony HT-A9, created a buzz for its unique design, but does it have Sony's best features or is it another unit that's overhyped and overpriced?
If you don't want buyer's remorse, here is our audio engineers' thorough Sony HT-A9 review.
The first thing you'll notice about these multiple speakers is that they're big. They're almost one foot tall, weighing over 6 pounds.
So, in this case, expect these TV speakers to not blend within your surroundings as they're good on their own. The sleek and modern sound design of these speakers complements their plastic finish well.
Its base station is compact and easy to fit into your home theater system. Besides, its small display makes it easy to see key status information. You'll see its internal microphones and four speakers.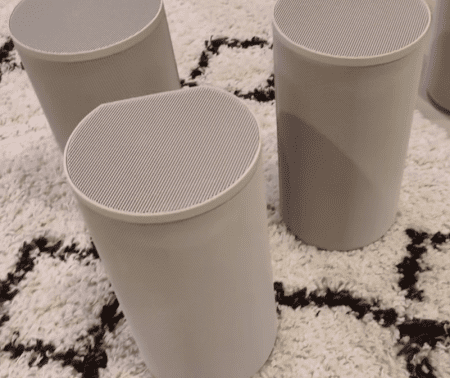 However, due to their dedicated power inputs, you might have a hard time finding the appropriate mounts for these speakers packages. Since the design of the speakers makes them look better placed on a table or stand, we suggest not wall-mounting them.
Also, they're bulkier and have electrical wires running through them, which is another reason you might want to put them on a stand. Sony's HT-A9 is only available in the color light gray, which is what most media enthusiasts prefer.