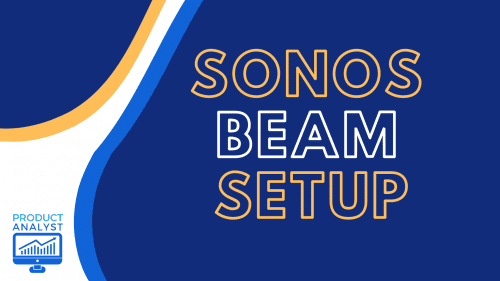 The Sonos Beam is a great alternative for people who want to enjoy surround sound without buying another TV speaker.
But now that you have it in your home theater, how do you set it up and maximize what you spent for? Our team explains how to set the Sonos Beam in this guide.
Part of the Beam's allure is the extremely straightforward configuration with the Sonos system.You can go from unboxing to enjoying within minutes with more than one way to set up.
Whether you are setting up your Ray or Sonos Beam Sounbar, you'll need a mobile device for this type of setup.
Open the Sonos app for iOS or Android and select "Create an account" or "Sign-in" if you already have an account.

Connect Sonos Beam with TV and Other Devices
Your Beam can connect to more than one device at once as long as it's connected to your TV.
Simply plug all your devices (ex. Xbox, television box) into your TV. The audio from these products will go from the television to your Beam.
Place Sonos Beam in Desired Location
The Sonos Beam setup is more suited mounted above your TV, within ear-level range.
Since this soundbar does not have built-in upward drivers that require a reflective surface, placing it below your television will not allow the Beam to reach its full sound potential.
(For more models from the same brand, you can also check Sonos Roam and Move here)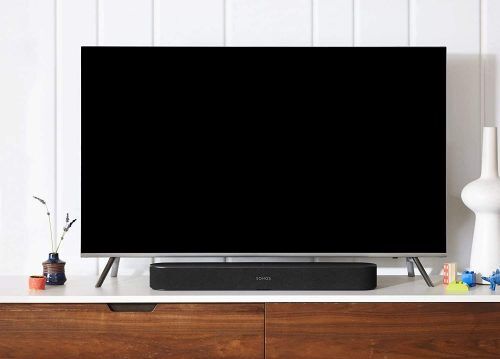 Once you've placed the Beam in your desired location, follows these steps to set up the cable connection:
Disconnect all existing sound devices from your TV.

Connect any external media sources you are using to your TV.

Plug your Beam into a power source.
In case your TV does not have these ports, Sonos supplies an HDMI-to-optical adapter with your Beam.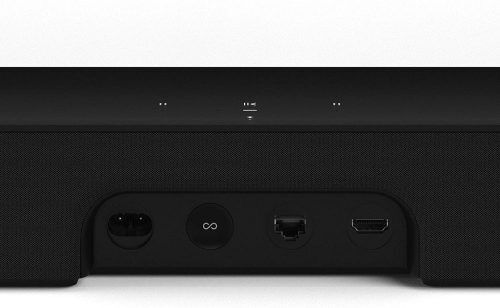 Add Sonos Beam Through the App
Open the

Sonos app

(whether iOS or Android).

Tap "

Set up a new Sonos system

".

Create or sign into your Sonos account.

Select "

Continue

" to proceed with the set up.

Select "

Standard set-up

".

If your Beam is already on, you should see a green flashing light. Select "

Continue

".

Once your Sonos app has located your Beam, it will begin configuring.

Select "

Next

" to see the information for set up.

The system will prompt you to connect your mobile device to the temporary SONOS network. Open your Wi-Fi settings and select the Sonos network system.

Return to the Sonos app. Your Beam is now connected to your home room network.
You can test and tune your Beam's audio using the Trueplay feature on your iOS or Android Sonos app.
Here's how.
Select "

Settings

" and tap "

System

".

Select the Sonos system speaker you want to tune.

Tap "

Trueplay

" then "

Trueplay Tuning

".

Follow the in-app information to tune your Sonos Beam setup.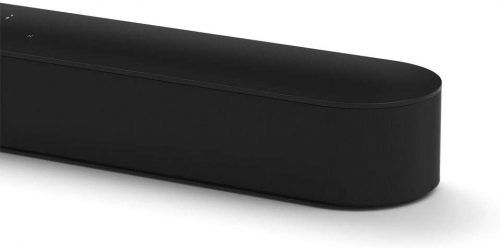 Use with Amazon Alexa or Google Assistant
Open the Sonos app (iOS or Android) and tap "

More

" on the bottom navigation bar.

Under "

Voice Services

", select "

Amazon Alexa

".

Sign into your Sonos account.

Select "

Add to Sonos

" and choose from the list of Sonos speakers available for set up.

Choose the speakers you want to set up with voice commands and tap "

Add Amazon Alexa

".

Sign in to your Amazon account and tap "

Allow

".

Follow the information to enable voice commands on your Sonos speaker.

Connect your music in Amazon Alexa's app to the Sonos app by tapping "

Verify music services on Alexa

".

Choose "

Try it out

" to play music and test the connection.

Select "

Done

" at the top-right of your screen once the connection has been established.
To set up Google Assistant [1], check out this handy step-by-step tutorial.
(Sonos Beam is a great projector soundbar, too! For more options, here are some of the exceptional projector soundbars to try)
How Do I Connect My Sonos Beam To My TV?
To connect your Sonos Beam to your TV, you will need to configure the Sonos system app before you can use it to play TV audio.
Place your Beam in the desired location, connect it to power, and follow the steps above on "Add Sonos Beam Through the App".
Does Sonos Beam Work Without HDMI ARC?
Yes, the Sonos Beam works without HDMI ARC. Even if your TV does not support an optical port or HDMI ARC port, you can use an audio adapter which comes for free with your Beam.
How do I connect my Sonos Beam to Wi-Fi?
To connect your sonos Beam to Wi-Fi, you need to install the Sonos app on your mobile device. You can set it up through the System Network Settings with the Wireless Set Up then a Wi-Fi network.
The Beam is the easiest way to add a smart speaker to your theater layout. Aside from being an exceptional sound upgrade, the Beam has so many more features and details that you can set up with a few taps on your phone.
If you want a more uninterrupted and well-established connection, you can also check the following pages below: