If you have a projector that you want to hang from a drop ceiling but you need help with how to do it, then this guide is for you! Just a few attachments and follow some instructions, and you will be ready to go.
Our professional handymen outlined simple methods to mount your projector to a drop ceiling. So, if you're ready, let's proceed.
Locating the Right Place to Mount Your Projector
Before you think about mounting your projector, it's important to install it in the right spot first. Otherwise, the images will not fit into your wall or screen, ruining your viewing experience.
First, determine the projector's throw distance to find the right spot. This is the distance that the device should be back from the wall or screen.
We suggest checking the throw-distance-to-screen chart in the manual. For instance, if you have a 120′′ screen, the chart shows that one projector is about 3m away from the screen while the other is further away to achieve the full-screen display.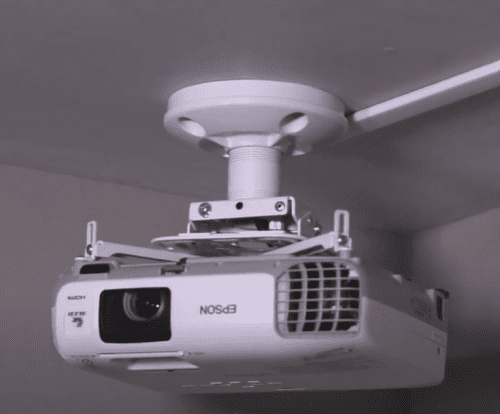 And when it comes to the angle, determine the center point of your wall or screen. Make sure that the lens of the device flashes directly at that point. Once you have the right spot, you can start using the projector.
4 Methods to Install Your Projector From a Drop Ceiling
Method #1: Universal Drop Ceiling
You can use a universal drop ceiling mount for easy projector installation. This is the quickest way to mount your projector. Here's how you can go about it:
Buy a tile-fitting that's projector-ready. You can easily find one in various media stores.

Once you already have one, disassemble one of your existing tiles and change it using the new tile. Then, you're done.
Method #2: Projector Brackets
Next, consider using a projector bracket. These are easy to install and will fit onto your drop ceiling. But make sure to secure them with a stud.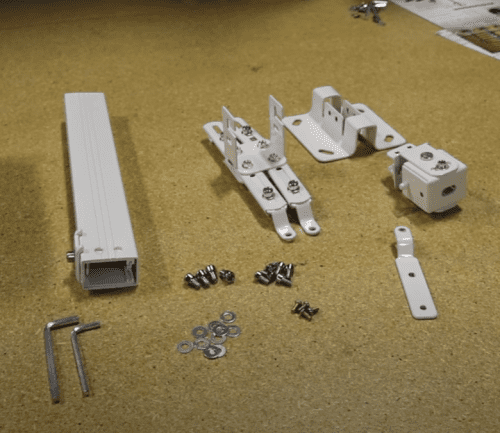 First, you'll need to install the brackets on your projector. We suggest following the instructions that come with the projector brackets.

Adjust the throw distance to the mount-to-lens distance.

Then, secure your projector. Secure it with the stud using your screwdriver, bolts, or wench.

Finally, secure the cables, and you're good to go!
Method #3: Projector Ceiling Plates
Another way to mount your projector is by using ceiling plates. Refer to the simple steps below:
Position the ceiling plate on the tile's top and screw it into the tile rafters.

Then, drill a hole in the tile to give way for the pipe column.

Finally, carefully insert the pipe column into the ceiling plate and tile towards the projector mount. That's it!
If you want a cost-free projector mount, then make this DIY mount.
Choose from any of the following: glass, metal, and wood for your projector's bottom. Make sure that it sticks out from the back of the projector.

For the projector's screws, you can drill two holes in the platform's wood or metal components. You can also add two more holes to the area that sticks out.

Screw your chosen platform to your projector using a screwdriver.

Make a hole by drilling near the platform's bottom with your small hook. Then screw the hook on your projector's front.

To secure the front of your projector, drill a dry-wall stud into the ceiling. Then slide the hook attached to the projector onto the dry-wall.

Lastly, use the two screws of the dry-wall [

1

] for your platform to secure the projectors back to the ceiling.
Our Top Product Recommendations
1. VIVO Universal Adjustable Ceiling Projector Mount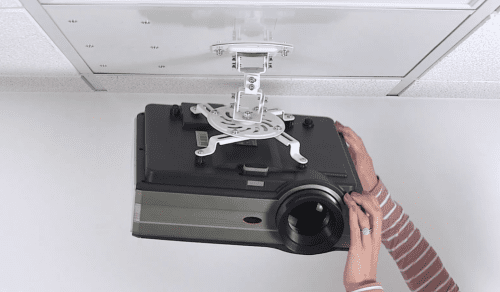 We highly recommend this VIVO Universal Adjustable Ceiling Projector Mount if you want an excellent and reliable universal drop ceiling. It has strong support that's fully adjustable.
The ergonomic design allows your projector to be placed at an ideal height for optimal viewing.
2. AMER Projector Mount – Ceiling Bracket LCD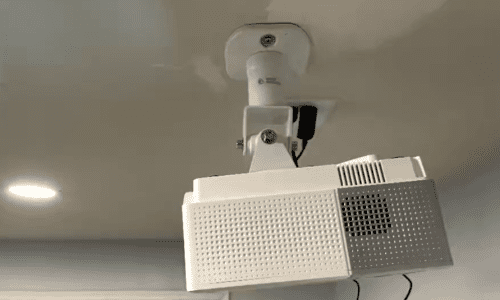 If you opt to use a projector mount, the AMER projector mount can be the best option. This versatile aluminum mount can be used to install a projector to your ceiling.
Its adjustable arms can be used to accommodate various sizes and types of projectors. It also features a 360 rotation and 180 pitch for optimal A-V projector alignment.
3. Peerless CMJ500R1 Lightweight Suspended Ceiling Kit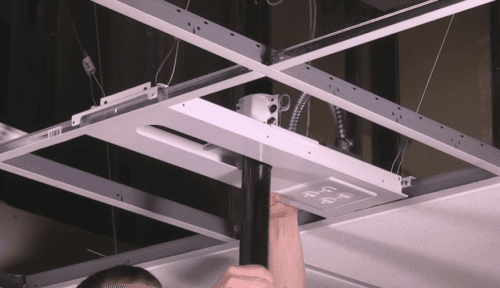 If using a ceiling plate is your choice, we recommend this suspending Peerless CMJ500R1 ceiling kit.
The adjustable design allows for optimal positioning of your projector below a ceiling tile of 2′ x 2′ or 2′ x 4.' It's also pre-assembled, making it easy to remove and replace.
Mounting a projector doesn't have to be complicated. With the right spot and the correct installation method, you can have a great viewing experience.
If you need to learn about mounting a projector to a drop ceiling, choose your preferred method and install it as directed above. Whichever method you opt for, you can enjoy what a drop ceiling mounted projector offers.