If you plan to mount your TV on the wall, you need to drill into it to mount it properly. You may be apprehensive about this, as you don't want to damage your wall.
But what if you can install your TV without drilling? In this blog post, our professional TV specialists will teach you how to mount a TV without drilling holes.
14 Options to Mount a TV With No Drilling Required
Method #1: Wall Mount Adhesives
Wall mount adhesives are designed to stick to various types of wood, metal, and masonry. While they are commonly used for lighter objects such as mirrors and paintings, stronger adhesives can support the weight of a standard flat-screen TV.
Wall mount strong adhesives are also known as grab adhesives, providing intensive bond strength that pairs well with "No More Nails" from Henkel.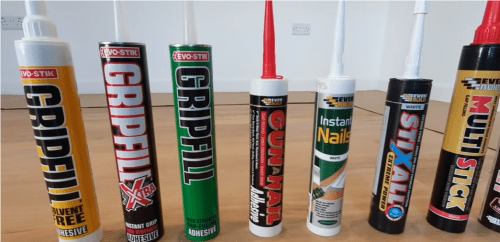 The 20-shot Unibond No More Nails Click & Fix glue cartridges contain 20 evenly sized pieces that each fix up to 44 pounds. Make sure you carefully measure everything before you start using the glue. You also have around 10 minutes to reposition the adhesive before it sets.
To get the best results, ensure the wall space is clean before using the glue. Also, avoid leaving any loose plaster or dust on the surface where you are attaching the mounting brackets.
Method #2: No-Stud Wall Mount
If you don't like drilling holes in your drywall but want to use a nail instead, then a no-stud wall mount is a good alternative. Although it can still damage the wall, the holes are much smaller and are easier to fill than the large ones drilled.
How to Install No Stud Wall Mounts
These are usually aluminum mounts with several nail holes along the top edge. The nails are then nailed through the wall studs using a variety of tiny screws.
Use a stud finder to rail the nail in place, and then you'll attach the other half of the wall mount to your TV then hang it on the bracket.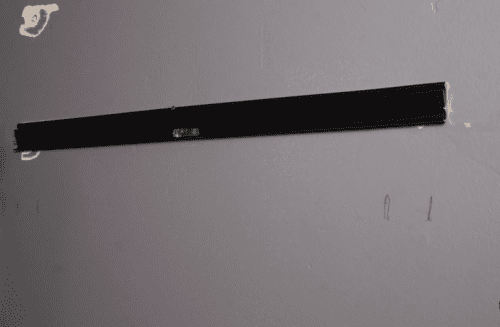 The weight of the wall mount will depend on the thickness of the drywall it's attached to. Usually, it can hold around 1.2 to 1.6 pounds, depending on the thickness of the material.
Our technicians highly suggest using this method if you have a small TV setup.
Method #3: Screwless TV Mount
Most flat-screen TVs can be hung in less time than it takes to unpack. This setup consists of two metal brackets that are made of aircraft-grade materials.
One end mounts to the wall, while the other goes to the back. A 1″ clearance from the wall provides easy access to the wires and cables, and the track features a foam backing to prevent wall damage.
Method #4: TV Cabinets or Tables
One common option is to place your TV screen on a cabinet or table. Yes, it's old-fashioned, but you can definitely position your TV without drilling holes.
You can purchase a separate AV cabinet with cable management features, ventilation holes, and compartments for your sound equipment. Or, if you're on a limited budget, just use any available table or desk in your home.
Method #5: Tabletop TV Stand
Most TVs come with their own standard stands, so you can set them up on any flat surface, like a media cabinet or tabletop. However, these stands can limit the adjustability of your screen for optimal viewing.
Some tabletop TV stands allow you to easily and accurately tilt or turn your TV so it can be viewed from every angle of the room. Having the ability to adjust the angle and height of your screen can enhance your experience.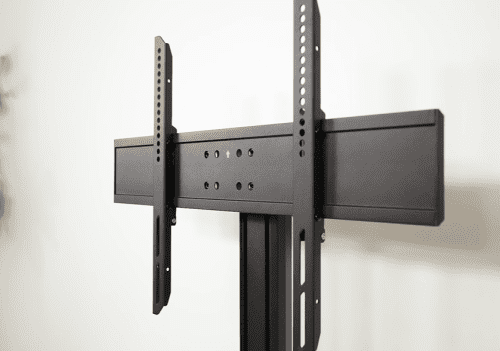 Method #6: Hybrid TV Stands
You can use a hybrid stand so you can stop thinking about your TV falling off the wall. This method will also allow you to save some space and protect your wall.
Usually, hybrid TV stands are designed to fit into the TV's frame to look like it has been installed. Also, this TV mount shelf can be used to accommodate other audio-visual items.
You can choose from various stands to combine with your setup to achieve the perfect visual effect. Before shopping online, it's important to consider the weight and height of your TV.
Method #7: Ceiling Mounts
Another way to mount a TV is to use a ceiling mount. This will not require you to drill holes in the wall.
These full motion mounts are designed to secure your roof's beams or other structural components. Also, they can be installed directly into the concrete.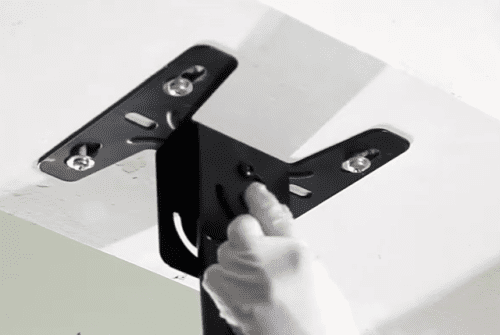 To install the mounts, you'll need to make a hole in the ceiling. You'll use these holes to locate the beams or the joists. The bracket will then be attached to the ceiling using long screws.
The mounting bracket will also be attached to an extension arm. This allows you to set the viewing angle and height of the mount.
Method #8: Double-Sided Mounting Tape
For small TV sizes, a double-sided mounting tape is a good option. You can opt for Gorilla tapes that are made of high-quality materials, which are ideal for both smooth and rough surfaces.
Its thick padded tape will stick properly and fast to any surface, such as wood, stone, or brick. Before applying the tape, make sure that there is no loose debris or dust on the surface.
A Gorilla double-sided mounting tape is resistant to moisture and temperature and can support up to 30 pounds of deadweight on a single 2-inch piece of tape. We recommend using them for mounting TVs that are flat-screen types or TVs that weigh lighter.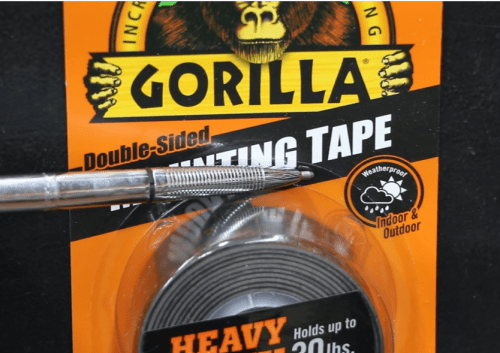 Method #9: Adhesive Screws
These are designed for rough and smooth surfaces, such as concrete or brick walls. They are secured using epoxy injected into a recess in the wall [1].
Each small bracket has a bolt that accepts a nut and washer, allowing you to position your TV bracket over the screws.
Before attaching an adhesive wall mount, ensure the surface is clean. After it is secured, you can use the accompanying glue to fill the gaps in the wall.
This ensures that the surface is filled and the small amount of glue that remains in the top hole will come out.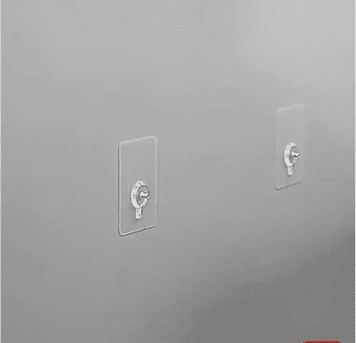 After the glue has cured, you can attach your TV bracket to the wall screws. Each mount can support up to 5kg, so you will need at least four of these to support an average TV.
These are commonly referred to as "brick clips," designed to fit the gaps between the brick wall. The clips have a saw tooth edge and a spring that presses against the lower part of the brick.
They can hold up to 30 pounds. Using two or three brick clamps would allow you to support a small TV, not for heavier loads.
Make sure the brick clamps have smooth straight edges to hold your TV securely. Also, there must be enough space between the front edge of the bricks and mortar's depth. We suggest around 32mm.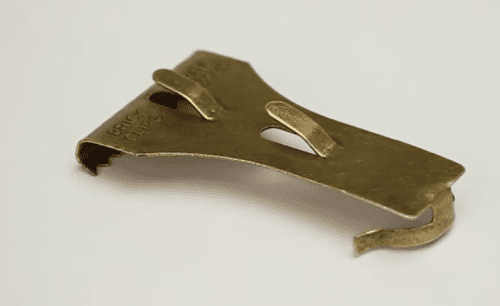 Once the brick clamps are in place, they can hold your TV's weight. However, you still need a TV mounting bracket that you'll screw into the VESA mounting holes on your TV's back panel.
Then, you can hang the brick clip on hangers to hang your television.
Method #11: TV Floor Stands
If you want to save space by keeping your TV close to the wall, then a TV stand is also a good solution. It can be used to mount a TV without damaging the surface of your walls.
Depending on the type of TV stand you prefer, your TV will seem attached to the wall. Also, you'll have available space to put in extra AV equipment, like a soundbar.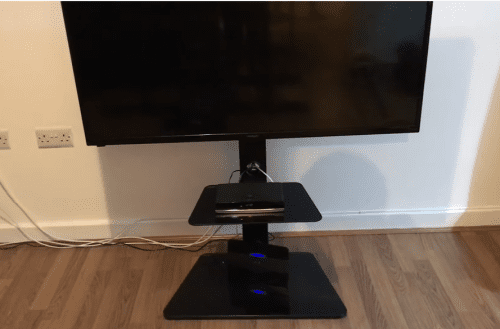 You can also hide the TV cords inside the stand to make it extra aesthetically appealing. TV stands come in various materials and colors available, and you position them to your desired corner.
Method #12: Hardwall Hanger
If your brick wall is damaged and the clips don't fit, you might want to try using hardwall hangers. The brick must be flexible enough to allow you to tap all of its nails to mount a TV without drilling.
So, if you're planning on using this method, be aware that the nails are slim and have been stuck to the hanger. Since the length of the nails is just one-sixteenth of an inch thick, the gaps you left behind won't be much visible.
Note that the only problem with this method is you have to push the hangers into the brick, which might not be an inconvenience to you. Also, this method might not be feasible if you're just renting the place and don't want to damage the walls.
Although rails are usually used for photo-hanging, you can also use this for your TV. You can use rails to leave a clean and crisp surface on your wall, and even if you move your TV around, no marks will be visible.
Rails sit on your wall horizontally, and you have many color options. The most commonly used ones are wooden railings, but there are metal ones, too.
Method #14: Mobile TV Mount
If you have limited space in your room, you can opt for mobile TV mounts without having to rely on furniture just to support them.
These TV mounts offer a wider variety of TV adjustment options and are more compact. Since most mobile TV mounts have wheels, moving your TV around the room is easy, and you can lock the wheels, so it stays put.
Additionally, its low-profile structure can easily fit through tight spaces or doorways.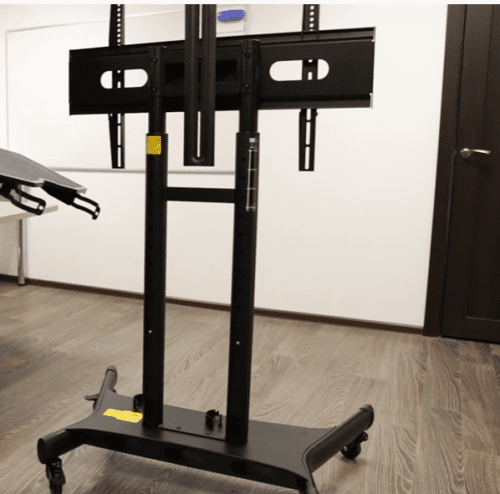 Can you mount a TV with Command Strips?
Yes, you can mount your TV with Command Strips. But, we don't recommend that for most types of screens. A double-sided tape can support up to 16 pounds (7.25kgs), which is ideal for small screens only.
How much weight can a TV mount hold?
A TV mount can hold 80 pounds of a single stud. But, you should also consider the mount's specifications.
How do you hang a TV on a brick wall without drilling?
You can have your TV mounted on a brick wall without drilling using a brick clamp, a hybrid TV stand, or very solid adhesive tapes. You can also use one bracket, drywall anchor, or a screwdriver instead of a drill.
Will you damage a brick wall if you regularly mount a TV?
There's no definite answer to this question. It depends on how you mount your TV. If you're careful and patient, you can achieve a wall that is almost completely undamaged.
Is it possible or safe to velcro a TV into a wall?
You can use velcro mounts to attach your TV to the wall bracket without drilling holes. It's only applicable for small screens, and it's not really an advisable way to mount your TV on the wall.
Mounting your TV without drilling a wall can be a challenging task. The good news here is that any of the above methods can actually work for you.
If you're unsure which option to use, we highly recommend consulting installation experts to ensure your TV is safely and securely installed.