Want the HBO Max app installed but can't find it on your Vizio smart TV? That's because there are limited apps you can install directly from your Vizio Smartcast TV except for HBO Max.
But we've got solutions. Let our tech team give you tips and tricks on how to download HBO Max on Vizio Smart TV.
Which Vizio TV Model Do You Own?
Good news, you can start streaming HBO Max on Vizio smart televisions using the SmartCast app if you own one of the models listed below: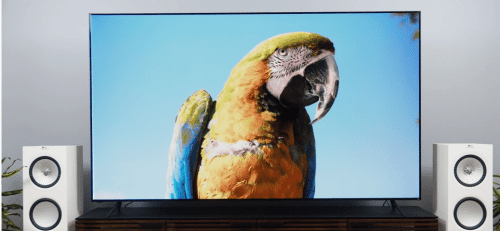 You'll be required to download the Vizio SmartCast application on your mobile device to watch HBO Max on Vizio Smartcast TVs we mentioned above.
For Android users, you can download the Vizio SmartCast Mobile application on the Google Play Store. But if you're an iOs device user, you can find it on App Store.
How to Get HBO Max on Your Vizio Smart TV: 5 Methods
#1: How to Natively Stream HBO Max on a Vizio TV
Go to the HBO Max site, then sign-up.

Scan through the home screen of Vizio Smart television.

Find HBO Max app on the Vizio App Store.

Install HBO Max on Vizio Smart television by clicking the ADD TO HOME button.

Now, log in to HBO Max on Vizio Smart TV and start watching any content. You can use your Vizio remote to select content.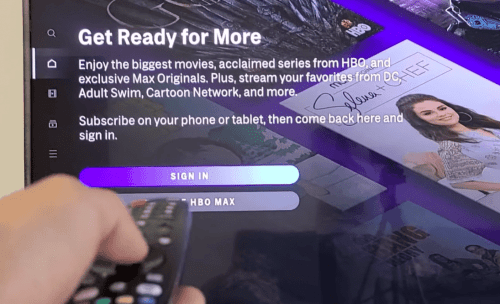 Note: If you're using older Vizio models, you can't watch HBO Max natively.
#2: How to Use Airplay to Stream HBO Max on a Vizio TV
Download the HBO Max app to your available Apple streaming devices.

Once you got the Apple device installed with the app, ensure that your Vizio television and mobile are connected to the same wifi network.

Sign in to your HBO Max account.

Choose the video you want to stream and play it through your mobile.

Click the AirPlay icon.

You can now choose Vizio from the menu. This will start playing the video on your television.
#3: How to Use Chromecast/Your Android Smartphone to Stream HBO Max on a Vizio TV
Download the HBO Max app on your android phone.

Sign in or log in using your HBO Max credentials.

Connect Vizio Smart television and mobile into the same wi fi network or the same wifi connection.

Open the app on your mobile phone and play the video you wish to watch.

Then, you'll see the cast icon located on the top part.

Tap the google cast icon, and the video will show on your Vizio Smart TV.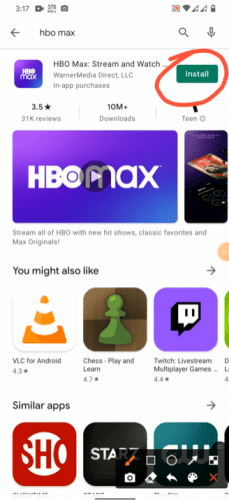 #4: How to Sideload HBO Max on a Vizio TV With a Flash Drive
Download the HBO Max application from a trustworthy source.

Next, copy the files app to your USB drive.

Plug your USB onto the Vizio Smart TV USB port, go to MY FILES, then choose your USB Flash Drive.

At this point, you'll see the HBO Max app apk file [

1

]. Choose the apk files and click INSTALL. Ensure the options "apps from unknown sources" and "ABD debugging" are on.

Wait until the installation process starts, then open the HBO Max on Vizio TV.
#5: How to Download HBO Max on a Vizio TV Using the Web Browser
Go to your PC or laptop and open the browser.

Go to the Google Playstore and find the HBO Max app.

Then go to the information page.

Click the INSTALL button (usually green).

You'll be redirected to sign in to your Google account.

After that, you'll see a prompt listing the names of the different devices.

Select Vizio TV, specifying the right IP address and name.

Then you'll see a popup stating the application will be installed on your smart television. Click OK.

Power on your Vizio smart TV, completing the application's installation.

Find the application installed with the apk file.

Lastly, click LAUNCH APPLICATION.
Why Download HBO Max on a Vizio Smart TV?
When you add HBO Max to your Vizio Smart TV, you can now watch up to 10,000 hours of HBO content each month and stream all of the latest Warner Bros movies the same day they hit theaters. Kids can also enjoy a library curated for the best experiences. Please note that the app works on different devices, excluding Amazon and Roku.
Available HBO Max Subscription Plans Today
The standard version (ad-free) version of the HBO Max app will cost you $14.99 per month or $149.99 per year. Then, the ad-supported plan will cost you $9.99 per month or $99.99 per year, which is more affordable than the standard version.
Can't access HBO Max app or experiencing other issues with Vizio Smart TVs? HBO Max subscribers may contact their customer service at 1-855-442-6629.
You may also contact Vizio support through their official website.
Why is HBO Max not working on my Vizio Smart TV?
HBO Max may not be working on your Vizio television because you're not using the latest version of HBO Max. So, our tech team suggests that before using the app, ensure it's updated to have a smooth streaming experience.
Adding HBO Max on Vizio Smart TV units might be inconvenient, but this simple guide has simplified the important steps.
It's worth knowing how to add HBO Max on Vizio Smart TV so you can enjoy watching your favorite TV show, new movies, and even all the movies available on HBO like Seven Samurai, Peacemaker, Zack Snyder's Justice League, and Succession, to name a few. Enjoy streaming!