If you want the big screen movie experience when you watch your content, then all you need is a projector screen and a high quality speaker. If you're clueless on how to set up these two together, look no further because this is your one-stop guide for your speaker and projector connection.
Using Different Devices to Connect With Your Projector
Projectors have given you easy access to the theater-like experience. However, projecting visuals isn't as easy as getting your desired auditory experience. You still need to use external speakers to accomplish this.
Fortunately, there are a lot of ways you may connect your speakers to your projector. To make things easier, we have identified each of these instances and have compiled the necessary steps you may find useful for your setup.
This varies across devices and brands, so make sure to find the one most appropriate for you.
Connect Through AV Receivers
Let's start off this list with any manual connections you may need, the primary one being the AV receiver.
An AV receiver is an electronics component that sends video and audio signals from a source to an output device.
To make this work, you just have to follow these simple steps:
Turn off your speakers and projector.

Plug the audio cables from your AV receiver to the

audio out

port of your projector. At the same time, plug the other connectors into the

auxiliary in

port on your AV receiver.

Turn on your devices.

Press the source button of your AV receiver until an alert sound is heard from your projector.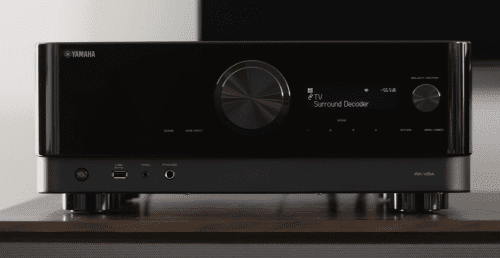 You may also follow the same steps for other connectors, such as those compatible with HDMI and VGA cables. Both are simple enough connections to be intuitive for you.
Regardless, remember that all manual connections just need simple connections.
(If you are planning to have a projector in your living room, you can also follow this process of setting up a projector in a living room)

Connect Through Stereo Speakers
Connectors are usually present in these speakers. You just have to distinguish between the audio jack and coaxial cable. There are two intuitive steps you can follow to connect your stereo speakers to your projector:
Look for your projector's

audio out

port. This is usually found at the rear of your projector.

Connect your stereo cables to this open port.
A success indicator through either the lighting up of your speakers or an alert sound may be observed shortly after.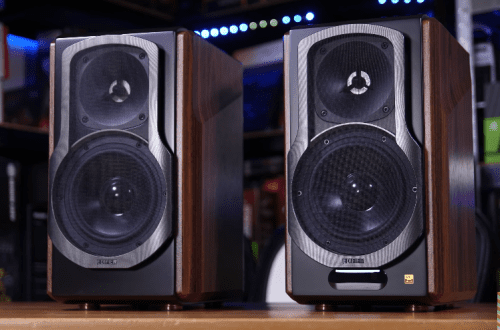 Connect Through Bluetooth Speakers
For a wireless connection, some projectors are equipped with Bluetooth connectivity.
Here are some steps you can follow to connect them to your projector:
Turn on your Bluetooth speakers.

Configure your Bluetooth settings on your projector.

Your speakers should appear if it is within the vicinity. Simply select it to connect and have the devices pair with each other.
Bluetooth connectivity may be a hit and miss sometimes. It might be hard to detect some devices despite their vicinity.
When this happens, do not be afraid to troubleshoot through power cycling. Simply turn off your Bluetooth settings on both devices and repeat Steps #1-3 as needed.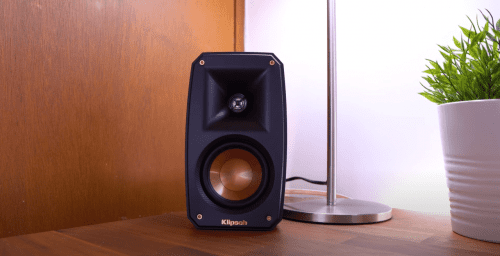 Connect Through Home Theater Sound System
You will have to face stereo speakers' configuration, single soundbars, and front and surround speakers.
You may simply need to use AV receivers [1] or similar wirings to reroute source signals to their proper channels. Otherwise, the sound system may also just use Bluetooth speakers.
Simply look back at the previous sections of this guide for your sound system to work. The sound system is just an aggregate of all other types of combinations anyway.
Is the Projector Still Producing Audio?
If your projector's built-in speakers are still producing audio after trying to connect it to your external speakers, simply do any of the following:
Recheck your manual cables if they're connected to the ports properly and correctly.

Power cycle your Bluetooth connectivities.

Granted that the speakers are working, check the settings if the projector settings are on mute. If not, then mute it.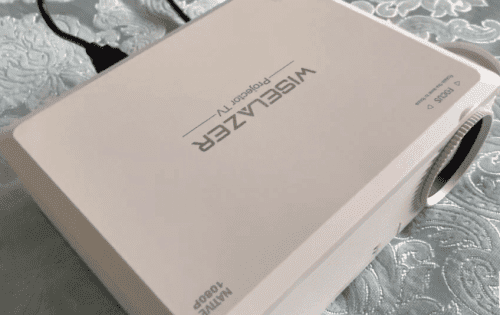 The only thing left to do now is to adjust your speakers to your desired audio.
(Bothered by the unnecessary sound produced by your projector? Then, it is time to build a projector hush to resolve this concern)
Know your types of speakers and projector. Various combinations and brands require different configurations. You just have to find the appropriate method for your device. At the end of the day, compatibility is all there is.
For the best available projectors in the market, we also have the list below: