If you have a 5.1 home theater system and have zero success in connecting it to your PC using various methods, don't worry because our technical experts have come up with a fantastic solution to your problem. Connecting a home theater system to a PC is one challenging task.
This article will discuss how to connect 5.1 home theater to PC successfully.
What Is a 5.1 Home Theater System?
First off, a home theater system is a set of speakers that produce premium-quality digital and bass sounds from all corners of the room. An HTS ensures that you have a theater-like experience in your home or apartment, with sound effects to keep you glued till the end.
A 5.1 home theater system comprises six-channel speakers (four front and rear speakers, one center speaker, and a subwoofer). The "1" in the 5.1 is the subwoofer, and it's responsible for transmitting low-frequency signals to produce a bass effect.
The center or central speaker is the most vital speaker of all 5.1 channel speakers. It contains more cones and is bigger than others. Most sounds, including effects, come through the central speaker.
Then there are other speakers, also known as the satellite speakers. These speakers help produce quality surround sounds, taking you to a whole new level of music dynamism and experience. Standard home theater systems use 5.1 surround sound for digital transmission in formats like DTS, Dolby Digital, THX, etc.
You need the following to attain an immersive surround experience: streaming device (DVD player, gaming console, PC), TV, receiver, and speaker system (5.1 and above).
Considering the Connections on Your PC
You can alternatively connect your home theater system to your PC to watch those exciting movies and listen to your playlist if you don't have source devices like DVD, BluRay, or a gaming console. Many people don't know this, and those aware find it complicated to set up the connection.
When connecting your home theater system to the PC, you need to examine the cable connections on the computer's back panel. These cable ports will determine if it's possible to connect the home theater system to the PC or not.
If your PC has an optical output and your home theater system has an optical input, it's possible to connect both to create sounds. Setting up your home theater system and PC this way is not only easy but fast. All you need to get this up and running is one coaxial cable (one end connecting to the PC's output and the other to the HTS's input.)
However, you should know that not all PCs have an optical output.
Most, if not all, PCs have analog outputs. However, not all of them are designed to work with HTS, especially if they don't have analog inputs.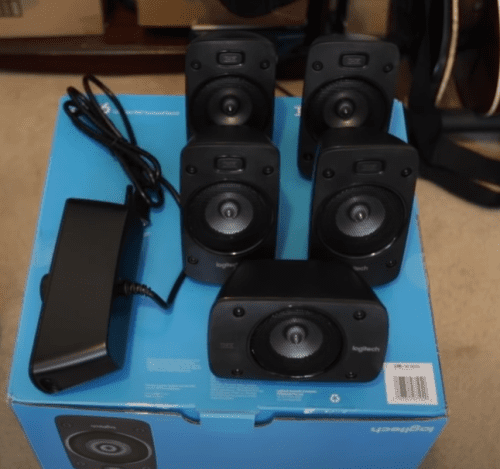 The downside of this connection is that you will be using multiple cables, so expect the connection to get messy. Nevertheless, the wiring is relatively easy, as both the inputs and outputs ports are always labeled. All you have to do is match the correct inputs with the ideal outputs.
If you can't find any matching connections on the PC's back panel and the home theater system, you can either update the soundcard on the PC or purchase a new one to match the HTS's inputs. Connecting via a soundcard isn't the easiest of options, neither will it provide the best of sounds. Plus, you will need to purchase a few more pieces of equipment.
A good internal or external soundcard doesn't cost so much [1].
Surround sound systems deliver an incredible, theater-like sound experience. If you can't connect to a source device like DVD or BluRay, remember that you can use a PC as well.
With these connection tips properly explained by our technical engineers in this post, we are certain that you now know how to connect 5.1 home theater to PC without glitches.
If you want to fully optimize your home theater setup, you can also check the pages below: