Sonos is a rising name in audio streaming and home theater devices. It has features that separate the brand from its competitors. However, without understanding how Sonos works with other devices, you might not get the best out of the brand. Thus, our experts are here to discuss how you can seamlessly connect Sonos to your TV and enjoy all the features Sonos offers.
How to Connect Sonos to Your TV
Connecting your Sonosv such as Sonos Beam or Sonos Ray to your TV is not that hard as it seems. To set up your remote control, you first need to download the Sonos app, which is available for Apple and Android. After downloading, open the app and click on settings, then go to system.
Choose the location where you want to configure Sonos. Lastly, click on the TV, which will lead you to the remote control set-up installation wizard. Remember that you can only configure one TV remote to control Sonos.
Adjusting the settings of the Sonos speakers is very simple with the use of the Sonos App. If you're using your mobile phone, open the Sonos App and hover over to the settings tab, then tap system. Choose the room where your speaker is located. Click on EQ, and make the adjustments to the speaker settings.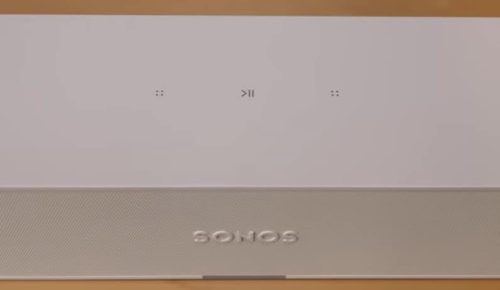 However, changing the settings might be a different process if you're on a Mac or PC. On a Mac, open the Sonos app, and from its drop-down menu, select preferences, then EQ. And on a PC, it is pretty much the same; just go to settings to adjust the EQ of your speaker.
(Looking for ways to improve your Sonos experience? Why not connect your device with the powerful Sonos Sub Gen 3 here)
Another easy way our experts recommend is connecting Sonos to TV via Bluetooth. But first, make sure that both your speakers and TV are Bluetooth enabled since not all Sonos speakers are compatible via Bluetooth and are only meant to be connected via Wi-Fi. Starting the Bluetooth connection is quite simple; you can turn on the Bluetooth with the touch of a button on your speakers, and then you can pair the device with your TV.
Sonos App for iOS and Android
Our experts have previously mentioned that Sonos has a mobile application both for Apple and Android devices to make wireless connections easier. To connect Sonos to TV using the application, you will need to download it first.
With the Sonos app [1], connect each of your Sonos speakers to the Wi-Fi paired with your mobile phone or computer. This will establish a connection with each of the speakers that can enable you to connect it to the centralized soundbar.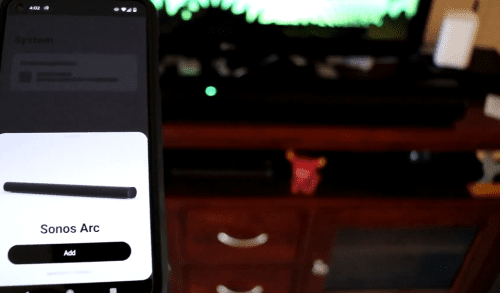 Another alternative wireless option to connect Sonos to TV is with an audio receiver. An audio receiver acts as a tool that turns your TV into a Bluetooth-enabled device. To connect it to your TV, you will enable the Bluetooth settings on both the Sonos speaker and your choice's audio receiver.
Then, you can plug the audio receiver into the sound input/output jacks as appropriate. After setting up the audio receiver with the TV and Sonos speakers are enabled via Wi-Fi, you need to wait until both the receiver and the speakers are paired.
(For a more unconventional setup, you can also use your indoor television outdoors with this guide)
If you have an existing Sonos home theater device such as Sonos Ray soundbar to connect to your new Apple TV, the wireless connection process is straightforward. First, open your Sonos app from your phone, then select settings. Open system to choose the room you have an existing Sonos set-up. And finally, click the remote control set-up, and follow the instructions which will enable you to set up your Apple TV.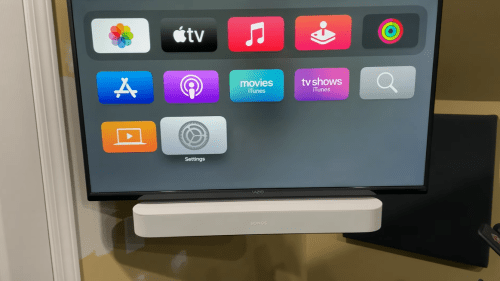 How do I connect my Sonos speaker to my TV?
You can connect your Sonos speakers to your TV in four ways; via TV remote, via Bluetooth connection, using the Sonos app, or by purchasing an audio receiver. You can choose from these four or where you will be most comfortable. However, it still boils down to the wireless capabilities of your Sonos device and television.
How do I connect my Sonos to my Samsung TV?
You can connect your Sonos to your Samsung TV using wireless connectivity. Your Samsung TV needs to be connected to Sonos Beam so you can group the Wi-Fi speakers you want. You may also use a Bluetooth transmitter to be a bridge between Samsung TV and your Sonos speakers. Lastly, if you have only Wi-Fi-enabled speakers, then you can use an AppleTV with AirPlay2.
With all the connectivities Sonos provide us, the brand has come a long way in providing hassle-free home theater devices and speakers. Hence, in this guide, our experts gave you several ways to enjoy your Sonos device with your TV. Now, you can connect Sonos devices to your TV using the remote control, Bluetooth, audio receiver, and more.