When setting up your home theater, it's not just the sound system or the screen you have to plan out. You also need to consider the furnishings down to the paint colors on the walls of your theater room. Believe it or not, the paint color you choose will impact your viewing experience. Our team is here to give you the best paint colors for home theaters that can create the perfect movie feel.
Best Paint Colors for Home Theater
Before we dive into the best colors for your home theater, you need to have an idea of how you're planning the layout of your entertainment room. What you use the room for and what kind of ambience you're going for will impact your choice.
Planning Out Your Overall Home Theater Setup
The first big question is what you're using the home theater room for. Will it be a place where you spend hours upon hours enjoying old black and white Hollywood movies, a place to relax with a couple of buddies to watch the game, or where you relax and enjoy your favorite shows?
Since your media room will usually be cast in a dimmer lighting than other rooms and ideally without any natural light, we would suggest a dark color so it doesn't reflect light. Choosing the right shade of dark paint is another consideration, but we'll cover that in a bit.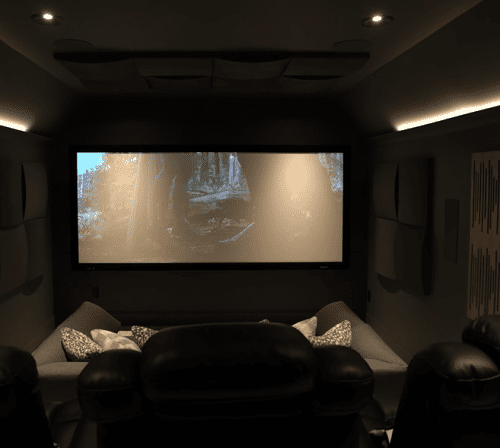 Different dark shades in any color scheme will usually be enough for casual viewers. But for movie buffs and film aficionados, we would suggest black to really make the space like a real movie theater.
For movie viewing, choosing darker colors are always recommended, but the shade can vary. You can match the look of your furnishings and trims with a dark brown, black, blue and gray or maybe even a dark red. These colors will enhance what's happening on the screen and not steal any focus. However, our experts say that if you plan on using the home theater room for entertaining guests and as a part-time game room, then dark colors may absorb light and actually require stronger overhead lighting.
If your home theater room will be used for more than just movie purposes, then use a warmer darker color such as a dark red. While all black may be cool to have, the no lighting, no windows and black walls can be really dreary over time.
When all else fails, just think about your local movie theaters. What does the ceiling look like? What's used for the walls and the floor? If you're stumped on which color to choose, you can always refer to their colors of choice.
In this section, our experts will break down the different color recommendations for the best paint colors for home theater and the effects they can have in your home theaters.
First we have black, or sometimes referred to as flat black for the ones with more pigment. A black paint will not reflect light, which is important when watching movies.
You do not want the whole space to be illuminated by the glowing screen. Having a matte black or flat black room will keep the screen as the main focus and not take away from your watching experience.
You can also consider a dark brown. The dark brown is a richer, warmer and lighter color than flat black, which can also achieve the same effect as the black, but still give the room some color. A brown can brighten up the room and screen, make it look cozy and can give you a rich and earthy interior if that's what you want.
Navy is also another good neutral choice for the design of your home theater. It's a sister color to black, if you get a dark enough shade. Navy or any other shade of darker blue is an excellent choice if you also plan on using your home theater for other purposes. Like brown, navy blue also adds a bit of color and is a great choice for a split color scheme, but more on that later.
If you want a warmer tone that can still brighten up the room, we suggest dark red shades like burgundy. It can bring a very luxurious and elegant feeling to an otherwise unlit room.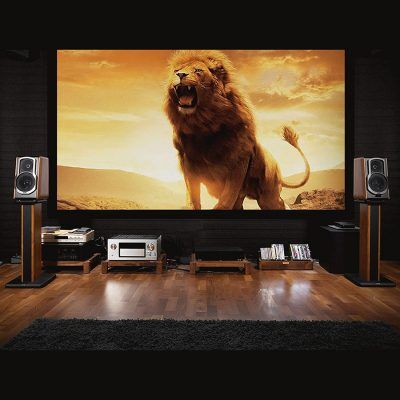 Again, having a shade of color will make the home theater walls better for multi-purposes.
As a personal favorite, our team likes shades of gray because it's a unique color that can be as dark or light as possible but still retain the same ambiance well. Gray is basically a lighter shade of black, so you can expect a dark gray paint color to provide the same effects.
Gray is a very neutral color and has flat shades that will conceal with a matte finish to reduce light reflection.
We can't have dark blue and navy without dark green. Both cold colors, your viewing experience won't vary by much regardless of which you choose.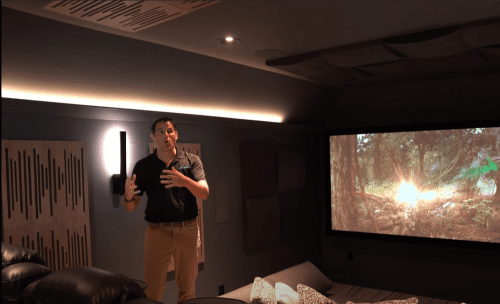 A dark green type of paint has the same benefits of the blues and the reds, making it more versatile and gives your home theater a splash of color.
You can also choose a dark tan for your home theaters. Another neutral color like grey, tan is basically a lighter shade of brown. Due to this, going for a dark to medium tan for your home theater walls will also yield the same benefits as the deeper and richer brown. However, tan does let more light in, so it is ideal for those who want a brighter media room or for people who plan on utilizing more colors.
Important Factors to Consider
When using the best paint for your home theater, it's more than just the shade of color but also the finish, and how much paint you need. Fortunately, our team put together one quick and useful guide.
While you can choose many types of paint for your home theater, our experts recommend a matte finish, or flat paint. Also sometimes referred to as concealer paint, painting your room with this type of paint will be much more effective because it's non-reflective.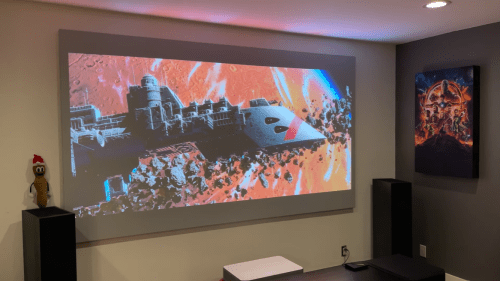 Flat paint is more pigmented than regular paint and is much thicker. For this reason, our team suggests painting with this finish and also because you won't need as many coats on your walls. Just paint sure you paint the ceiling and floors with the same color if possible.
Design and Atmosphere You Want to Achieve
Think about the purpose of your space. For regular viewing, dark neutral colors are recommended. However, painting your rooms with a more vivid burgundy or navy will brighten up the space so to speak and also give the room more versatility.
As we mentioned, you don't have to pick just one for your room. You can consider incorporating one monochromatic scheme, a split design or even an analogous [1] theme that utilizes neighboring colors on the color wheel.
How much paint you need is dictated by your room size. Know how large your room is when heading into the paint store so the assistant can give you a ballpark estimate of the amount of paint. How much paint you need will also impact your budget.
Setup and Design of Sound System (Speaker, Subs, Etc.)
Understanding your room size will also help you plan the layout of the room. Why is the setup and design of your sound system important to the color of the walls? It's because you want your walls, furnishings and accents to match.
Maybe you have all-white speakers and subs that will already take away from the screen. In this case, our team recommends going for black to help balance it out well. Our experts say to keep away from lighter finished sound systems unless it's for your living room.
(For fun and unconvetional home theater setup, you can also install a karaoke system with home theater using these steps)
What is the best color to paint a home theater?
The best color to paint a home theater is a flat black. Also referred to as matte black, this highly-pigmented paint has a finish that is completely non-reflective. For this reason, it won't take away any focus from the screen, will absorb the light, and will complement any setup well.
The feel of your home theater room will vary depending on the different paint shades you pick. Going for a dark matte black is the best paint color for home theaters as it can get you a look as close to a professional movie theater as possible. Dark colors such as burgundy and navy will also enhance the screen but also make sure your space is versatile enough for other purposes.