You don't need expensive models of floor standing speakers to feel the vibrations of the audio. But without the right ones, you could be left with unimpressive sound quality and a lot of money wasted. Our experts have tested the best floor standing speakers under 10000 to help you out.
Best Overall
Earthquake Tigris 3 Way
Best for Large Spaces
ELAC FS509VX
Best for the Price
Piega Premium 701
The Earthquake Tigris 3 Way speakers offer outstanding audio performance with deep bass capabilities and minimal sound reflection. They are a beautiful addition to your entertainment system with a high gloss finish.
The ELAC FS509VX measures in at 54 inches tall with an output wattage of 280, which is enough power to make quite a bit of noise, even for a floor model.
Beautifully designed and understated, the Piega Premium 701 floor standing speakers feature the Piega ribbon tweeter for even better mid to high range frequencies at an affordable price.
Best Overall
The Earthquake Tigris 3 Way speakers offer outstanding audio performance with deep bass capabilities and minimal sound reflection. They are a beautiful addition to your entertainment system with a high gloss finish.
Best for Large Spaces
The ELAC FS509VX measures in at 54 inches tall with an output wattage of 280, which is enough power to make quite a bit of noise, even for a floor model.
Best for the Price
Beautifully designed and understated, the Piega Premium 701 floor standing speakers feature the Piega ribbon tweeter for even better mid to high range frequencies at an affordable price.
Reviews of the Best Floor Standing Speakers Under 10000
1. Earthquake Tigris 3 Way Dual Floor Standing Speakers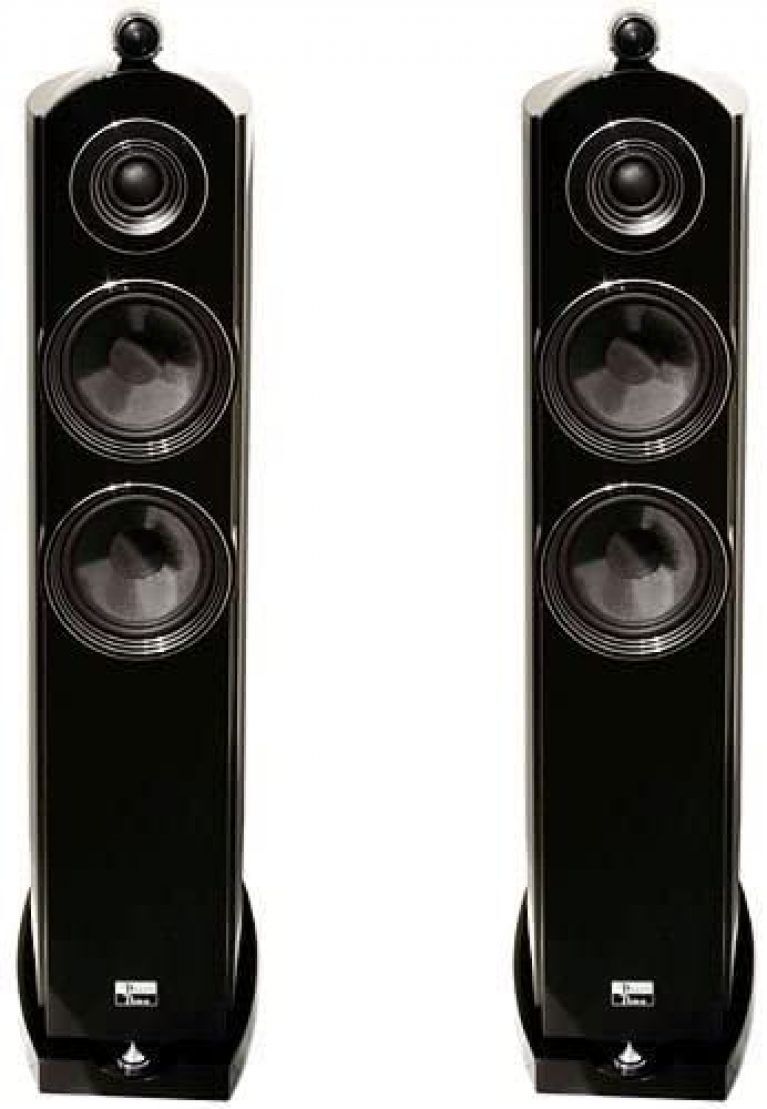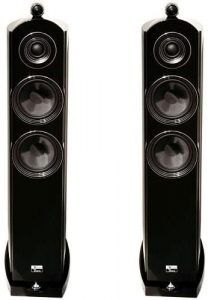 Living up to its name, the Earthquake Tigris 3 way floor standing speakers really sound like what you expect. It outperforms the popular Focal Electra brand while being beautifully finished with a black gloss coating.
The Tigris 3 way speakers has accurate audio reproduction details even at a high volume. With stable energy dispersion, these black tower speakers help to eliminate sound reflection.
It comes with 2 BX bass speakers that focus on top-level bass sounds. With the rest of the drivers enclosed in an egg-shaped housing, the Earthquake Tigris towers are able to focus each frequency in the ideal dispersion field.
2. Piega Premium 701 Wireless Floor Standing Speakers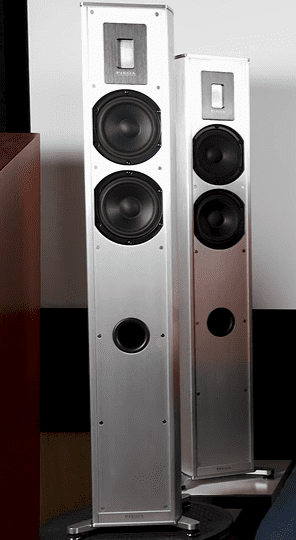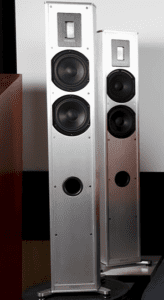 What initially caught our experts' eye was the luxurious and great design of these speakers. It's created with aluminum cabinets, the ideal material for sturdy construction, full acoustic benefits, and overall classy look that many people love.
There is also nothing low-end about these full-range ribbon tweeters housed with the perfect suspension to ebb and flow with the beat as you're listening to music.
As for the mids and lows, the Piega Premium 701 is one of the best standing speakers that balance middle to low frequencies, and is at the same level as the Focal Electra speakers.
3. Earthquake Telesto Home Theater Tower Speakers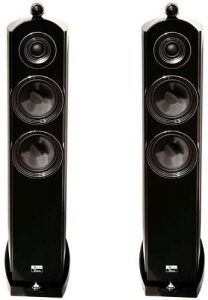 For audiophiles and cinephiles who love quality sound, the Earthquake Telesto home theater speakers are a great option. With a black profile smaller than its Tigris big brother due to the lack of 6.5" woofers, it may dumb down the bass levels.
The pair has well-designed elongated subwoofers mounted in such a way to provide a sleek appearance from all angles, though. Like many Focal units, midrange sound and tweeter audio work to make up for TV speakers in any sized room in your home.
It doesn't matter if you play your favorite music or movie, the futuristic high gloss chrome finish of the Earthquake Telesto will be an outstanding new pair to your home entertainment unit.
4. Klipsch Cornwall Floorstanding Speakers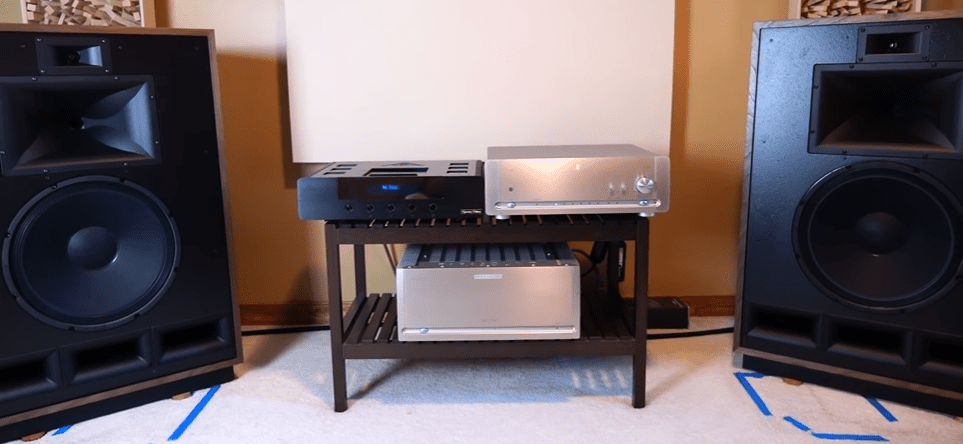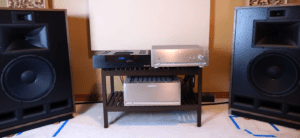 The Klipsch Cornwall floorstanding speakers are horn-loaded speakers that ensure the sound reaches every corner of your room. As a 3-way speaker pair, the Klipsch Cornwall has delightfully detailed highs, mids, and lows.
Similar to Focal woofers, Klipsch Cornwall floorstanding speakers are capable of turning flat music and sound into colorful notes. The additional Tractrix horn is also capable of higher clarity and detail compared to a regular tweeter.
It features an all-new compression speaker encased in a tough and durable enclosure made in the USA. These floorstanding speakers also come in a variety of colors and finishes to stay in tune with your interior decor.
Alternatively, Klipsch has Dolby Atmos speakers in their lineup as well. Dolby Atmos may be more expensive, though.
If you are looking for a more affordable floorstanding speakers from the same brands, you can check our review of Klipsch RP-280FA here.
5. Q Acoustics Concept 500 Floor Standing Speakers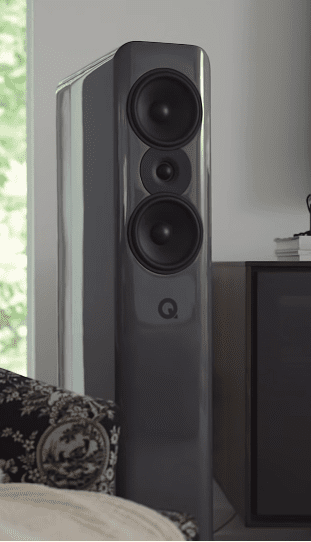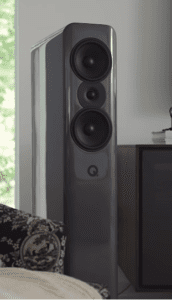 To help you reach sonic perfection, Q Acoustics presents the Concept 500, a floorstanding sound box our experts claim to have less than 0.2% harmonic distortion. With larger than usual mids and bass drivers, the Q Acoustics Concept 500 is capable of huge expansive sound.
Combining style, value, and science, the Q Acoustics floorstanding speakers use only the finest materials. The black cabinet walls are dampened with 3 different layers and a non-setting gel to help with heat conversion.
Special HemHoltz Pressure Equalizers will balance out the resonances caused by unusual pressures due to sound reproduction. This helps regulate the performance of the pair of speakers and ensures great tonal balance.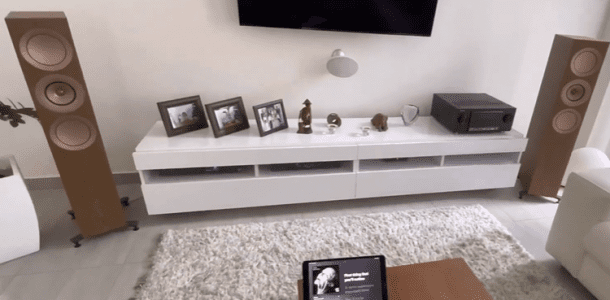 The KEF R7 comes in a luxurious walnut finish or the classic black for a more understated design. The floorstanding speakers are mid-sized, which won't take up a lot of space but can still provide earth-shattering sounds.
The KEF speakers are equipped with the innovative and new generation of the Uni-Q driver array that delivers precise audio to produce the most accurate content.
The three-way speaker is a powered model with a nominal impedance of 8 ohms and 88 dB sensitivity. The flexible port technology will help accentuate the bass tones that take stress off the tweeter and mid-range drivers.
7. ELAC FS509VX Floor Standing Home Speaker

The ELAC has a top-level walnut housing to create a luxurious exterior that even Focal Electra speakers cannot live up to. It's a huge top-notch four-way speaker that allows users to customize the tweeters with the sound dial to fit specific listening tastes. People love customization, so this is a pretty big thing for ELAC.
THe FS509VX features ELAC's signature drivers that can combine the tweeter and midrange drivers together to be adjusted to suit your room layout. In other words, this unit allows you to optimize the sound quality in any room.
A lot of customers love that this beautiful acoustic equipment comes with floor protectors to make sure your interiors remain undamaged when you want to move the new speaker.
You can also check other Elac bookshelf speakers including Elac B6 or B5 here.
Floor Standing Speakers Under 10000 Buyer's Guide
If you are looking to spend around 10000 on the best floor standing speaker, you need to know what to look for. There is more than just the sound quality, and our experts have done the heavy lifting and the legwork to figure out what it is to look for.
For an expensive price point, you should expect excellent construction and technology in these speakers.
Look at the cabinet and the materials used before you buy. It should reflect great quality craftsmanship and be anti-resonant. This means that the housing will not be affected by the vibrations from the drivers in the unit.
A sturdy build doesn't have to come at the cost of your listening tastes. The best speakers standing in your living room will be aesthetically pleasing and be the perfect match for your interiors. You may choose a high gloss design, brushed matte metal design, or luxurious walnut design as we have seen in the ELAC FS509VX.
You have edgy square shapes with straight lines or rounded elongated designs that blend in seamlessly. In many products like Focal, there are also color options ranging from silver, to black and white if you want a little variety.
An important feature that our experts reference is the inclusion of floor protectors.These little components save your floors from scratches and scuffs. If you have carpeting then this is not a concern, but this extra feature really makes a difference for hardwood floors.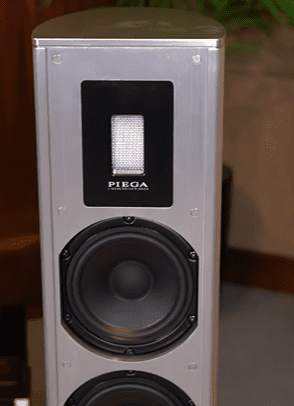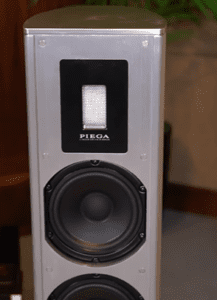 To make sure that your new speaker will perform well in terms of sound quality, clarity, and appearance, make sure it will fit well into your living room. Our pros don't suggest living up the phrase "go big or go home" when it comes to these devices.
Measure your space accurately to make sure the loud speakers will complement your setup and accommodate your space right the way you want. Make sure the power output is suitable for your home. As a general rule of thumb, the bigger the speaker, the louder the sound as well.
If you don't have a huge listening room, you'd want a smaller unit that may fit in a bookshelf. Also, consider your interiors. If you have plenty of carpeting and furniture, they will tend to absorb the sound and increase the need for a larger and more powerful speaker.
However, in a sparsely decorated room with tile or hardwood floors [1], one that is smaller will reverberate sound adequately.
Audio Quality of the Floor Standing Speakers
The sound quality of the best floor standing speakers is also high up on the list of what you want to consider before you buy. When shopping for heavy-duty equipment such as these, you want the sounds to be natural. This is where you want to review the speaker sensitivity.
The sensitivity refers to the efficiency of the speaker converting power to sound that hits your ears. The sensitivity also encompasses the power output, measured in decibels (dB), and how loud your speaker can be. You may also hear the term "efficiency" which refers to the same thing.
Our experts suggest searching for high efficiency and high sensitivity when looking for any kind of speaker whether it is from Polk or Klipsch brand. This is a factor that also ties into the size of your room, the decor, and the layout. If you like bookshelf speakers, Polk Audio and Bowers & Wilkins has some really good ones. One of them is the Polk Audio Open Box, which has five speakers in total.
Atmos is also recommended if you want to revel in a next-level listening experience. If you have the budget and love for superb performance and an expansive soundstage, Atmos allows you to hear great clarity with a dynamic frequency response as well.
Similar to soundbars, you can get the best floor standing speakers if it has a wide set of connections. This is to make sure they are compatible with as many devices as possible for you to experience heavy bass and elevated sound quality.
Bluetooth is commonly found in the best tower speakers like Focal Electra. It allows people to stream content wirelessly from external devices directly to the speaker to elevate the sound quality, bass tones, and tweeter. Bluetooth makes it easy for people to connect two devices in a clutter-free manner, eliminating all messy wires for a clean set up.
To have Bluetooth and other forms of wireless connection, you want your floorstanding tower speaker to be active. It's difficult to find active products without Bluetooth nowadays. However, our experts reviewed that it is not the most stable form of connection in place. According to our updated reviews, it poses more risk of cutting in and out and negatively impacting your music and overall sound experience. Nevertheless, a lot of users love this option.
The power rating is about how much power the speaker can produce, but that's not all it refers to. Aside from reproduction, it also depends greatly on the max wattage of your entire setup. Active options are easier to manage, but for passive speakers, make sure that the amp can work with the power output of the loud speakers.
Our team of speakers pros also stress the importance of ohms, or the impedance when you review loud speakers. They basically refer to the flow of the electrical current allowed by your speakers. Low impedance ultimately means a higher electrical current flow.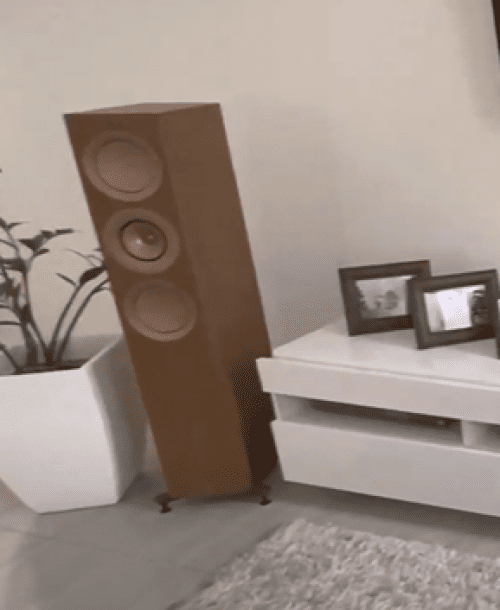 However, a low impedance means your speakers have their work cut out for them. The higher the number of ohms, the louder the volume of your speakers will be. For passive speakers, it will require more power to match higher impedance and volume.
(Passive speakers may be a stand alone device, but knowing how to connect passive speakers to an amp can significantly improve your speakers audio quality)
Specs of Floor Standing Speakers Under $10000
Basic specs of floor speakers are generally 2 or 3 speaker configurations. This number just refers to the number of speakers you have in the stereo unit. You may also see four-way options but those are less common, which we'll talk about in a bit.
For example, if you only see two, then it is most likely a 2-way speaker, with one speaker dedicated to the high frequency tones and one that handles the mid range frequency to low frequency.
If you have 3-way speakers, have an extra speaker that separates the function of the single mid to range one on the two-way models. In our reviews, 3-way models perform with better accuracy and frequency response.
As for the specs, our experts have come up with a quick guideline on what people should look for each time.
The sensitivity should be around 90dB, with an impedance of 4-8 ohms. The max power handling will vary from model to model and your needs, but the best range is between 200-500W.
For such a price range to get high quality music and clean bass, people need an extra layer of protection set in place. Brands like the Focal Electra, the Elac, the Earthquake and the Piega all come with warranties. It's only right for people to expect a warranty especially with the steep prices of these products.
As with all things at an expensive price point, the length of the warranty speaks volumes on the quality of the speakers. One year warranties are the baseline you want, with some brands even going as far as two-year, five-year, 10-year, and lifetime warranties. Usually, a higher cost adds a year to the warranty, and it does show how a product will stand the test of time.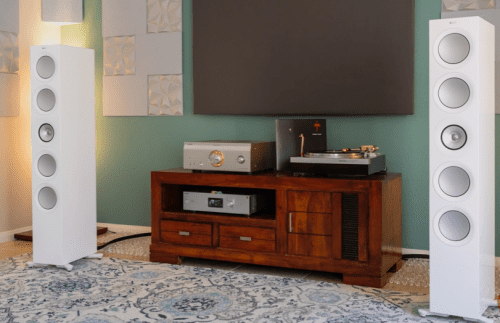 Make sure you double-check what sort of damages or parts are covered in the warranty. It's unfortunate that some defects won't be visible until you receive and have used the loudspeakers, which is why the details of the warranty are so important.
The manufacturer may even have a return period with no questions asked and at no extra cost, which is usually within 30 days.
Passive VS Powered Floorstanding Speakers
The difference between active and passive speakers is that a powered or active speaker doesn't require external amps in place because it has one built-in. On the other hand, a passive one requires an external amp that is connected to it.
Both types can be used in any set up, but we more commonly see passive ones for private home use and active ones used professionally and in large venues. Is there a better option? Our experts have given their opinions in detail.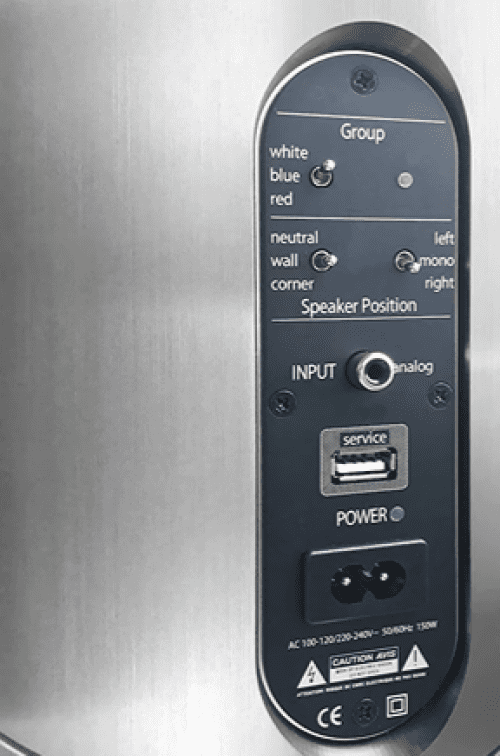 Passive speakers only require a single wired connection to an external amp. On the flipside, an active speaker has to be plugged into an A/C outlet, which means it needs to be near a wall. This placement isn't ideal for some people since it would require the use of extension cords.
Not needing to be directly next to a power outlet makes passive devices the more flexible choice when it comes to where a speaker can be set to stand.
A passive speaker also tends to be smaller and more lightweight because it lacks an internal amp unit. A lot of people want this feature as well.
Another impressive benefit to love about passive speakers is it's easier to replace the parts. For upgraded sound, just replace the external amp. This is just a matter of purchasing a different model and hooking it up.
It is much more difficult to replace the internal embedded amp in an active unit, and in some cases it's impossible. It doesn't offer as much customization ability and the amp is most likely the ideal choice for the speakers to perform optimally.
A top advantage of active speakers is there is little work to do on your part. You won't need to worry about whether components go together in place, as well as mismatched power outputs.
While it's not likely for powered speakers to blow out or under power due to their design, our experts still recommend against playing your music at peak volume all the time.
Active options will allow you to send sound and wireless signals from the source directly to the speaker. An active device gives users the option to customize and add Bluetooth or WiFI devices with nothing in between.
Lastly, due to the design that combines all parts needed, the active speakers will be able to amplify each driver individually, which results in louder and more powerful sound that you can really hear in your music.
You can also visit our list of top-notch floorstanding speakers under 500 here.
We touched on the specs of floorstanding speakers briefly above, but now we are going to go into more detail about the difference between 2, 3, and 4-way speakers.
Two-way speakers including the Klipsch RF 7 II are the most basic kind, which just includes a tweeter and a woofer. A tweeter is responsible for all the higher frequencies and the woofer is for the low beats. Since they do not have a midrange driver, the setup will need to rely on both tweeters and woofers to balance out the mid levels.
But in 3-ways speakers, you have a tweeter, a woofer and one that is solely dedicated to midrange levels.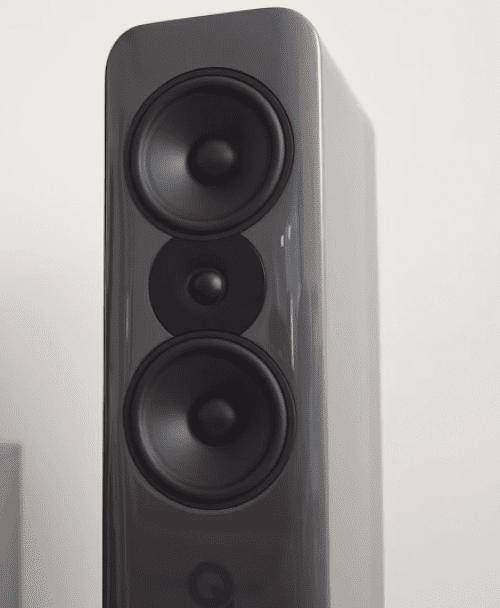 Finally, we have the 4-way speakers. The four-ways have the high, mid and range drivers with an extra one for highs, otherwise known as super tweeters. This gives the advantage of relaying all the highest frequency signals with true accuracy.
To really feel the difference in your music, our experts recommend that you use either 3 or four-ways.
(For a full speaker comparison, you can also check the differences between a 3-way and 2-way speakers here)
The Ideal Placement for Floorstanding Speakers
Similar to other devices, you can find the ideal spot for your floor standing speakers to provide the finest quality depending on the acoustics of your room and the setup of your space.
Our experts suggest placing them near your TV or main hub. Make sure they are aimed to project sound down the length of the room.
You would want sounds in your space to flow, not to be obstructed by permanent fixtures in the room as this will distort and muffle the sounds. Even placing items behind the speakers can influence the sound. As a general rule of thumb, give your speakers about 8-10 feet of leeway all around.
Not only should items be a good few feet away from the unit, but the speakers should also be a fair distance away from the wall. Our team often sees a home setup with the speakers placed directly against the back wall. This will severely restrict the headroom and dampen the sound.
Try to keep furniture away from the speakers' line of projection. Place sofas, tables, and other big ticket items in the center of the room with speakers on either side.
When you have found the perfect spot, angle the speakers slightly at a 20 to 45-degree angle to where you will be sitting to guarantee a higher quality listening experience.
How to Care for Floorstanding Speakers
These are expensive investments, so it's only natural to want to keep your floor standing speakers in tip-top shape. Our experts do not suggest using any heavy duty cleaners or oil, especially if you did buy products with a wood finish.
You can try a very mild and watered down soap or detergent and a damp lint-free cloth to clean the surface. We also wouldn't suggest dismantling your speakers and going directly to cleaning the inner components. A soft cloth should only be taken to the surface as it could potentially damage the more delicate inner workings.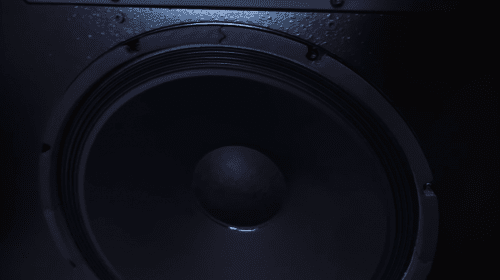 In general, the interior parts such as the grills will only gather dust over time. So using a soft duster brush or gentle vacuum setting with a soft nozzle should be enough to remove dust on these products.
Keep in mind to be extra gentle because the interior of your speakers are composed of very delicate parts. For the most delicate cones, a very small brush with extra soft bristles will do the trick. You can even try condensed air and blow the dust and grime off of the parts to avoid any contact at all.
Which floor standing speakers are best?
The best floor standing speakers are the Earthquake Tigris models. They can produce sound like never before with accurate sound relays. The heavy duty drivers and the dome tweeter will bring forth the deeper tones and hi-fi sound.
Do I Need a Subwoofer with Floorstanding Speakers?
No, you do not need a subwoofer with floorstanding speakers because many have them built-in. However, if you want to highlight the deep tones, you can hook up an external subwoofer to really feel the outstanding low notes.
Our Top Pick For a Floor Standing Speakers Under $10000: EarthQuake Tigris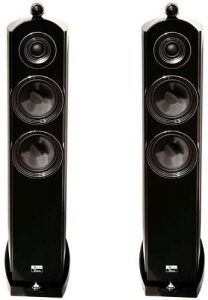 After careful testing, our experts have decided the Earthquake Tigris is the best floor standing speakers. This flagship unit offers great quality and good vocal ranges with powerful and punchy bass. The 500W power output is enough to fill any room with elevated music and sound.
The stable energy dispersion allows equal power to be diverted to all three drivers for state-of-the-art audio clarity and true accuracy. As a result, the impeccable reproduction of sound can be heard at any volume.
In terms of design, these speakers feature a solid build quality while having a futuristic and glossy finish that make them a seamless fit right into any room in your home.