6.5 car speakers are among the smallest sizes you can get for your audio system, but will the component aspect improve the sound quality? There is a risk you could be left with a hole in your wallet and audio quality that doesn't trump your factory speakers. This is where our audio team comes in with reviews of the best options on the market.
Reviews of the Top 6.5 Component Speakers
The CERWIN VEGA V465C speaker system is quite a looker with Vega's signature red rubber surrounds that give it a pop of color. The mica-filled poly cone and the 1-inch titanium dome tweeter will work well for the mid-range frequencies and the highs.
The 6.5 speakers are highly responsive with a 94dB sensitivity rating to give you loud and expansive sound. The peak power for both speakers is 400 watts, enough to bring the boom to your car stereo system.
Even without the wire clamps like the ones featured in previous models, the V465C works just as well with a higher power handling.
It will cost a bit more to get these Alpine speakers installed, but the high-quality sound that will outperform other component speakers is well worth the price. Component systems may take a bit more effort to install, but the Alpine R-S65C.2 comes with what you need for great sound.
For starters, the speaker system offers larger voice coils and features new cone technologies that help with heat dispersion when played at high volumes. The small 6.5-inch speaker profile makes this component system ideal for smaller spaces without compromising overall sound quality.
The Alpine exclusive cone technology makes the construction robust but still lightweight and compliant with high-fidelity audio.
The RECOIL REM65 component audio system works well in most vehicles. The lightweight polypropylene cones in the REM65 allow for a much better mid-range output when compared to 6.5 component speakers.
The manufacturers took care of the construction by using high-temperature adhesive that is heat resistant. You won't need to be worried about the power handling of your car speakers and the structural integrity.
The component speakers come with silk soft-dome tweeters with oversized voice coils that further enable heat dissipation. As one of the best 6.5 component speakers despite the low price, the REM65 speakers sound amazing with the help of triple-level tweeter volume adjustments.
Infinity Reference 6530CX
The Infinity Reference 6530CS component speaker system comes with edge-driven textile tweeters. This type of tweeters can help deliver smoother high notes with crystal clear fidelity.
The 6530CX is equipped with Plus One cones, which are larger compared to other component speakers. The larger surface area brings better bass and improves mid-ranges.
The installation is a breeze with these Infinity Reference speakers because the baskets were created with simplicity in mind. They fit into most factory speaker holes with minimal adjustment. The 6530CX is one of our sound engineers' favorite component speakers for balanced sound and competitive pricing.
If you know the difference Plus One cones could provide to your speaker system, then the JBL GTO609C will give you exactly what you want. Each individual car speaker has a part to play in improving your listening experience. The larger cone surface is conducive for bass production, and the soft dome tweeters plus oversized voice coils help prolong runtime and deliver high frequencies.
The GTO609C component speakers from JBL feature its patented I-Mount system that gives users more flexibility when installing these new speakers. There are even tweeter volume adjustments to enhance your listening experience in any music genre.
With the Rockford Fosgate R165-S component speakers, you get two midrange speakers with two high dynamic range tweeters that will please most audio enthusiasts.
They are premium quality units with grilles included and have a very easy installation process. The mounting hardware is included along with integrated crossovers to make your life easier.
How much power can the speakers handle? They have a peak power rating of 80 watts. It may not seem like a lot but it is enough for smaller spaces, which is most likely what you have since we are looking at 6.5 speakers.
Our audio experts love the Infinity Kappa 60CSX for its switchable crossover that really ramps up the versatility. The Plus One woofer cones deliver premium sound quality, and the two tweeters are edge-driven silk dome and work well with the rest of your system to bring better-tuned audio.
Even at high volumes, the 60CSX from Infinity Kappa will work fine without compromising the structure or the audio quality. One of the best parts about these component speakers is that they come with everything you need to install, including the speaker wires, screws, speed clips, and the template.
Morel Maximo 6.5 inch Component System
The Morel Maximo 6.5 component speaker system comes with two tweeters with outside crossovers. As one of the best component speakers at the 6.5 size, this system is packed full of advanced technologies and construction to bring the ultimate sound experience.
For starters, there is the EVC Technology and neodymium magnet for improved highs. The woofers have a ferrite magnet for better bass responses.
The component system was designed for pairing with a receiver or amp to boost the sound even more without users worrying about taking up too much power.
Focal's RSE-165 are component speakers with a silk aluminum tweeter and a polypropylene woofer cone in each of the dedicated speakers. The speakers come with soft rubber grilles that will protect the cones from dust and debris but won't compromise the audio quality of the car speakers.
You can choose to flush mount the system or use the surface mount, depending on the type of aesthetics you're going for. The steel baskets will provide these car speakers with excellent power handling capabilities and temperature resistance through ventilation.
The highly sensitive system works very well with a factory head unit or amp.
The MB Quart FSB216 component speakers work well to create a dynamic listening sweet spot no matter where you are in the car with Wideshere Technology. The aluminum dome tweeter helps the mid-range drivers achieve a wider frequency range, while the butyl rubber surround will help the component speaker system reach deeper bass frequencies. The external crossovers are included, and the max power is rated at 140 watts.
For the best mount, the ABS gasket will allow for a seamless installation with a linear seal. The copper voice coil is excellent for high temperature handling and is efficient at creating a magnetic field.
6.5 Component Speakers Buyer's Guide
A component speaker system is different from full-range speakers. When comparing speakers in various systems, there are many factors to consider that will lead to the best choice possible. Our audio team has listed some of the most important items to check off the list during your search.
6.5 speakers are on the smaller end in terms of size. It's not only about the measurement of the speaker size, but you also have the width to consider when installing component speakers. Do you want a flush mount or surface mount? To save space, our experts suggest looking for 6.5 speakers that feature a low mounting depth.
How do the component speakers fit into your system? Will it require a lot of customization to fit into the factory speaker holes? Make sure your choice of the best 6.5 component speakers will require minimal adjustments to fit. You want the installation to be as easy as possible, which also requires the right components and everything you need in the box.
Our team suggests making sure all the wires, mounting screws, and clips you need are included, plus whether the new component speakers will work with your head unit.
The power rating or handling is the amount of power the best car speakers can handle without risking damage to the parts and structure. You will notice that manufacturers will list two different types of power ratings – the peak or max power handling and the RMS [1]. What is the difference between the two?
The peak power rating is much higher because it's the amount of power the component system speaker can handle in short bursts. It isn't recommended to play your content at the peak rating for long periods because you risk blowing your drivers.
On the other hand, the RMS or root mean square rating refers to how much power the separate speakers can handle continuously. For this reason, the RMS is usually much lower than the peak power.
When buying a home theater or car speaker, our audio engineers suggest paying more attention to the RMS than the max power rating. The RMS will also dictate whether your component car speakers are more suited for a high-powered or low-powered system. You will need to look for a higher power rating for more power.
Many of the 6.5 component speakers our professional team suggested above come in a 2-way package. This means the mid-range speaker comes with small tweeters to round out the sound. The human audible range spans between 20Hz to 20kHz. If you can find a speaker system that hits that range, then you will experience the most lifelike sounds.
Some component systems do not come with a woofer, which will sacrifice the bass production. You can choose to balance out the sound spectrum by pairing your system with an external sub. If you do not have the space or know-how to do so, our team members suggest looking for the widest frequency range possible.
Look for speakers that can reach down as close to 20Hz as possible and as close to 20kHz as you can. For regular listeners, our team says anywhere around 30-50Hz can give you some decent bass.
Aside from the frequency response range being one of the primary influencers for sound and bass quality, you also need to consider the technologies included in the speakers.
What type of extra features do the manufacturers outfit into their system that will put their products above the rest? For example, EVC Technology appears in various speakers that will pave the way for cleaner and crisper sounds.
Do the speakers allow for external connections to amps, receivers, and subs that will work to improve the audio? If the system doesn't afford users much in terms of customization, then you are pretty much stuck with what you have. Fortunately, the models we chose work well with other devices and even come with audio adjustments that will enhance your listening experience.
(If you want Bluetooth and a powerful sound for a speaker, we have impressive Bluetooth speakers with the loudest sound here)
Sensitivity and Impedance
Speaker sensitivity is imperative to the volume of your speakers. Have you ever wondered why some car speaker models are louder than others, even at the same volume levels? The reason is due to the speaker's sensitivity.
Speaker sensitivity is measured in dB (decibels), and it refers to how loud a speaker can be with 1 watt of power. Decibels come in a wide range, but our audio engineers are here to help you narrow down the poor ratings and focus on the ideal choices.
For a component speaker system, our techs say 80 to 90 is considered decent, but the higher the better. A high rating is what you want for speaker sensitivity, which is why a rating that exceeds 90dB is ideal. Many of our mid-range driver and tweeter component combos above rate higher than 90dB.
No matter what you do, try to steer clear of ratings below 80. Speakers with such a low sensitivity rating will not be worth your hard-earned cash in terms of volume.
To make sure your speakers function efficiently, you need to consider the impedance. The impedance is measured in ohms, and it is the resistance your speakers have to the electrical current. A lower speaker impedance will run smoother, but if you're planning on connecting it to an amp, you need some resistance, or the amp will bear a very heavy load.
Our experts say the best choice is to find a balance to ensure enough power is coming through but not enough to tax your amp over the years. Our team suggests speakers with a 4 ohm rating.
As mentioned, many of our options above are woofer and tweeter combos. Not every tweeter or woofer is created the same, so there are a few key features to look for.
A woofer is responsible for providing lower frequencies, and the tweeters take care of the high end of the spectrum. For the woofers, you need them to be strong, rigid but still remain lightweight. Tweeters can be hard or soft. Soft materials include silk, and hard materials include aluminum. Which is better? Soft tweeters produce amazing and bright highs, while hard options are much more durable with little to no distortion and ambient sound.
Unfortunately, you may have to weigh out your preferences in order to choose the right type of tweeter material for your needs. Woofers, on the other hand, have a material that is both rigid and lightweight. You would have seen polypropylene cones listed quite a few times above. This is because they provide the best balance and can be further enhanced with substances such as mica and carbon fiber to improve rigidity.
The component speakers that come with an extruded aluminum heat sink or segmented air core inductors will help the drivers with heat dissipation and allow for longer playing hours.
Component vs Coaxial Speakers
Perhaps the biggest question of the day is component speakers vs coaxial speakers. Our editors and tech team took the effort to specifically cater to component options today, but understanding the difference between the two will help you pick the best 6.5 component speakers.
We're going to start by saying that there is no "better choice" because it all depends on your personal preference and desire. One of the major differences is one type has speaker drivers stacked together while the other has separate drivers.
Component speakers are the ones with dedicated drivers that have a separated woofer and tweeter. Yes, it may take more time to install a component system, but they do give users much more freedom to customize the placement and various parts. Unfortunately, component models are also the ones that may require adjustments to install into vehicles.
A coaxial speaker is great for easy installation and minimal customization. They're also sometimes referred to as full-range speakers. Your car factory unit is usually this type of speaker.
Our team suggests coaxial systems for beginners who want the simplest process possible and can't tell much of a difference between a 1000 system next to a 200 one. For serious audiophiles, component speakers will afford you the ability to create your own unique system that will satisfy your inner bass head.
How to Install a 6.5 Inch Component Speaker?
If you go for a speaker set that is a fit for your vehicle, the installation process is relatively straightforward. As we said before, it will take a bit more time to install a 6.5-inch component speaker than a coaxial unit.
The first thing to make sure of is whether you have all the necessary installation parts. If your speaker combo comes with the mounting kit, wires, screws, and everything else you need, then it will be more of a breeze.
Identify where you want to place each component speaker. If you choose where your factory units were located, then there is more of a chance you may not need to make any adjustments.
Woofers usually belong in the doors, the kick panel, or dashboard, but if yours has a separate enclosure, you could put it under your seat or in your trunk. Tweeters are best placed in the doors or the dashboard, but they can require more adjustments during installation compared to woofers.
Do you have a flush mount tweeter or a surface mount? How you choose to mount your tweeter will affect your effort and the amount of customization needed. Flush mounts need drilling while surface mounts do not. Surface-mounted tweeters are easier to incorporate, but they won't give you a seamless and clean aesthetic.
To make sure that you make the most out of your system, our team members recommend mounting the tweeters within a foot of the woofers so they can work together. This is especially true if you don't have mid-range drivers.
Then you need to find a home for the crossovers that won't interfere with the rest of your car's wiring. You can also choose whether or not you want to include the grilles in your setup. Manufacturers may or may not include it within your purchase, but it's always better if they do.
The purpose of the grille is to protect the cones from debris, dust, and damage. The best ones will be made of thin material that won't obstruct sound production.
Advantages of a 6.5 Component Speaker
A 6.5 component speaker is made up of various dedicated drivers, which makes the sound usually more precise and clear. Since everything is separate, you can get creative with your mounting options and locations.
The mid and high range frequencies from 6.5 speakers are more than adequate, but since you may be missing the deep bass an external sub can provide, you may want to make room for one somewhere in your car. This is when the smaller and more compact size of a 6.5 speaker plus the separate component drivers will come in handy.
How does a component speaker function?
Component speakers are ones with separate drivers that are paired together for optimal performance. They can consist of combination of tweeters and mid-ranges that deliver dedicated performance to separate parts of the sound spectrum. The crossover will efficiently allocate the appropriate frequencies to the right drivers for more accurate sound.
What is the difference between a component speaker and a regular speaker?
Component speakers have separate drivers. These drivers can be the woofer, mid or tweeter and they provide much better audio than regular speakers. This is because each driver is responsible for its own part of the audio spectrum. Since the signals don't cross over, there won't be a muddied sound.
Which is better, a two or three-way component speaker?
A two-way component speaker is good for those on a budget, but a three-way option is better because it consists of a woofer, a mid, and a tweeter that accurately handles every note. A two-way speaker will noticeably lack one aspect because it is functioning with only two drivers.
What is the most ideal 6.5 component speaker for bass?
There are many 6.5 component speakers that are good for bass, including the JBL GTO609C, the Morel Maximo 6.5 speaker, and the MB Quart FSB216. To enhance the bass, these models include larger Plus One woofer cones and magnets to boost the low frequencies.
Our Top Pick For a 6.5 Component Speaker:
CERWIN VEGA V465C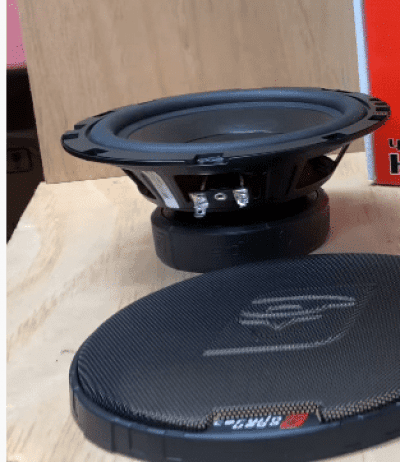 The best 6.5 component speaker after hours of review is the CERWIN VEGA V465C. The beautiful red detailing will really give your interiors a pop of color while bringing the long-awaited high-fidelity audio. Plus, the V465C speakers have a very high power handling. The curvilinear cone design also makes the component speakers very responsive with accurate audio production.
For a wide range of speaker selections, we curated the list below: